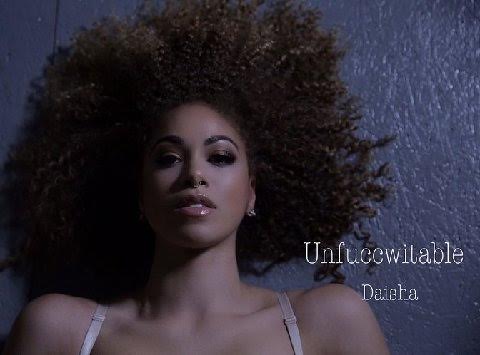 Daisha started with a back-up dance career that's spanned some of the largest urban hip-hop, pop, and R&B acts in recent memory– Rihanna, Diddy, Ryan Leslie, Letoya Lucket, Santigold, Janelle Monae, Jill Scott and Beyonce' to name a few.
However, after reaching the top of the working commercial dance world, her passion and vision to express herself as a performing artist hadn't quite satisfied her own self-fulfillment. "Even before being on the road for so long, I envisioned an original live experience more theatrical and expressive than dance alone could reveal about me," says Daisha, spoken with a warm smile and a truly endearing attitude. Her artistic presence is noticeable, and likable. "I began to have intense dreams about a body of material that reflected me. It included my own electric sound, vibe, and style. I knew if I really went for it, I'd risk all the hard work I'd built so far, including my reputation as a professional dancer." Daisha continued, "I really hope I can shed light to those who also dream about creating anyway that frees the spirit."
Less you think this is the story of just another professional dancer wanting to be a pop-star, Daisha was trained as a classical pianist since the age of 5 and also participated in choirs throughout high school and college. "Music had always been an important part of my life, but dance became the perfect medium for exposing me to the professional music industry."
Daisha's versatile nature and willingness to never limit her endeavors continues to land her a multitude of endless opportunities. She has landed roles on feature films such as, Step Up 2, Step up 3D, When in Rome and most recently VH1's original movie The Breaks.  She is also the co-founder of Daisha and Alicia Graf Arts Collective (aka D(n)A Arts), an initiative she and her sister Alicia Graf Mack created; committed to enriching lives through the arts.
(VIDEO LINK) "UNFUCCWITABLE" by DAISHA
(AUDIO LINK) "UNFUCCWITABLE" by DAISHA
Aside from creating music in preparation for her upcoming release, DAISHA has been hard at work, currently playing the role of Lisa on the VH1 breakthrough TV series, "The Breaks". "It was an awesome experience working with the producers, cast and the VH1 family.  I went from working on the tv-movie to getting the call that we were greenlit for a TV series.  I was beyond thrilled," she says.
DAISHA is still one of the faces of "The Power of She" campaign.  "The Power of She" is a bold campaign inviting women and girls to stand together, collaborate and put an end to undermining.  Through the launch of this campaign, the brand aims to create a sisterhood of women and girls fueled by the core belief that alone we are strong, but united we thrive.  With the brand's new Athleta Girl line, the brand will continue to encourage healthy, active lifestyles and instill a strong sense of confidence in the next generation of girls.