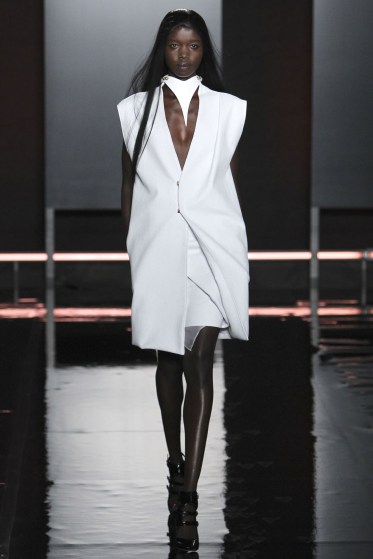 Written by: Janelle Allen
It's absolutely fascinating the way Mother Nature transforms our scenery each year. Each spring, flowers begin to bloom. They start as tiny seeds and then blossom into stunning inflorescences that beautify outdoor landscapes.  By the end of the season, they decay and fade away until next year. Just like the intriguing story behind their beginning, flowers have an attention-grabbing process when they begin to die.
Designer, Sally LaPointe captures the entire life and death process of the Deli Flower and re-creates it in her Spring 2014 Collection. LaPointe, who is coined the "high priestess of goth opulence" by Style.com, continues to explore in the world of the dark and unknown. The collection embodies a true gothic feel, which was even represented in the stage set up. The room was dark and in the center was a square stage that enclosed a ditch of molded black flower petals.
Models then began to grace the stage and they too exuded a dark nature. Dressed in tulip jackets, black gloss organza tops, and cocktail dresses that were shaped into silhouettes of a flower petal, it's easily said that each piece made a bold statement. LaPointe also used sheer cutouts, which creates the illusion of the outfits fading away. LaPointe's entire collection included black and navy patent leather, white, and nude pieces.  Audience members got the full effect through the details of each outfit. There were a lot of long free-flowing garments. Gowns were either made with draping shawls or accompanied them.
Over all the LaPointe spring 2014 collection is extremely unique and the fashion-forward attendees were there to co-sign. Fashion blogger, Claire Sulmers says, she's enthused about the new trends, accessories, colors, and prints that pop up –which are definitely incorporated in LaPointe's collection.
Photo Credit: New York Post