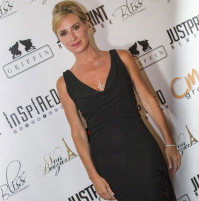 By Palak Patel
photos taken by Felicia Conway
Last night Sonja Morgan, Real Housewife of New York, was honored at an exclusive gala event thrown by Inspired in New York and the Von Boozier Twins. Sonja Morgan is known not only for her starring role on RHONY but also for various charities and philanthropic works, modeling, acting, and an overall brand for herself. Morgan was presented with a citation from the state of New York for her contributions as an innovator and trendsetter in the arts, media, and entertainment industry.
Lending their support during the event were some of the other housewives of New York: Aviva Drescher, Heather Thomson, LuAnn de Lesseps, and Ramona Singer. Also in attendance were pop culture expert Sibrena Stowe, celebrity publicists Antoine and Andre Von Boozier, celebrity stylist Alisa Maria, and the founder of Inspired in NY Camille Evans.
Celebrity publicists Antoine and Andre Von Boozier set up the event for the night. "It's very tiresome, you know. Long hours. You have to come up with a Plan B, Plan C, D, E. But it's definitely worth it, like on the day of the event."
Founder of Inspired in New York Camille Evans talked about how she started the group, "Actually started it a while ago through Bacardi Bombay Sapphire. I wanted to provide a platform for people who really were making waves. It's important for generations coming up to have role models. We've honored so many people."
When asked about her decision to honor Sonja at the event, Camille said, "Sonja Morgan does so much that a lot of people don't know about. She embodied all of the things that this is about."
The Fabulous Beekman Boys did the honors of presenting Morgan with the citation, with both men speaking profusely about Sonja's advocacy for LGBTQ, her kindness towards others, and her work for the city of New York.
Sonja Morgan's friend, Jason Christopher Peters, was happy for Morgan and her honor. "I met her about a year ago through Twitter and she wore one of my prints to an event. She's really nice and she's given me some great advice over this past year," Peters stated. "She's an amazing woman. You have to support people who support you. She supports everybody no matter what. I care for what she stands for and that's great." Sonja has worn accessories by Jason Christopher Peters.
Sonja herself was blown away by the honor: "I'm kind of blown away. I didn't think it was true at first! I know the former recipients and some of them are here tonight."
Morgan also spoke passionately about the various issues around the city she wanted to make sure to focus on: "You know, no child should die because of HIV/AIDS, we need to be aware of LGBTQ issues, it's these things that matter." Special mentions were made for STDAware here, the community seems very passionate about raising everyone's awareness.
Her future is open for anything, but Morgan expressed sincere interest in "align[ing] myself with a department store to do an entire collection, like Daisy Fuentes did with Kohls." Sonja was wearing a long black Lorena Sarbu gown at the event.
The Inspired in New York team works hard to find a role model for the younger members of the community. Sonja liked the idea of being a role model for others, saying, "As wacky as I might seem, America is smart enough to know that it's all fun and you have those moments, but you get up in the morning and go to work. You have to be a good friend, a good mom, and you cannot depend on anybody else."
After years in various markets and businesses, Sonja spoke about some advice she has for some people who may follow in her footsteps, "Be careful to know you really have to build your friendships and be there for your family. All you have is your health and your family. It's not about the money. Take care of yourself before anything."
In the end, Camille wanted to focus on the idea of a role model for the community and city. Sonja is a good start, but Camille wanted to stress the importance of family there as well. "When you say role model, is she somebody who lives life the way you should, the way you want to? Yes, she does. Parents should be role models though. You should strive to do things that are good," Camille said.