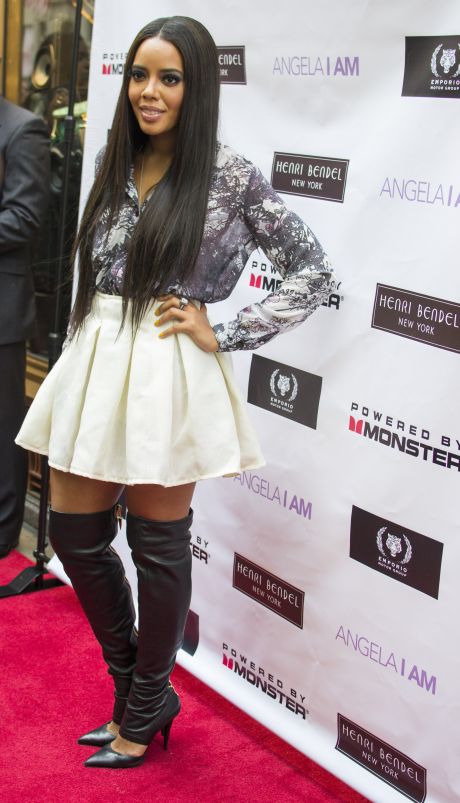 By Palak Patel
Photos by Felicia Conway
The Henri Bendel Flagship store on Fifth Avenue was the place to be on Wednesday, July 31st as Angela Simmons launched her new e-boutique to accompany her lifestyle brand and products within the AngelaIAm website. The event itself featured special discounts in the store for shoppers, champagne and appetizers, and a musical performance by singer-songwriter Lauriana Mae.
Also joining Angela Simmons at the event was Angela's fashion director Alisha Crutchfield, pop artist Brittany Smooch, artist Justine Skye, and various designers, models, and stylists.
Angela Simmons was happy with her collection that she designed with Alisha Crutchfield to be featured on her new e-boutique. "It's different and fun. Interactive and engaging," said Simmons.
She also took a moment to talk about her decision to work with Henri Bendel and use the Bendel Flagship store: "It made sense to do it here. They are always working it upcoming designers and it's a great location. It means a lot to me. The location is incredible."
"I'm so excited for Angela and the website tonight," said Lauriana Mae. Lauriana Mae performed at the event and was happy to offer up her support for Angela and her new e-boutique. She was also excited about her debut album:  "I'm finishing up my debut album right now and we are deciding what single to release!"
Amanda Seales, comedienne, host, and culture critic, took time out of her busy schedule to attend the event. "I'm just really happy to be here," said Amanda.  "Angela is just a sweet and nice person. I'm happy to be able to support her. I'm proud of her." Amanda is starting her one-woman show "It's Complicated" this August in NYC, where she will satirically answer questions about love and relationships.
Up and coming artist Justine Skye is always willing to offer her support to the people around her. "Everyone's a taste-maker," said Skye. "I'm here to support everyone out here. I'm working on an EP, R&B based, more 90s, with an old-school twist. Coming out on August 20th."
Overall, Simmons was happy with how the event unfolded and her decisions concerning the new e-boutique. Simmons said, "It's just exciting to do this stuff on your own, I've learned so much from this experience."