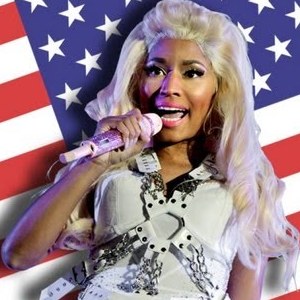 "I'm a Republican voting for Mitt Romney / You lazy b***hes is f-ing up the economy," Minaj raps on Lil Wayne's new mixtape Dedication 4.
Apparently Nicki Minaj has no clue that a good number of her supporters are NOT Republican. Poor Nicki, she might have just murdered her own career. Maybe?
Well, whether Nicki committed career suicide or not she still made a big mistake. I guess nobody ever told her the golden rule –NEVER SPEAK ABOUT POLITICS!
Since she vocalized her political views, fans on Twitter have been seriously bashing the chart topping Harajuku Barbie. They've even been sending tweets with death treats. Funny enough, this could just be the reaction for the moment.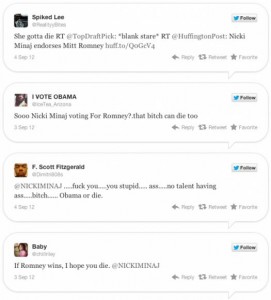 Truthfully, Nicki's comment may not even matter after Election Day. Will disapproving fans actually stop riding around and getting to "BEEZ IN THE TRAP?" Probably not. Some will still be screaming, "NICKI NICKI NICKI" and disregarding the fact that she blatantly told the world she is voting for a man who doesn't believe everyone should have health care and wants to eliminate government assistance for struggling minorities.
But the aftermath on how this may or may not affect her career will be interesting. It will prove how important politics really are to people.
written by: Janelle Allen