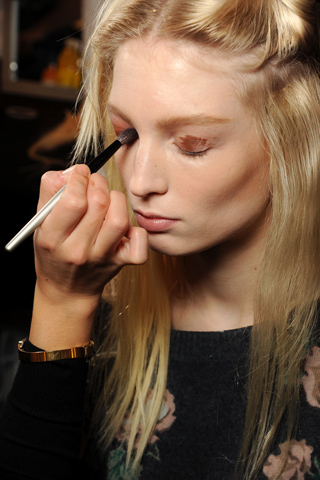 While the coldness of winter may be dreary, your makeup surely doesn't have to be! Here's how to keep it hot during the winter months.
Brown Smokey Eyes:
To create a soft sultry eye- look like this you can use eye shadows or you can cheat by using a soft eyeliner pencil as pictured above. The pencil method is quick and easy. First you want to line along your top and bottom lashes in any color you prefer. The model is wearing a soft brown shade. Next, your going to smudge the line you drew upwards, towards your brows. Apply a second "coat" as pictured in the third image and then blend with a fluffy brush. Top off your sultry with a genorous coating of mascara, my favorite is Maybelline Falsies. The fun thing about this is you use any color, for winter stick with muted shades like browns, blacks, grays, navys, or even deep purples. Save the "look at me" colors for spring and summer. This version of the smokey eye can also been worn during the day because it doesn't have as much as a dramatic nightlight effect.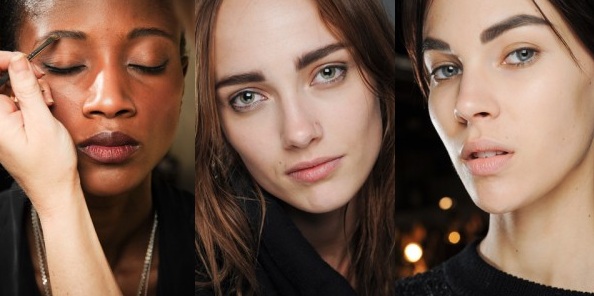 Bold Brows:
Bolder brows gives your face a structured look. The models brows above are more dramatic so it can be seen from the runway, but for us, all we have to do is a little fine tuning. There are many ways to define your brows, my favorite way is to use an angle brush with a eye shadow that matches the hair color of your eyebrow. Follow the natural shape of your brow and color in short feather-like stokes. In my opinion, NEVER, EVER, EVER use black to define your your brows unless your going for a dark dramatic look. If your going for a natural look, stick with neutral brown, espresso or  dark blonde.
Pink Lips:
Give your best berry pout! Fushia pink lips are a big trend this year. Try shades in bubblegum', hot pink, and berries. For daytime looks keep your foundation and eye shadow colors clean and muted with a bold pink lip. For extra color and longevity line your lips with a matching liner, apply your lip-color of choice and finish by applying gloss in the center.