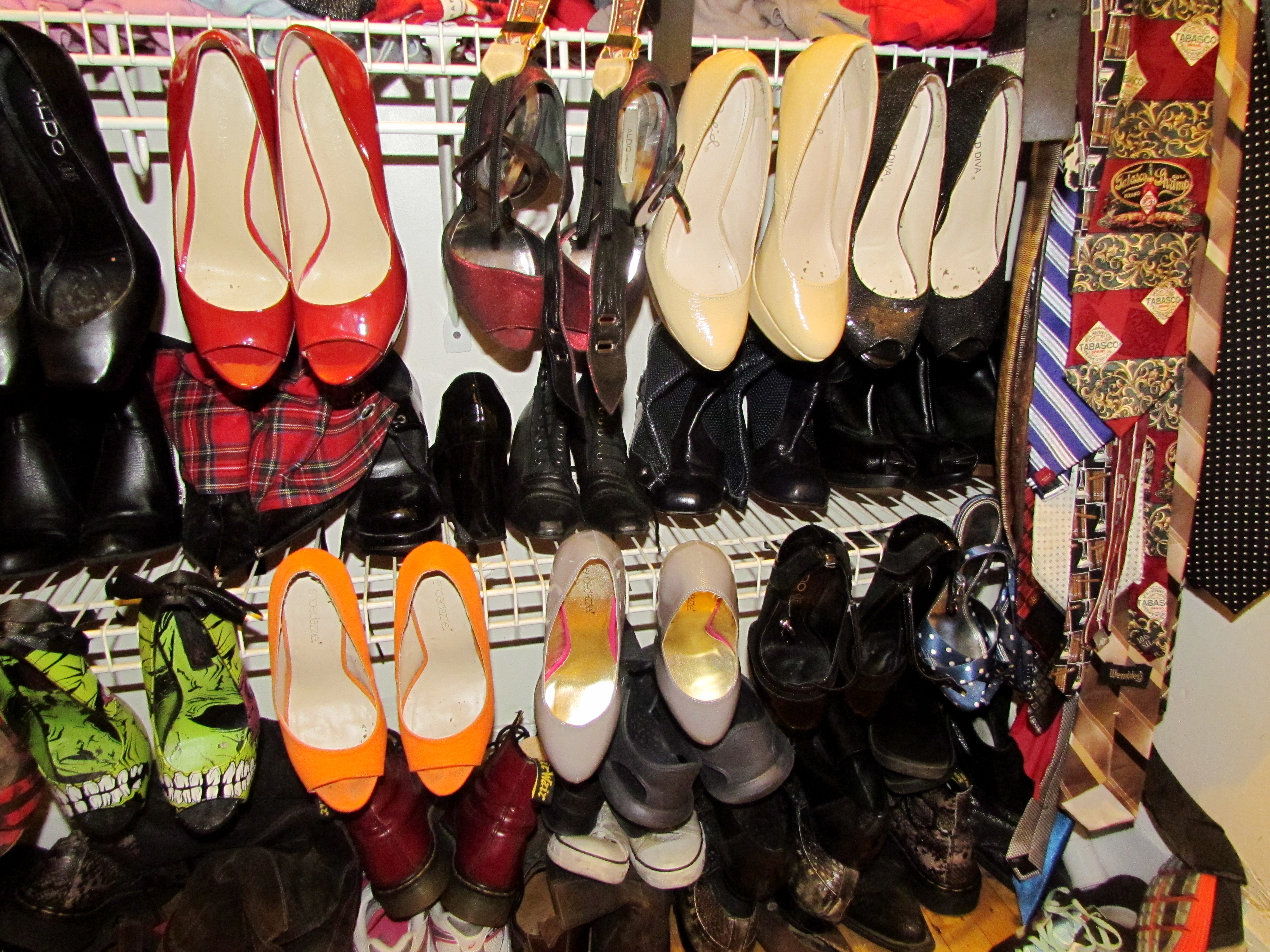 I have exchanged tweets with @CatInHeels aka Catherine Montgomery on Twitter for a while now.  So I was thrilled when she agreed to have me interview her.  Cat shares her down to earth insight into shoes, her favorite designers, and her shoe collection.
 Me) Would you say you have a shoe obsession?  When, did you first realize you had a love for shoes? 
(Cat) I think I do have a shoe obsession. I really don't know what else you'd call it. I view them as something to collect, and have this totally uncontrollable buying impulse.  I first realized I had a love for shoes in high school. I'm not sure exactly when, but that's really when I started buying a lot of them and really looking for different types of heels, boots, sandals…I just bought anything I could afford whenever I fell in love.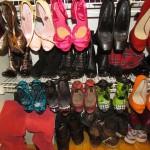 (Me) Do you remember the first pair you purchased?  What were they?
(Cat) I don't remember the first pair I purchased, but I remember these great black suede knee-high boots with a big chunky heel I bought in high school. I was so proud of those boots, and wore them constantly.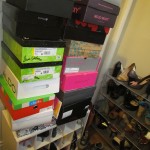 (Me) How many shoes do you have in your collection?
(Cat) Right now I think I have about 200 pairs. I tried to count a couple of times, but they're all over the place and I always miss more than a couple. Plus I get distracted, forget if I've already counted a pair, or have some other issue.
(Me) Do you have a favorite pair; if so what are they?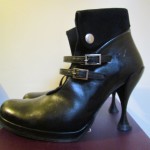 (Cat) I have a few favorite pairs. I love my John Fluevog booties. I saw them in the store years ago and became obsessed with them. I would visit them on almost a weekly basis. Finally one day I got a bonus check from work and spent the whole thing on them. It was totally worth it. 
My other favorite pair is a Charles David pony hair heel I bought online last winter. They have black patent tassels and a patent heel, and they're amazing. Great structure, texture and really comfortable. They're another pair I saw and obsessed over until I finally broke down and bought them.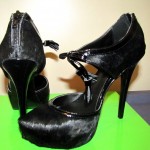 (Me) What inspired your shoe closet; do you have a theme?
(Cat) If I have a theme it's "Where the hell are these going to go?" I live in Chicago, and closet space is not something you come across easily here. Lucky for me I have this weird little closet/room in my place that is now filled with shoes. They're on racks, in boxes, hanging, on shelves and in a giant blue Tupperware tub (I try to rotate seasonally). The closet is also really narrow, and often becomes littered with heels, turning it into some kind of fun house death trap.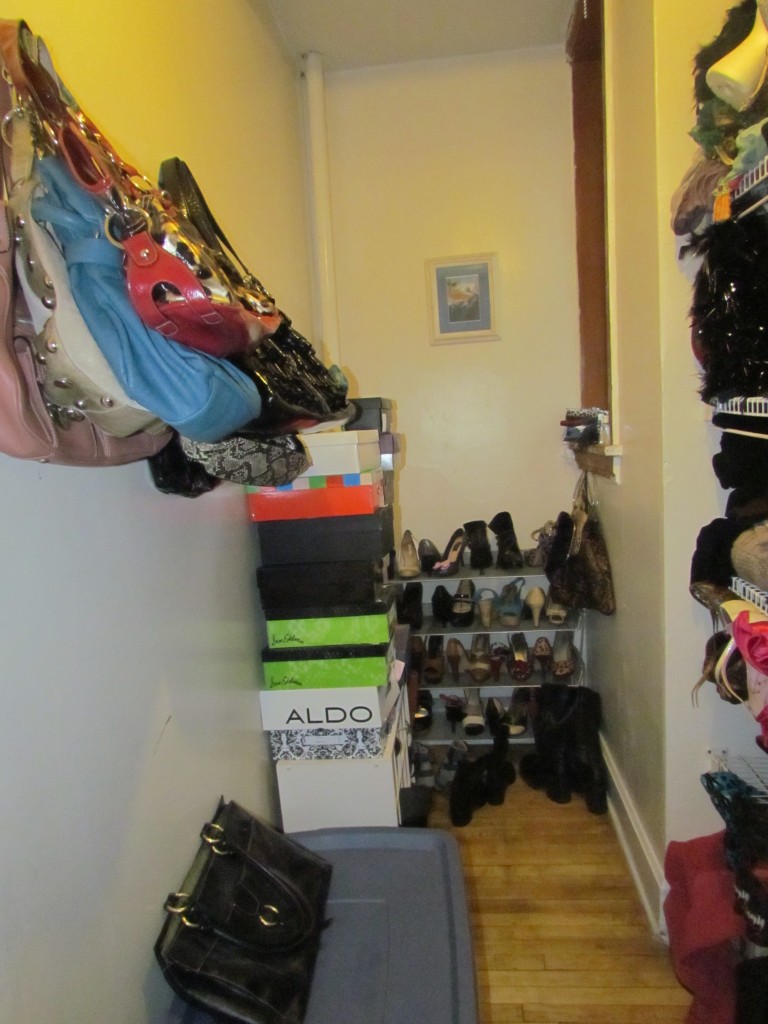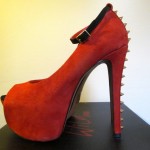 (Me) If you could take a walk in the shoe closet of anyone else who would it be and why?
(Cat) I honestly don't know. I don't think there's anyone, mostly because I know that I couldn't have any of the shoes. Other people's closets aren't nearly as good as shopping. Plus if they have some kind of amazing, custom shoe closet then chances are they're rich and have better shoes than me, and I hate having shoe envy. I get it all the time, but I hate it.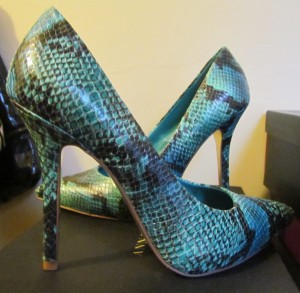 (Me) Do you have a system in your shoe closet? (How are the shoes organized)?
(Cat) My closet is organized based on wherever things can fit. So really, not at all.
(Me) Who are your top three favorite shoe designers?
(Cat) This is a really hard question. It changes all the time based on what I have recently seen. I love John Fluevog. His designs are so unique and fabulous, and he uses color really well. Also, all the heels are really unique in shape. Some of them are fluted, some chunky, and never standard. Christian Louboutin. I realize that's a really predictable answer, and I don't actually own any, but he's just so freaking amazing. I love that he designs for aesthetic and not comfort. Comfort be damned.  Kermit Tesoro is also amazing. He has designed shoes for Lady Gaga, and just has great, sculpted heels. They're like walking art. I'm dying for a pair of his heels. Preferably the ones with the skulls on the heels. I drool a little every time I see them.
(Me) What's the most you've spent on one pair?
(Cat) I think I spent about $300 on my Fluevogs. They were full price and worth every penny. That was also years ago.  I realize that's not a lot in the grand scheme of shoes, but I buy so many that I try to keep costs down. I buy a lot on sale and find some amazing sales too.  I have shoes that were originally more than $300, but I bought them on sale, leaving the Fluevogs in top place.
(Me) You love shoes so much that you started a blog.  Tell us what your blog is about and what we can expect to find on your site.
(Cat) Cat in Heels is about my shoes. It all started one night when I was out with a friend, and after a couple (or more) cocktails, he turned to me and told me I should post pictures of all my heels to Facebook. I told him that wouldn't work because then people wouldn't hear about all the amazing adventures they go on. And Cat in Heels was born.  Now it's about more than just my shoes. I also discuss trends, designers, fashion, makeup and, of course, still my shoes.