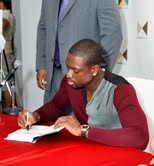 Miami Heat Championship All-Star Dwayne Wade stopped in NYC this past week on his official book tour. The NBA Star made appearances at ABC, CBS, Fox News CNN and BET to discuss his new book.  A Father First: How My Life Became Bigger than Basketball, is a first-person account on the challenging journey Wade faced before gaining sole custody of his two sons.
Wade's memoir goes a step further by discussing the critical role fatherhood plays in plays in the community. He says he hopes his book sheds insight to others dealing with similar situations and he wants to show his fans that he too has many difficulties in life.
Wade told NBC Chicago, "I understand the importance of fatherhood in my life when I was growing up, and I understand the mentors that I had in my life that shaped me into the person that I am today." Wade also expressed that he wishes his experiences help shape someone else's views.It is refreshing to see a Superstar relate to his supporters in a positive way  and encourage them to be better individuals.
Photo Credit: Winston Rodney
written by: Janelle Allen