Grammy Nominations Announced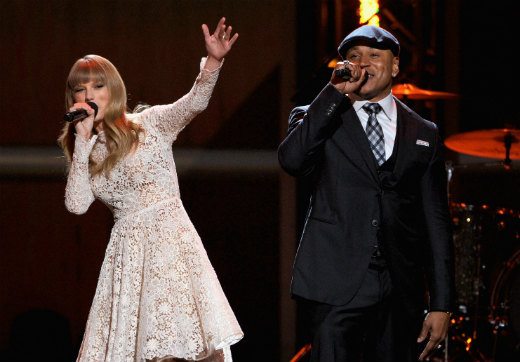 The Grammy Nominations Concert Live!! — Countdown To Music's Biggest Night was held last night at the Bridgestone Arena in Nashville, TN, and it featured performances by fun., Ne-Yo, Maroon 5 and The Band Perry — just to name a few.
The LL Cool J and Taylor Swift-hosted event unveiled the nominations for the 55th Annual Grammy Awards, which is set to be held on February 10, 2013, at the Staples Center in Los Angeles.
Industry pioneers Jay-Z, Kanye West, and Mumford & Sons, alongside newcomers fun. and Frank Ocean lead the star studded pack with a total of six nominations a piece. Take a look at the list of nominees below and visit the official Grammy site for the full list of winners:
BEST POP VOCAL ALBUM
Kelly Clarkson – "Stronger"
Florence + The Machine – "Ceremonials"
fun. – "Some Nights"
Maroon 5 – "Overexposed"
P!nk – "The Truth About Love"
RECORD OF THE YEAR
fun. featuring Janelle Monae – "We Are Young"
Gotye featuring Kimbra – "Somebody That I Used To Knoe"
Frank Ocean – "Thinkin About You"
Taylor Swift – "We Are Never Ever Geting Back Together"
The Black Keys – "Lonely Boy"
Kelly Clarkson – "Stronger (What Doesn't Kill You)"
ALBUM OF THE YEAR
The Black Keys – "El Camino"
fun. – "Some Nights"
Mumford & Sons – "Babel"
Frank Ocean – "Channel Orange"
Jack White – "Blunderbuss"
BEST NEW ARTIST
Alabama Shakes
fun.
Hunter Hayes
The Lumineers
Frank Ocean
SONG OF THE YEAR
Ed Sheeran, "The A Team"
Miguel, "Adorn"
Carly Rae Jepsen, "Call Me Maybe"
Kelly Clarkson, "Stronger"
fun., "We Are Young"
BEST COUNTRY SOLO ALBUM
Dierks Bentley – "Home"
Eric Church – "Springsteen"
Ronnie Dunn – "Cost of Livin'"
Hunter Hayes – "Wanted"
Blake Shelton – "Over"
Carrie Underwood – "Blown Away"
BEST POP SOLO PERFORMANCE
Adele – "Set Fire To The Rain (Live)"
Kelly Clarkson – "Stronger"
Carly Rae Jepsen – "Call Me Maybe"
Katy Perry – "Wide Awake"
Rihanna – "Where Have You Been"
BEST POP/DUO PERFORMANCE
Florence + The Machine – "Shake It Out"
fun. – "We Are Young"
Gotye – "Somebody I Used To Know"
LMFAO – "Sexy And I Know It"
Maroon 5 featuring Wiz Khalifa – "Payphone"
BEST ROCK SONG
Jack White – "Freedom At 21″
Mumford & Sons – "I Will Wait"
The Black Keys – "Lonely Boy"
Muse – "Madness"
Bruce Springsteen – "We Take Care Of Our Own"
BEST ROCK PERFORMANCE
Alabama Shakes – "Hold On"
The Black Keys – "Lonely Boy"
Coldplay – "Charlie Brown"
Mumford & Sons – "I Will Wait"
Bruce Springsteen – "We Take Care Of Our Own"
BEST DANCE RECORDING
Avicii – "Levels"
Calvin Harris featuring Ne-Yo – "Let's Go"
Skrillex – "Bangarang"
Swedish House Mafia – "Don't You Worry Child"
Al Walser – "I Can't Live Without You"
BEST ROCK ALBUM
The Black Keys – "El Camino"
Coldplay – "Mylo Xyloto"
Muse – "The 2nd Law"
Bruce Springsteen – "Wrecking Ball"
Jack White – "Blunderbuss"
BEST R&B PERFROMANCE
Estelle – "Thank You"
Robert Glasper Experiment featuring Ledisi – "Gonna Be Alright (F.T.B.)
Luke James – "I Want You"
Miguel – "Adorn"
Usher – "Climax"
BEST TRADTIONAL R&B PERFORMANCE
Anita Baker – "Lately"
Beyonce – "Love On Top"
Melanie Fiona – "Wrong side of a Love Song"
Gregory Porter – "Real Good Hands"
SWV – "If You Only Knew"
BEST URBAN CONTEMPORARY ALBUM
Chris Brown – "Fortune"
Miguel – "Kaleidosope Dream"
Frank Ocean – "Channel Orange"
BEST RAP PERFORMANCE
Drake featuring Lil Wayne – "HYFR (Hell Ya F***ing Right"
Jay-Z & Kanye West – "N****s In Paris"
Nas – "Daughters"
Kanye West featuring Big Sean, Pusha T & 2 Chainz – "Mercy"
Young Jeezy featuring Jay-Z & Andre 3000 – "I Do"
BEST RAP ALBUM
Drake – "Take Care"
Lupe Fiasco – "Food & Liquor II: The Great American Rap Album, Pt. 1″
Nas – "Life Is Good"
The Roots – "Undun"
Rick Ross – "God Forgives, I Don't"
2 Chainz – "Based on a T.R.U. Story"