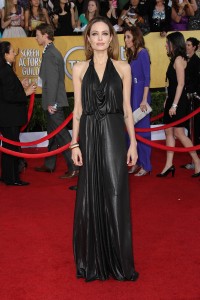 I'm a fan of the Cow Neck, but this romper looks like a  frumpy dress that does absolutely nothing for Angelina. I ask myself  what was she thinking!? Jenny Pakham has a lot of exquisite pieces!!! Ange, why this one? She looks like Wednesday of the Adams Family wrapped in a potato sack at a suicidal state. ! Sorry Ange but this particular black does not highlight you naturally beautiful pale skin. Fuzion 5.0 OH NO! GO BACK HOME!
The Lovely Viola Davis wore a beautiful goddess inspired Marchesa piece that just screamed elegance. Her hair was perfectly styled to highlight the gown, earrings were right to the hype, and the whole ensemble is just the best dress of the night. Fuzion 5.0 POW! WOW!
Going for the black safe zone, Tina Fey looked stunning in a Vintage Versace, Sergio Rossi shoes, Lorraine Schwartz jewelry, & VBH clutch. Jane Krakowski on the other hand, chose a Antonio Beradi; who's work is an inspiration, but she looked like Spider Mans' Rival Venom that is ready to spider crawl her way to her seat with high demands "Give me my award or the Spider gets it!" Sorry Jane! It is Fuzion 5.0 OH NO! GO BACK HOME!