On Tuesday, June 19th, Fuzion Magazine stepped out to join HADEM for Cocktails & Charity at Stitch in Manhattan. HADEM (Haiti Aujourd'hui & Demain) is a non-profit organization founded by Haitian-professionals who are dedicated to the overall improvement of Haiti.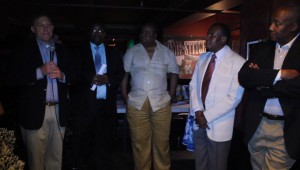 According to HADEM's website, "Our vision is to provide substantive developmental opportunities to university graduates through extensive leadership training, internship programs, and real world entrepreneurial experiences. These initiatives will be designed to implant the skills and motivation necessary to generate employment, create sustainable new businesses, and rebuild Haiti."
The event, from 7:30-9:30, served as a platform for HADEM to gain acknowledgment and share their cause as well as an excellent place traditional networking. With a slew of different reality stars and a few clothing and jewelry designers in attendance, Cocktails & Charity with HADEM was a success!
If you are interested in learning more about HADEM or are interested in donating your time, money, or both please visit HADEM.net .