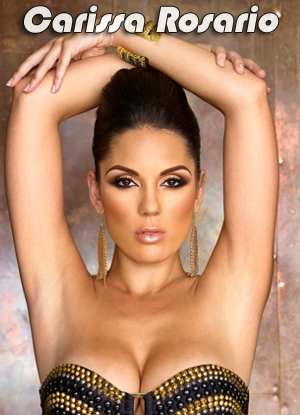 When I sat down to interview the #1 Googled Maxim model in the WORLD , I was a little nervous myself but after a few seconds into the conversation I realized that Carissa Rosario was not only an extremely popular international model, but a down to Earth humble artist enjoying her gift, exemplified through her voice bearing life without  sass.
Carissa may not speak with conceit but she is definitely confident and in control of her art. She has already mastered the modeling world but she revealed in our chat that she wants to brand herself so there is much more to come from her.
To date, Carissa is the  Spokesmodel for Monster Energy and Budweiser Puerto Rico. She has recently launched her very own perfume line 'Young and Fresh'. She has graced the covers of 15 international and national magazines, and appeared in numerous publications including Vogue Mexico, GQ South Africa and she is practically 'Ms. Maxim' after being featured in Maxim Espanol, USA, and UK.
Carissa was obviously born to model and not just because she has dreamed of being a model since age two or because of  her dedication and consistency in the industry but because of the many other notable things about her. She also shared that she has great pride in her Puerto Rican heritage so she is always looking to give back to her community. In addition to giving back and juggling a schedule like hers  Carissa also dedicates time to the fight against pediatric brain cancer.
Carissa Rosario brings the garments to life not just because she owns her beauty and sass but because when asked "How does it feel to be the #1 searched professional Maxim model in the world?" she was "speechless" . She brings the garments to life because she makes time to recognize her roots and support others while living such a time consuming dream. Carissa brings the garments to life because she enjoys the art, humbly, and  it is obvious in her relaxed voice without all the sass.