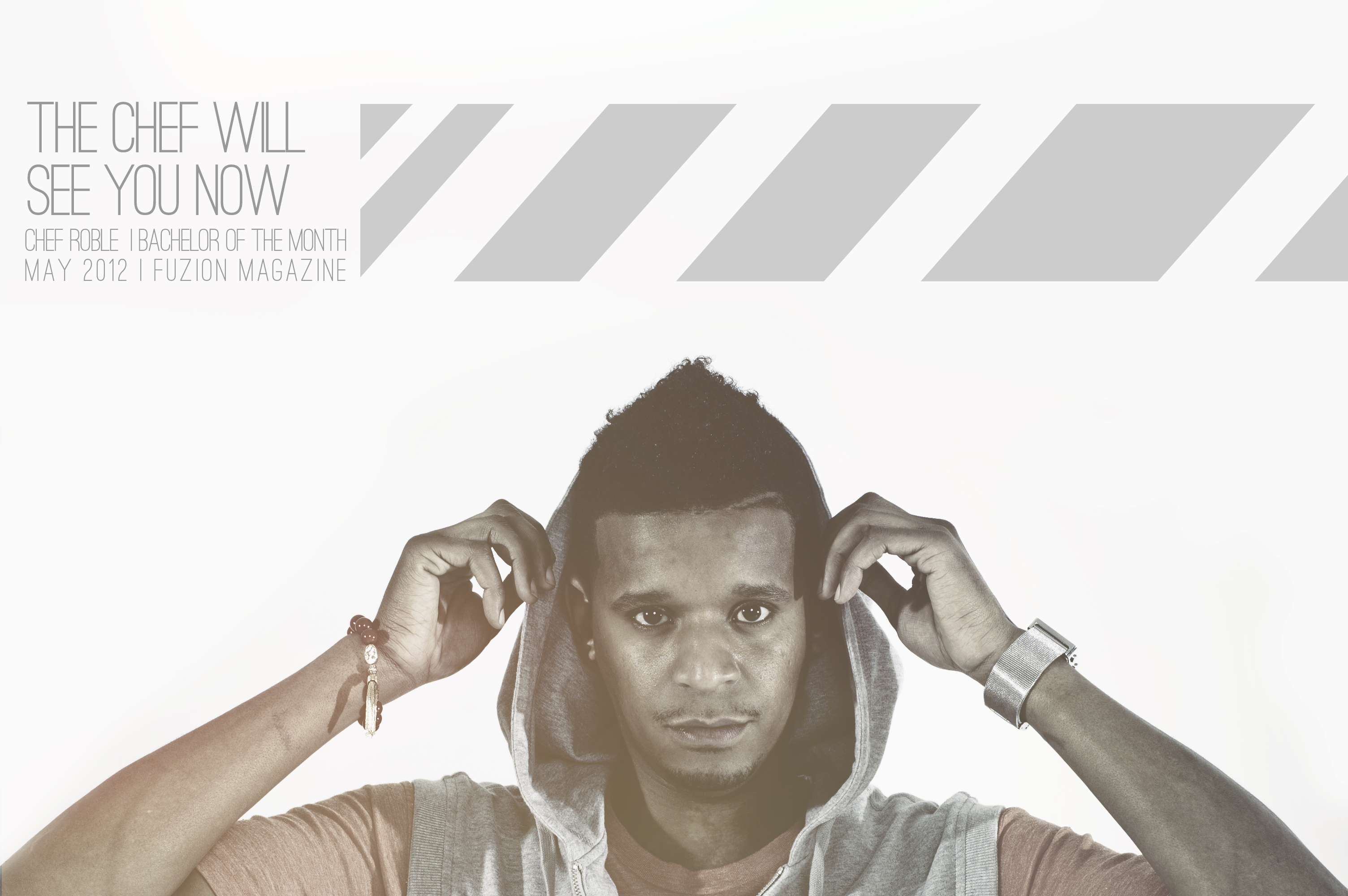 Roble' Ali, chef turned reality star has many titles. To add to the list he was just recently dubbed Fuzion Magazine's "Bachelor of the Month", his best title yet. Originally from Poughkeepsie, New York, this young stud muffin doesn't seem to let his newly found fame faze him. During his photo shoot/ interview for Fuzion Magazine his down to earth personality made a comfortable atmosphere for the whole Fuzion Mag staff. Everyone present that day can co-sign on the fact that working alongside the chef was nothing less than a delight.
Growing up in his adopted home located in Houston, Texas, Roble' became intrigued with cooking. He made his cooking abilities known at an early age to the humble teachings of his grandfather. Around the age of 15, Roble' returned to his birthplace of Poughkeepsie, New York and began working in his first professional kitchen. Upon High School graduation, he enrolled at the Culinary Institute of America in Hyde Park, New York where he further and perfected his skills as a chef. Roble' was then employed at Abigail Kirsch, which is  an elite New York catering company, working alongside Chef Chris Santos as Chef de Cuisine of restaurant Mojo and on the opening of Stanton Social.
All of his experiences within the catering industry led to the opening of his very own catering company "Chef Roble' and Co." which aired on Bravo TV in the fall of 2011. Season one was such a hit that it lead to a Season 2 which will be coming up soon.
Fun Facts on Chef Roble':
Do you have any hidden talents that we should know of?
"I river dance, (laugh) I'm just kidding I don't river dance but I do skate board. It's something I do on the regular aside from cooking that people find interesting."
So you've cooked for a long list of A-listers and political figures, just recently President Obama himself. What did you put together for President Obama?
 "The thing that I was most happy about was the salad. It was arugula, shaved fennel, smoked goat cheese, blood oranges, and yellow beets. A lot of things that were in season…it was a beautiful salad."
What is your idea of a perfect date?
 "I guess it's pretty simple. If the date's over and both people had a great time and they want to go on another date then that qualifies as a perfect date."
What is your idea of a perfect girlfriend?
 "That's complicated…I don't know if anybody would qualify being perfect."
Would you want your girlfriend to cook for you, or would you want to do all the cooking?
"Both! I mean chefs get tired of cooking for people all the time so it's nice to have someone cook for us. You scratch my back  and  I'll scratch yours; or I'll cook but you'll have to do all the dishes, or you'll cook and I'll do all the dishes. It's a fair exchange."
Chef Roble' is currently focusing on building his brand and furthering his career. Coming from humble beginnings, he's astonished by all of the attention he's been getting thus far. All of this because of his television show "Chef Roble' and Co." which he says, "does not suck at all." Still very young in the business he's adamant on making his name stick to the point where you can't mention catering without mentioning Chef Roble'.
Be sure to keep up with the chef via twitter @chefroble, and visit www.Chefrobleandco.com!
Photos by Nathan Valentine
Styled by Fatiah Rebbekah Muhammad
MakeUp by Renarda Joy