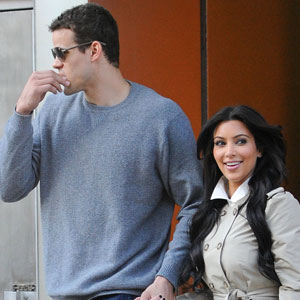 TMZ is reporting that Kim Kardashian will be filing  for divorce from Kris Humphries! After the wedding specials, the renewal of wedding vows on Ellen, and her pretty much trying to shove down our throats that this marriage was real she files for divorce after 72 days for irreconcilable differences or what I'd like to call "Wow. Everyone was right. He really did marry me for money and fame."
Kim Kardashian will file for divorce this morning, after 72 days of not-so-wedded bliss to Kris Humphries  … TMZ has learned.

We're told even though the marriage was short, she will not seek an annulment. It's a garden variety divorce, in which Kim cites "irreconcilable differences."

We're told the date of separation is listed as today, Oct. 31, 2011.

Kim has hired disso-queen Laura Wasser, who has repped the likes of Britney Spears, Maria Shriver, Angelina Jolie, Ryan Reynolds, and Robyn Gibson, Mel's almost ex-wife.

As we first reported, the couple has a prenuptial agreement … Kim made sure of that.

Rumors of a split had been swirling for some time and the two were spotted out to dinner earlier this week … looking less than pleased with one another.
72 days is enough time for him to come out with a tell-all pamphlet. This is going to get very ugly!