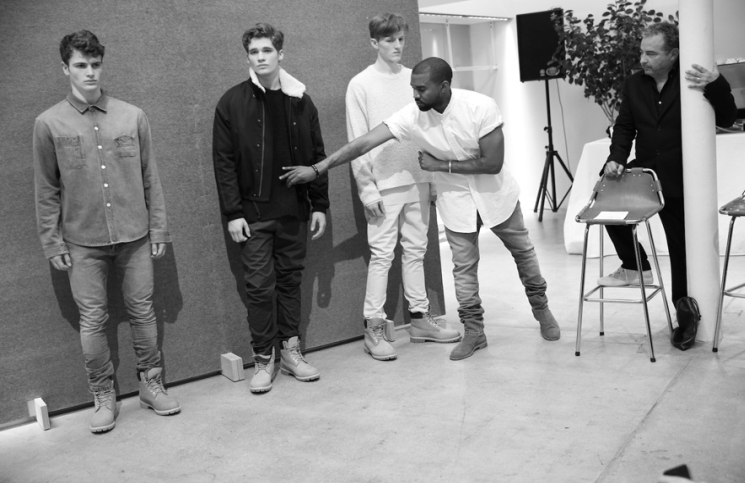 Over the weekend, A.P.C. menswear founder Jean Touitou presented his 2015 fall/winter fashions during a presentation. And while his models trekked down the runway in some Timberland boots and sweat pants, Jean popped up on the runway holding up a sign which read, "LAST N*GGAS IN PARIS".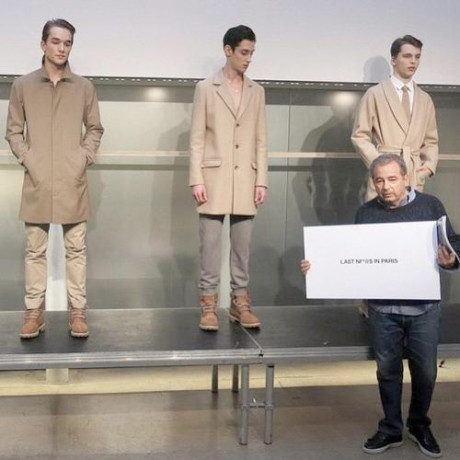 And as he opened with his live narration, the A.P.C. founder also reportedly repeated the N-word multiple times as the show went on.
He explained to Style.com why he chose to use the title by saying,
"I call this one look Last N*ggas in Paris. Why? Because it's the sweet spot when the hood—the 'hood—meets Bertolucci's movie Last Tango in Paris. So that's 'N*ggas in Paris' and Last N*ggas in Paris. [Nervous laughter from audience.] Oh, I am glad some people laughed with me. Yes, I mean, it's nice to play with the strong signifiers. The Timberland here is a very strong ghetto signifier. In the ghetto, it is all the Timberlands, all the big chain. Not at the same time—never; it's bad taste. So we designed Timberlands with Timberland…"
Jean clearly has no problem publicly using the word because he says he's "friends" with Kanye West. In fact, he presented his idea to Kanye BEFORE hitting the runway. 'Ye approved.
He told Style.com in an email the following day,
"I made looks which are a cross-over of those two references: the Timberland shoes and the sweat pants are iconic of hip-hop, and the camel hair color coat, worn with nothing under it, is iconic of that precise movie. I am friends with Kanye [West, who recorded "N*ggas in Paris" with Jay Z], and he and I presented a joint collection at the same place, one year ago, and that this thing is only a homage to our friendship. As a matter of fact, when I came up with this idea, I wrote to him, with the picture of the look and the name I was giving to it, and he wrote back immediately saying something like, 'I love this vibe.'"
Is the designer just drawing inspiration from his friend's title song "N*gg*s in Paris?  or Did the designer just went to far with the title?
How far is too far in the fashion world?