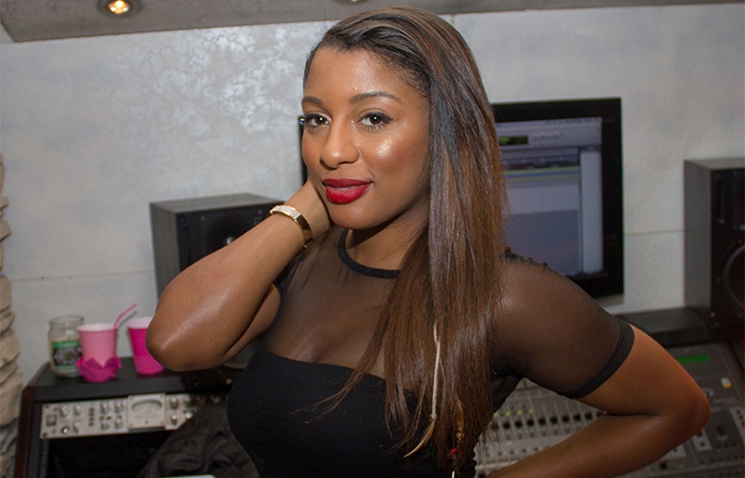 written by KrysJournal
photo credit Page 31
Anxious fans ready to discover the whimsical sounds of Atlantic Records very own Victoria Monet gathered on October 21 at Lounge Studios in NYC. The small intimate setting along with the excitement of the guest brought a fun energy into the listening room.  Power 105.1's Angela Yee hosted the event giving great words of kindness about Ms. Monet.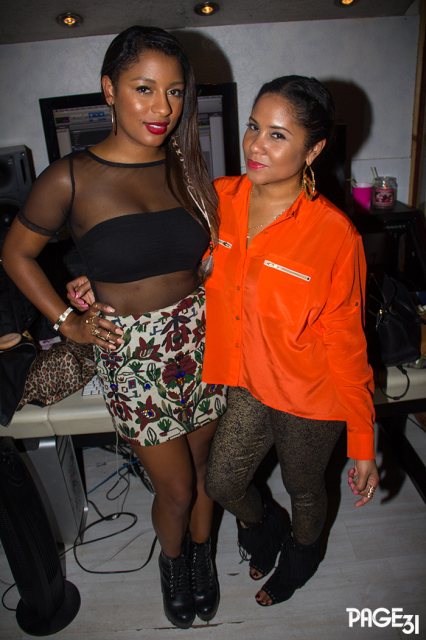 "She really deserves this" says Angela Yee, "There are not a lot of songwriters, talented artist that do everything like Victoria Monet does it." As the night progressed, pink cups of Ciroc flowed through the room that was saturated with love and gratitude for the coming together of the debut album "Nightmares and Lullabies." The creativity behind the album title comes as no secret once you get a taste of her unmatched sound. Victoria Monet says "Nightmares and Lullabies" is simply a creative representation of her natural and artistic voice.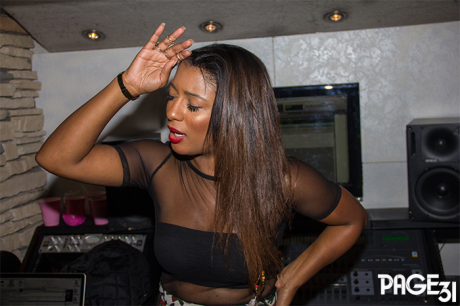 "I feel like it's a good description of my musical sound. I feel like the beats are all heavy…drum heavy, epic, tribal and I feel like that's the nightmares part. It feels huge and like it's approaching you and then my vocals are very whimsical and melodic and somewhat classical. I feel like that's the lullabies part and also all of my songs conceptually are a little bit light and dark and light and dark so I felt like it was just a good description for everything."
Victoria Monet has spent a lot of time behind the scenes writing for artist like Meek Mill, T.I., Kendrick Lamar, Ariana Grande and 5th Harmony. One of her favorites she said is Chris Brown's next single "Drunk Texting" featuring Jhene Aiko. The Georgia native, Sacramentan says her journey from writer to artist has been quite beneficial to her career. "I think it's just really cool crossing the hairs between being an artist and a writer just because a lot of the relationships you can use in vice versa. Being an artist for a writer and a writer for artists. A lot of the features that I'm on I just really try to sing the hooks as best as I could so they couldn't find anyone to replace them and that's how some things happened but early on they were taking me off. The only one that was brave enough to keep me was Nas which I feel like was kind of a cultural cool thing like oh I got this girl to sing this hook that nobody really knows and then from here stuff just started picking up so I'm really grateful for that." Not only does Victoria Monet equate to great music, her fashion sense is forced to be reckoned with. The diversity in her attire is what sets her apart from any other artist she says."I pull from everywhere and I like to have my personal style and try not to be too trendy and too brand heavy. I just really want people to be able to identify with me." 
If you've ever wondered what the process is like going from a young California girl with aspirations of singing to being signed by one the top record labels in the music industry, well Victoria Monet takes us on that journey.  She describes the day that she found out she was being signed to Atlantic Records. "One day my A&R called me like come to the office today and I'm like ok. He just wanted me to sing live for him so I had a pianist with me and I sang some of the hooks that I have been submitting and he was just ok we'll have a deal ready on the table for you next week and I'm like WHAT?! But this is like after years and years and years of working at it and dreaming of it and saving up to move to L.A. You can't even fathom how that feels, it's just crazy. I can't even describe it!" 
One of the most important things to Victoria Monet is making sure that she is relatable to her fans. Especially girls and young women. Growing up in Sacramento, California she explains it was just her and her mom. Young Victoria Monet looked up to her mom for being a strong beautiful woman who would hold her hand through the ropes of being a musician all while being a single parent. Through watching her mom sing in church and attending schools for performing arts, Victoria Monet began building up the confidence that she needed as an artist. It is that confidence is what she wants to share with those who were just like her growing up. "I'll respond to you on Twitter if you tweet me. I just wanna make sure that I'm on the ground and reachable to everybody. I don't ever wanna be that superstar that's just like oh I gotta wear glasses, don't talk to me. That's not what I'm about. I just want to be able to be relatable and any girls that have any issues I wanna come to their schools and talk to them personally because I feel like a lot of times I was the underdog, I was the shy only child, artistic one so I just wanna be there for those people that were just like me as well." 
When asked if there was anything she wanted her fans to know about her, she left us with these great words of wisdom and encouragement. "I just wanna let everybody know that if you have a dream and if you have a goal, you can't stop. You have to keep going. It's only a matter of time before it comes true and I'm a prime example of that. I've been working my but off and I know a lot of America and the world is but I just wanna say do not give up no matter how many people tell you no, no matter how many people tell you stop, sit down, you need to be doing this. It's your own brain and the world is the limit. I just want people to make sure that they work hard and they focus and just believe in themselves. Confidence is key!"
To find out more about Victoria Monet make sure you follow her on all of her social media sites by checking out www
.victoriamonetmusic.com
 . The Nightmares and Lullabies release date for the album is 
October 30th 2014
. Get your copy in a hurry!