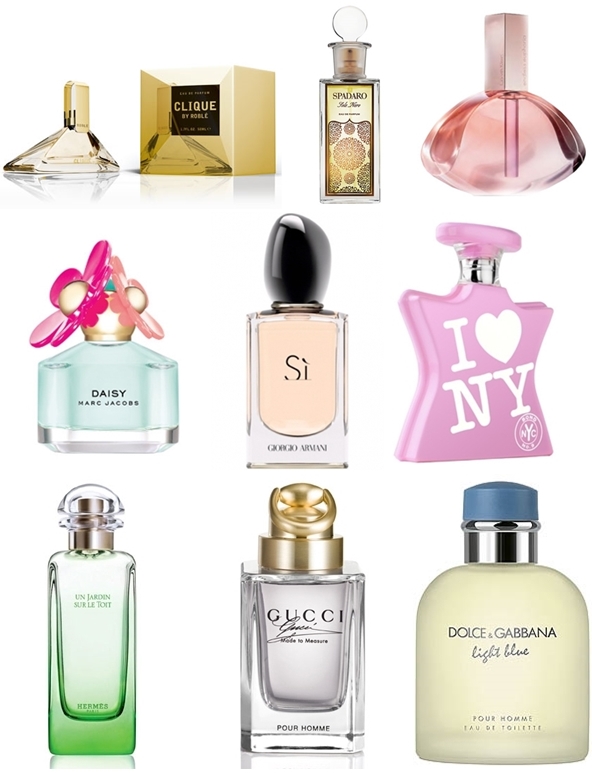 Spring is the air. The birds are chirping and the layers are shedding. It's time to say hello to lighter, softer scents. Finding a scent that is your style can sometimes be challenging but the satisfaction that comes from finding your signature spring scent feels as amazing as a brand new haircut.
Brands are keeping us on our toes with the recent release new fragrances that we absolutely love. Whether you prefer floral or citrus notes, we've put together a list of our favorites that will guide you to your new top scent.
1. Clique by Roblé  – Launching in Spring 2014. Other than the fact that we love this guy! He's first on our list because scent is the first ever fragrance inspired by a recipe, deliciously conjured up by celebrity Chef Roblé and top perfumer, Frank Voelkl. It opens with sparkling citrus cocktail notes as a complex floral heart explodes with wild jasmine, violet, tuberose and iris. This creation is enveloped by an irresistible base of Roblé's signature dessert, French Toast Crunch.
2. Sole Nero by Spadaro While on a Sicilian adventure with family exploring the land, they sipped wines from the region, ate succulent sweet summer fruit and watched the glow of Mt. Etna in the distance…inspiring this luxurious fresh scent. Sunny Italian grapefruit is imbued with a precious spice accord of white pepper and cumin. Enveloped by tender musk and comforting notes of sandalwood, almond and vanilla, Sole Nero evokes fond memories of loved ones near and far.
3. Endless Euphoria by Calvin Klein A feminine and sweet scent that's refreshing and light. With its top notes being cherry blossom and mandarin. This is perfect for the woman with a youthful spirit.
4. Daily Delight by Marc Jacobs We swooned over the scent in February when Marc Jacobs launched this with this pop up shop during New York Fashion Week. An extension of the already existing Daisy line, this one carries Top notes of the new fragrance incorporate juicy scents of apple, quince flower and freesia.
5. Si' by Giorgio Armani A new scent on the scene and according to Women's Wear Daily: "Australian actress Cate Blanchett has been confirmed as the new face of Giorgio Armani Parfums.
6. Bond 09 I love NY for Mothers – 
7. Un Jardin Sur Le Toit by Hermes A fragrance that is light and delicate. A wonderful opening that is so fresh, we just might think that this is spring itself, in a bottle. Made escpeially for the season, the weather is what makes this hit by Hermes so vibrant.
8. Made to Measure by Gucci Originally released in Fall 2013, it scent still lingering into Spring. This is the ultimate embodiment of the "worldly and refined" man. It has an oriental spicy top note he base is luxurious and sophisticated, made of labdanum, patchouli, leather and amber that would leave any man feeling like a CEO.
9. Light Blue Homme by Dolce & Gabbana Top notes are sicilian mandarin, juniper, grapefruit and bergamot; middle notes are rosemary, brazilian rosewood and pepper; base notes are musk, oakmoss and incense.
By: Jaleesa Jaikaran Makeup Artist | Beauty Expert