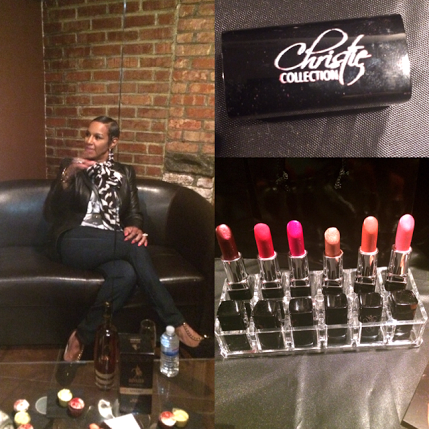 written by Talia Pepe
Fuzion has always admired Brooklyn Bred Tionna Smalls hustle. The other night we made our way to The Nail Boutique in Brooklyn to attend a Sip and Shop. Though, this wasn't just ANY Sip and Shop. Tionna brought a deep-rooted friend to Brooklyn to meet her fans. Who might this friend be? Basketball Wives LA Jackie Christie. Jackie came to Brooklyn to have an exclusive tasting of her new Cognac and debut her new makeup line #THECHRISTIECOLLECTION.
Upon introducing Jackie, Tionna gave the audience a brief history of the pair's friendship that they have maintained over the years. She stated, "Many people don't know this is my real friend. Before the cameras, before VH1, all of that. This woman helped me get my first industry check."   Tionna spoke ever so humbly about Jackie referencing her wisdom, advice, marriage, and kind heart-we soon understood why.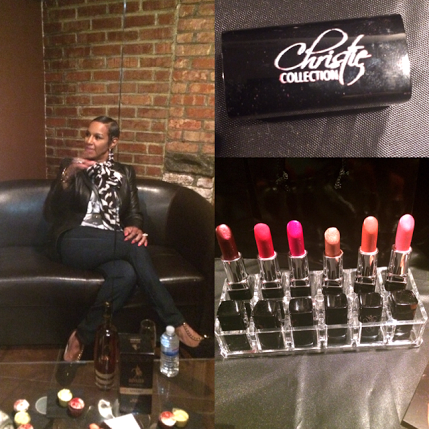 FUZION AND JACKIE CHRISTIE:
Your face is beat all the time on the show! Today you look flawless. Do you have a primary makeup artist on the show?
Actually I do, I have two primary makeup artists in LA. One is DEONDRE MICHEAL and he's amazing! He's got everybody from Mary J.Blidge to Vivica Fox, to Christina Milian. Also, I have  Sidney Horn. She's amazing she does make up for different shows like LOVE THAT GIRL. She's not as well-known but she is dynamite. Sidney is low-key and doing her thing.
What makeup product do you like to wear on a daily basis?
On an everyday basis I would have to say my lipsticks from the Christie Collection. I have six different colors. If a woman doesn't feel like putting on a full face of makeup she can get up, take a shower, put on a lip, throw on some sunglasses. She can go about her day and she's still stylish. I think all women are beautiful no matter what; if we have on makeup or not BUT lipstick is the piece I won't go without.
What provoked you to launch your makeup line at the same time as your Cognac? You took on two at once and it doesn't happen often.
I believe in multitasking. Also, beauty is my life. This is a lifestyle. I took on fashion and premiered at NYF, shoes that's also fashion, I have a skincare line coming out. Makeup has been my baby ever since I was little. I used to play in my mom's makeup. Then definitely my cognac. Everybody knows me as somebody that loves cognac; you know I love the brown! So I decided since I'm launching all of my products why not coexist.
So with your hustle being extremely strong whose hustle can you relate to the most on your season of BBWLA?
Out of all of the girls from my season the hustle that I can relate to the most would have to be myself. I say that is because I know my intentions. I go to sleep, I dream it, I wake up, and I put it into action.
Second to that is definitely Draya. Draya is amazing in what she's doing. I mentored her three years ago and helped her start her swim suit line. She's kept going with it and started doing different things. I really look up to her as far as that goes.
Do you own any Mint Swim?
You know what, I don't. I always tease her and say I have to get into shape. I'm working on that now. My bodies getting better!
I don't think that will be a problem with former athlete Doug around. You look great. Fuzion Mag appreciates your time!
Thank you so much!