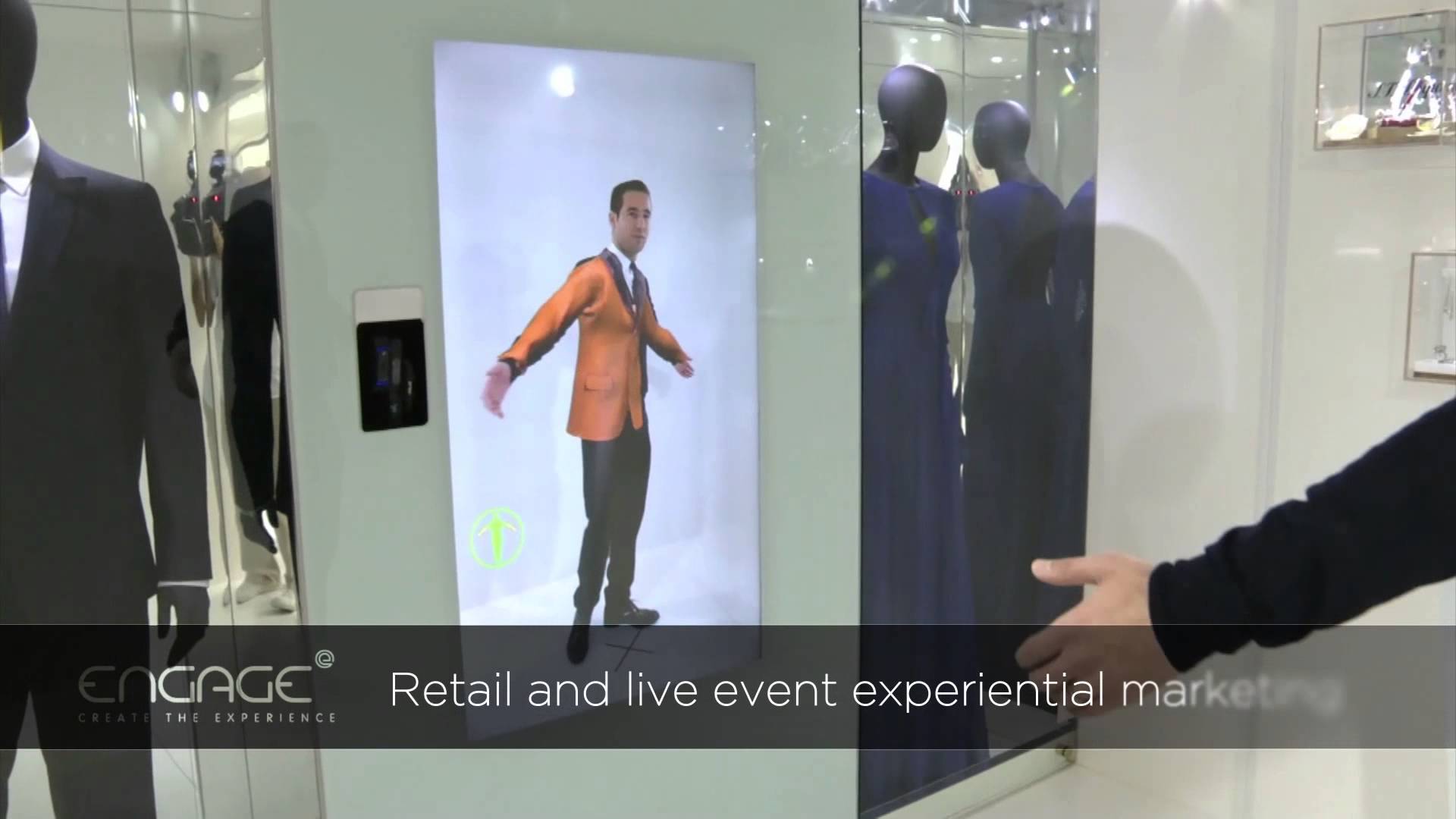 The Fashion 3D scans the shopper and reflects back a 3D virtual image of the customer wearing the high tech full-body image which allows them to "try on" high fashion outfits. The clothing appears on image of the user's body in a 360-degree virtual reality display of the styles of their choice. Gone are the days of wrestling in and out of clothing, coping with crowded changing rooms and wondering if the new style is going to look good . Fashion 3D allows a shopper to achieve in minutes what would normally take hours in a process notorious for turning customers off to shopping. The Fashion 3D provides a fresh and exciting alternative to the traditional dressing room, engaging visitors and empowering them to shop at a higher level of style and trend setting.

"The idea is to get people to engage with the technology," said Andy Hasoon, Engage's commercial director. "What we have here are augmented and virtual reality companies to show what the latest technology can do for business."
Engage designs and produces branded technology concepts for its clients, with a view to enhancing customer interaction. They have worked with several famous companies such as Bloomberg, Sky, Chanel, Porsche, Ferrari, Nike and Visa.
Fashion and business technology from Fashion 3D to the Double Robot, built on Segway technology, with an iPad allowing a client to "tour" a shop or venue virtually – they are showcased at the FLUX Innovation Lounge . There are also 18-foot (5.5-m) touchscreens, holographic cabinets and immersive environments. There is the Chanel Virtual Book which looks like a book – it's leather-bound and has real pages – but it's actually a virtual magazine created by Chanel. Chanel commissioned Engage to create a digital page turner, but wanted something different, something unique to the Chanel brand. Engage developed a virtual book with a difference – incorporating real paper. Virtual content is displayed on the pages via an overhead projector, activated by a sweep of the hand – innovation writ large in a beautifully realized Chanel book. There are currently installations in central London and at Heathrow Terminal 3, with plans for more. http://www.vimeo.com/89607131
A projector above the book beams down pages from the magazine which are delivered over the Internet. Interactive sensors respond to movement, so when you move your hand over the book, the pages appear to turn. Because the pages are held on a server at Chanel's head office, the book can be updated remotely, just like a website. The Virtual Book was created for Chanel and is currently installed at London Heathrow Airport.