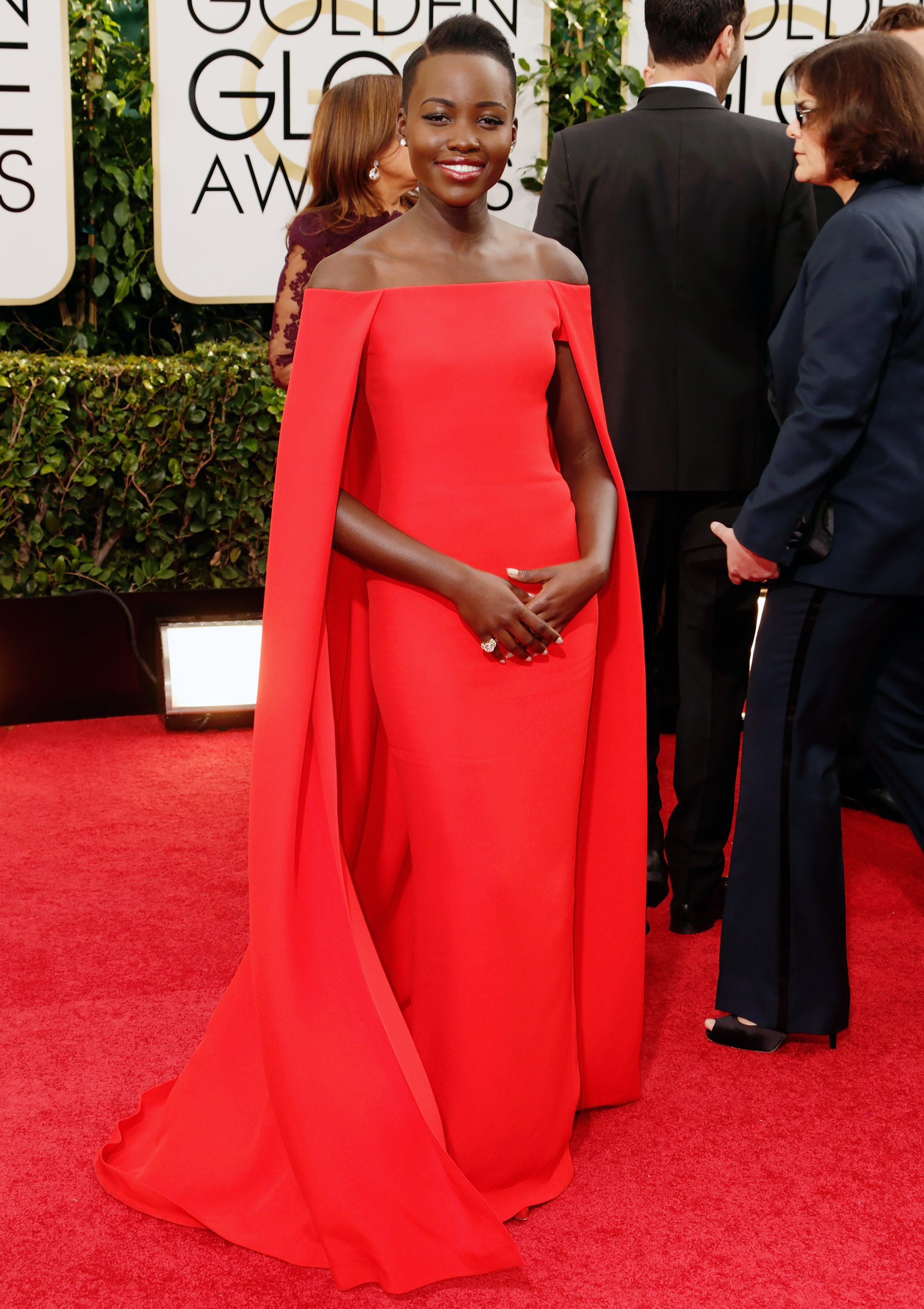 Over just the past month, two major red carpets attracted celebrities and personalities world wide. The Golden Globes and SAG Awards just passed and The Grammy's is just 2 days away! Dawning the latest from the runway, the red carpet was full of hautes and nots. See who set the the trends and who fell below the mark!
The 2014 GOLDEN GLOBE AWARDS
HAUTE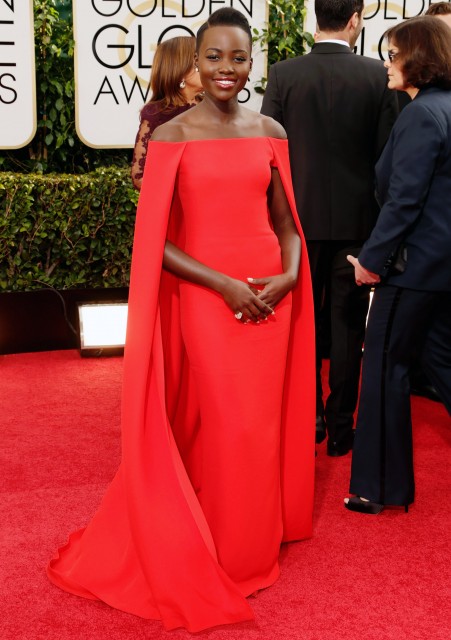 Lupita Nyong'o in Ralph Lauren
Lupita has become the "it girl" overnight because of her effortless and chic style. This red cape detailed gown is sure to be a popular trend for 2014. The color is radiant on Lupita's skin and the silhouette is regal and exquisite.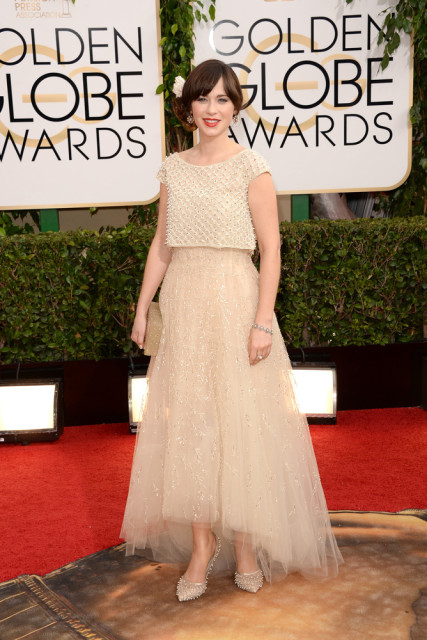 Zoey Deechanel in Oscar de la Renta
Zoey channeled Chanel and the late 1920's as inspiration for this darling look. The cream pearl adorned shoes compliment this head to toe ladylike putfit. The best part of Zoey's look is how unexpected this is on the red carpet!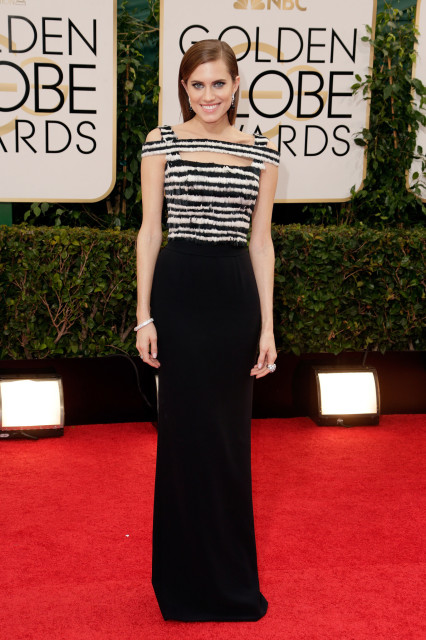 Allison Williams in Alexander McQueen
Allison is know for her frilly frocks, however she went for a more dramatic look in this black and white striped gown. The minimalist appeal mixed with classic colors and cuts create one noble gown.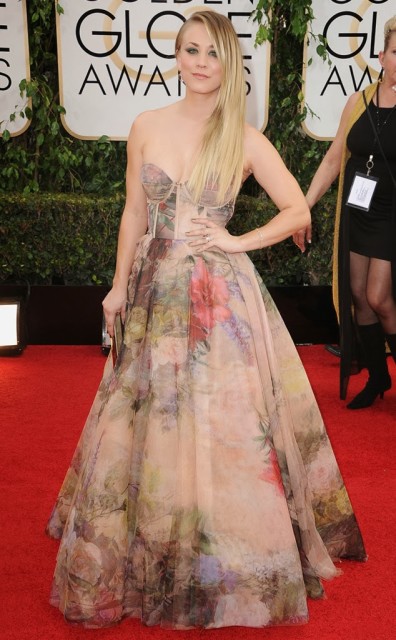 Kaley Cuoco Sweeting in Rani Zakhem
Kaley looked whimsical yet artistic in this show stopping gown. Digital floral print has become and understated trend, however the execution is hard to perfect. This dress has enough volume mixed with a muted pastel color pallet, making it a work of art.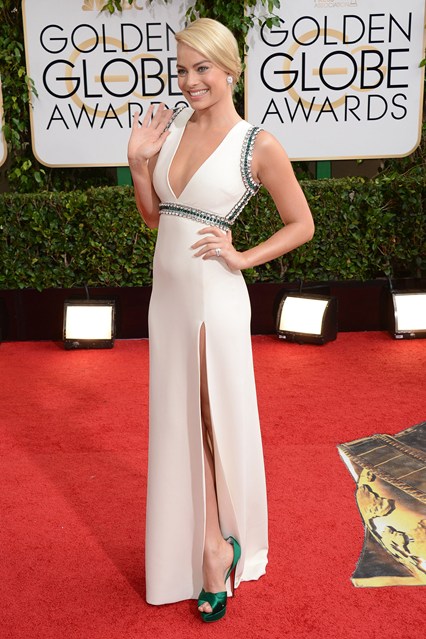 Margot Robbie in Gucci
Margot looked stunning in this white Gucci gown trimmed in grey and black crystals. The forest green shoe adds an unexpected yet royal twist. The deep plunge is sexy but not to risky. Simple yet glamorous diamond studs complete this effortless look.
The 2014 GOLDEN GLOBE AWARDS
NOT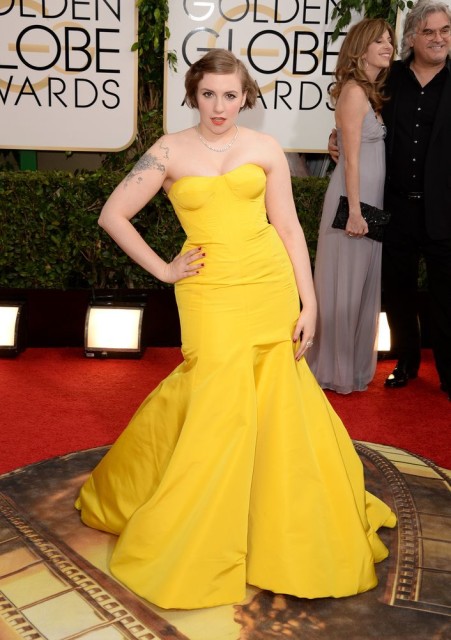 Lena Dunham in Zac Posen
Lena has always struggled in the fashion department and this disappointment comes because of the fit of this dress. The color is a great option for her skin tone, however the bust is too tight. Even a small bust line can look unflattering when smashed into a smaller size. This then creates side boobage, which is never good. A good steaming of the mermaid skirt wouldn't have hurt either!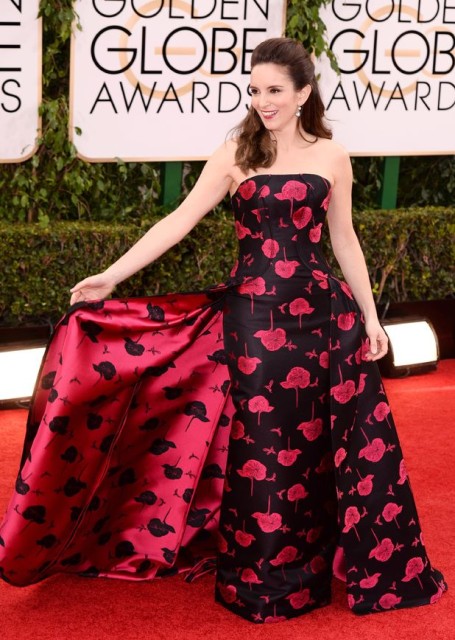 Tina Fey in Carolina Herrera
We understand that Tina Fey is known for her comedic demeanor, however this dress falls short of a funny take on fashion. The floral print trend looks like a children's pillow from far away and the size of the roses are distracting.  A little less dress and a smaller print could turn this dress into a winner.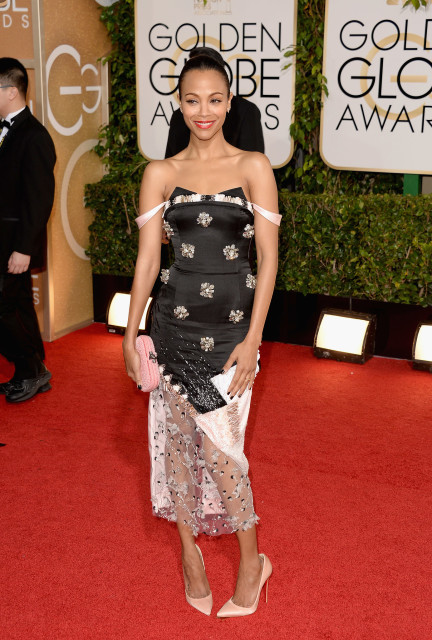 Zoe Saldana in Prabal Gurung
Zoe usually knocks it out the park and trust me, I wanted to love this dress. There are way too many elements to this dress, creating an overwhelming effect. If we cut off the straps and lost the pink purse, we may be heading in the right direction.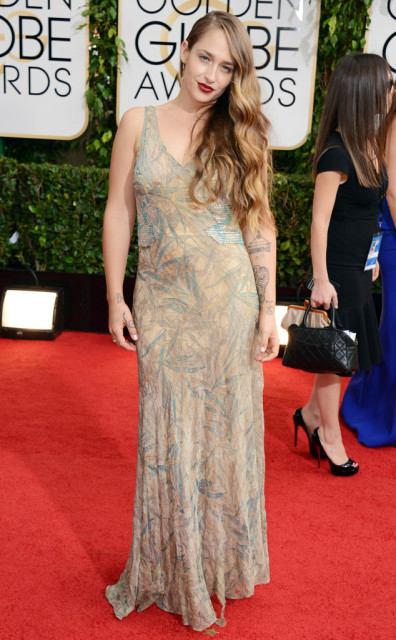 Jemima Kirke
Jemima Kirke is low maitenance and we respect that, but that is no excuse no to try. Overall this dress screams "I don't care" and there is way to say that while looking red carpet worthy. The entire look is outdated and overly grungy.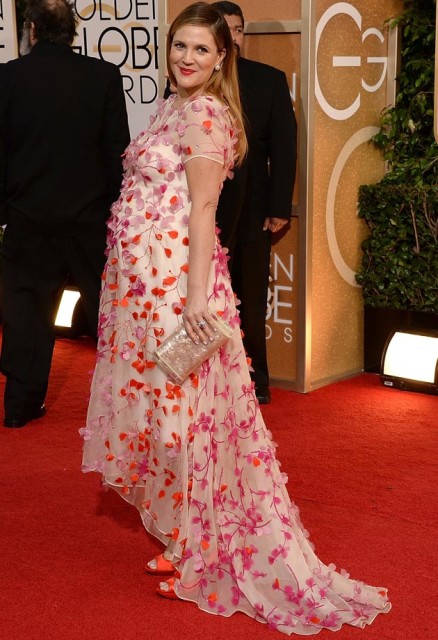 Drew Barrymore in Monique Lhuillier
Drew Barrymore is pregnant and glowing, but this dress was not the right choice. The overuse of floral applique takes away from the angelic essence of this dress. Not to mention it is completely shapeless and Drew is fit enough to flaunt her bump!
The 2014 SAG Awards
HAUTE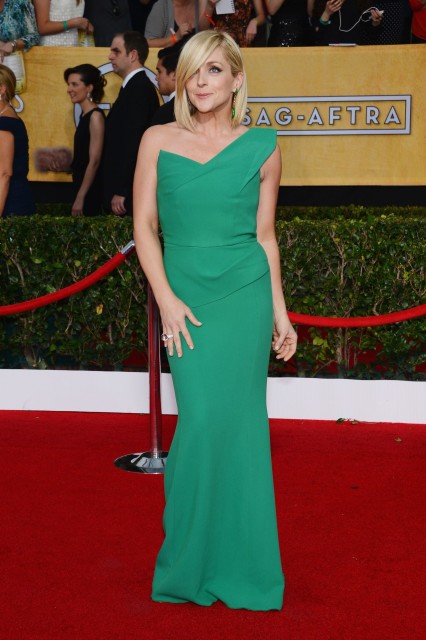 Jane Krakowski in Roland Mouret
Jane let the color and cut of this dress stand out on its own. This green is a mix between Paris and shamrock, creating an eye catching hue. The one shoulder detail and crisp structure make this simple dress so much more.
Lupita Nyong'o in Gucci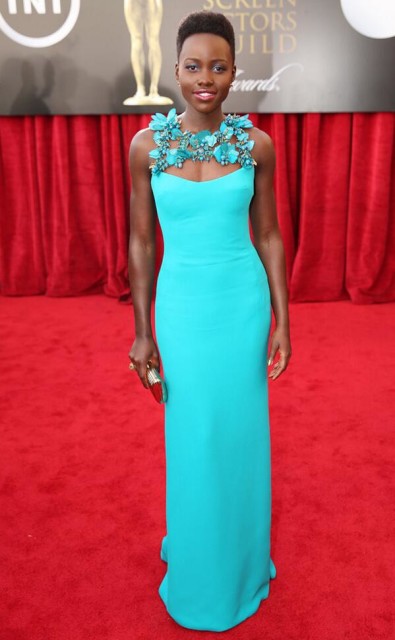 Lupita Nyong'o in Gucci
Lupita is sure to make every best dressed list. The color alone is enough to land her at the top while the 3-D floral design puts her above the rest.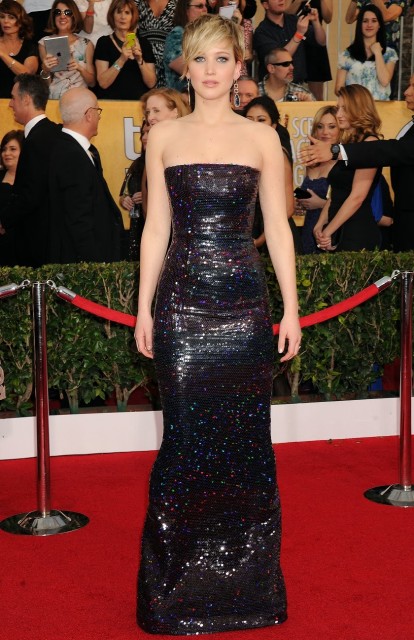 Jennifer Lawrence in Dior
Jennifer Lawrence normally wears Christian Dior and this dress was just as lovely as the rest. The multi color sequins design could have looked to "New Years Eve" however the precise design and color combination are just perfect.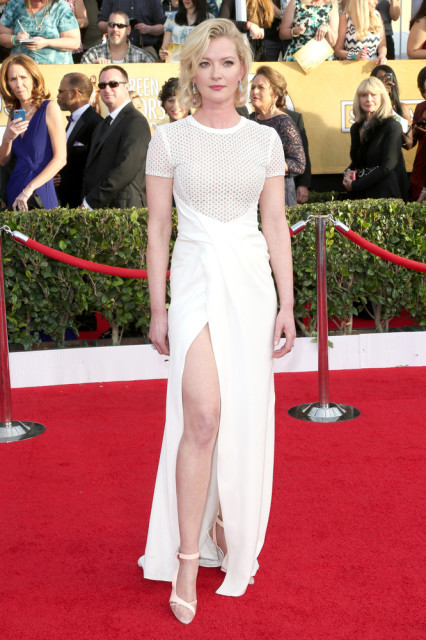 Gretchen Mol in J. Mendel
Gretchen keep it simple and chic in this white net detailed gown. This is the perfect mixture of casual and elegant, using ruching and a high split as the stand out details.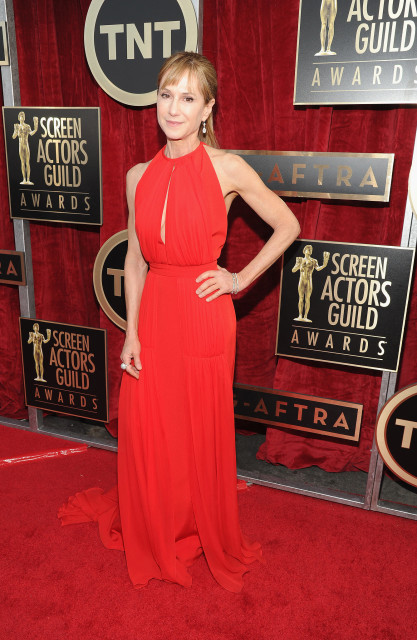 Holly Hunter
I've loved Holly's style ever since her appearance in Thirteen. This dress boasts a subtle key hole cut out and draping. This timeless piece is ideal for a red carpet.
The 2014 SAG Awards
NOT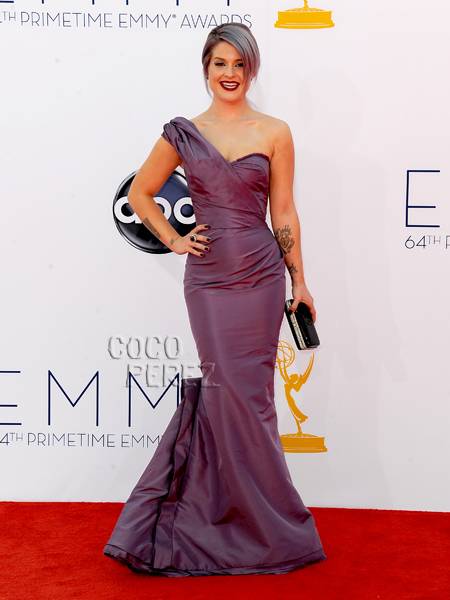 Kelly Osbourne in Zac Posen
People may disagree with this assessment of Kelly's gown, but the train looks unfinished. Kelly's figure is to die for and the eggplant color is on trend. Aside from this the dress falls flat.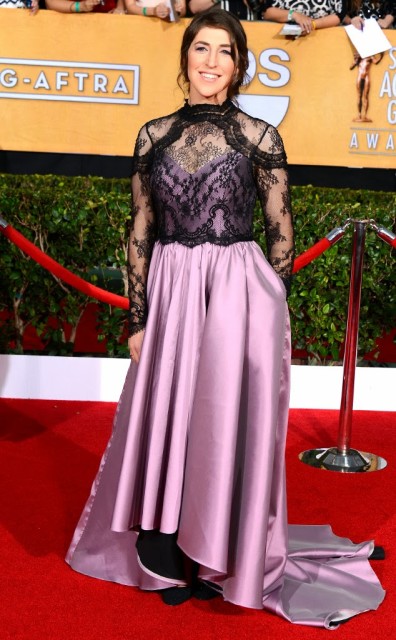 Mayim Bialik in Liv Design
This one of a kind dress went totally wrong with the fabric choice. The satin looks cheap and the lace isn't hugging her silhouette. If you want to make lace look sexy, it has to be the right shape!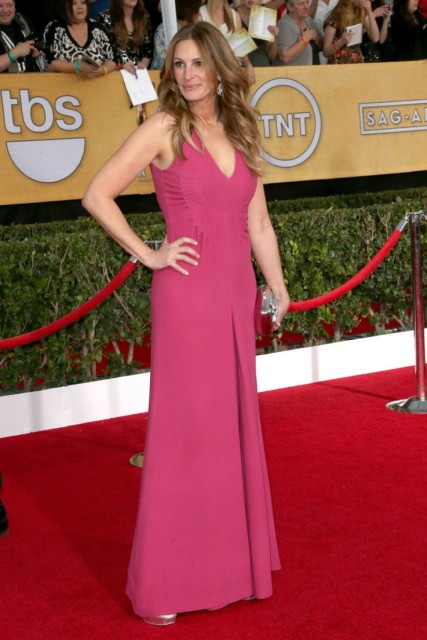 Julia Roberts in Valentino
Julia is on this list because she should never give herself the opportunity to land on it! Julia always looks red carpet worthy but the color of this gown screams "pepto bismol" and its just plain boring.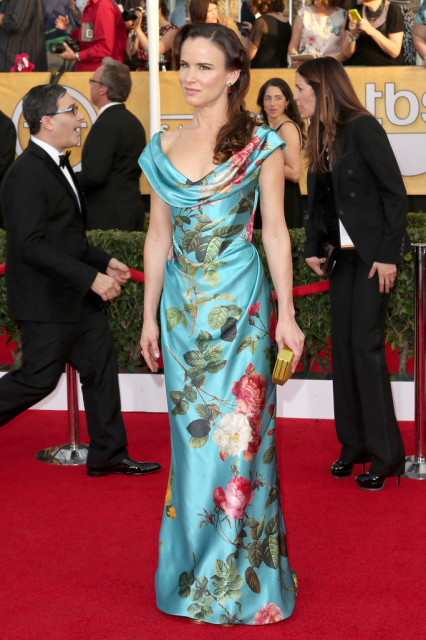 Juliette Lewis in Vivienne Westwood
All that can be said about Juliette's dress is that is perfectly resembles a night gown. The draping effect is the only thing that looks like it would be on actual clothing. Color and print, this could pass sleepwear. The mustard clutch just makes this ensemble more confusing.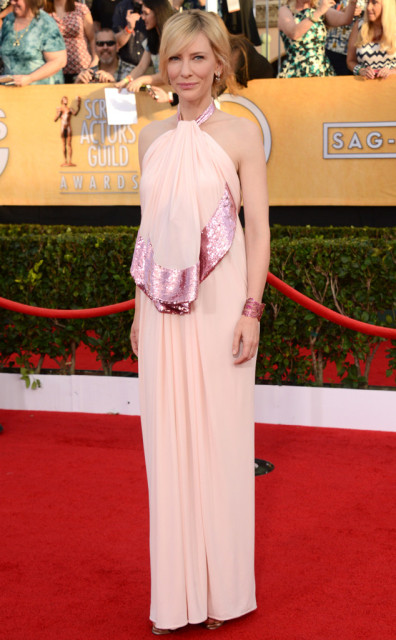 Cate Blanchett in Givenchy
Slim and pregnant or not, this sequin bordered layer looks like fabric thrown on top of an already loose fitting dress. The entire dress looks like a long ice skating outfit and the halter neckline is outdated. Once again, Cate can show off her baby bump in a more stylish way!