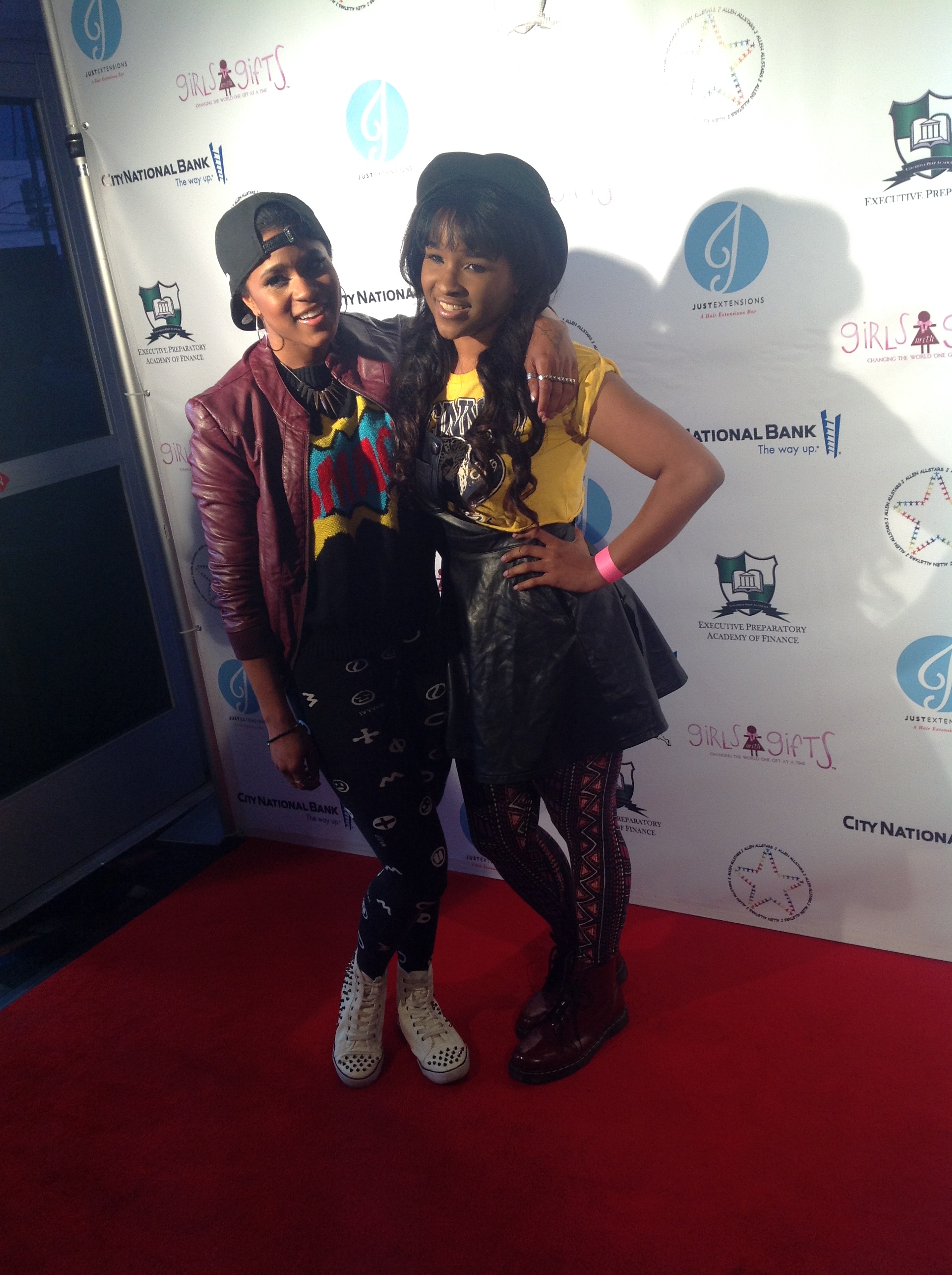 written by Angel  Wynter
This past weekend, several celebrities came out  to support Girls With Gifts and the Executive Prep Academy of Finance's 2nd annual charity bowling fundraiser. Karen Civil, Miss Diddy, Sevyn Streeter, and Necole Bitchie were among the number of stars who smiled it up for Fuzion's camera on the red carpet held at AMF Bayshore lanes in Santa Monica, CA.
Fuzion caught up with MTV2's "Girl Code" star Alesha Renee to discuss her reason for attending the event . "I want to show my support and stand behind an amazing cause that helps women and gives them a platform to showcase their gifts and personal talents with the world." Popular host and DJ Jae Murphy spun on the 1's and 2's all evening to keep the bowlers grooving. Songwriter Kam Parker, who recently co-wrote a song on Toni Braxton and Babyface's new album "Love, Marriage, and Divorce"  , and star of 106 & Park Miss Mykie was also in attendance.
Star of B.E.T's hit scripted series "The Game" Lashontae Heckard also had a few words of support for the event. "Anything involving bringing young women into a positive environment and giving them an opportunity to make an impact is something I'm all for." When asked by Fuzion cameras about her future projects, she told fans to keep an eye out for her new movie called "Getting Even" directed by Beverly Orozco.
Several bowling competitions took place throughout the evening, with stars such as former Cincinnati Bengal Jason Allen and B.E.T. exec Stephen Hill battling it out for a win. Unfortunately for both, Atlantic Records VP Dallas Martin won the coveted 1st place trophy of the night.
While many celebrities turned out for an eventful afternoon, the real stars of the show were the people behind the charities. Antoinetta Harrison and Monique Hobbs are the cofounders of "Girls with Gifts", a nationwide mentorship program for young girls ages 11 through 18. Fuzion magazine spoke with Ashley Greene, chief of operations, about the purpose and goals for The Girls with Gifts foundation. "Girls with Gifts is a non-profit organization and was founded to help inner city girls, said Greene, who have a passion for the arts in the entertainment industry."
Omar Gooding, founder of the "Executive Preparatory Academy of Finance", wants to raise awareness about the importance of finance in young teens and adults lives. His academy is a high school for minority children that teaches kids about banking, investing stock markets, and financial security. The preparatory academy also partners with Merrill Lynch and Goldman Sachs to provide its students with the best learning experience possible.
With the growing epidemic of young disadvantaged boys and girls in negative situations, it's great to see so many celebrities coming out to support a great cause. Thanks to these and many other organizations' mission to uplift underprivileged youth in our society, young people have a positive outlet that they can grow from.