written by Allison Hazel
The passing of female comedian and icon Joan Rivers shocked the entertainment world on Thursday September 4th. Rivers was loved by many including family, friends, and colleagues. Legendary broadcast journalist Barbara Walters, was deeply saddened about Rivers' death saying "No one loved life, laughter, and a good time more than Joan. We would have dinner and laugh and gossip and I always left the table smiling.   She was a brassy, often outrageous, and hilarious performer who made millions laugh.  In private, she was the picture of elegance and class.  I will miss her."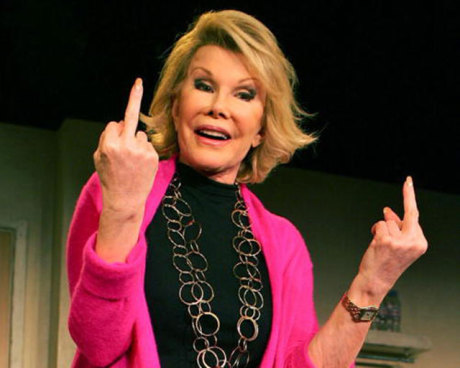 Fellow comedian and talk show host Ellen DeGeneres also said a few heartfelt words about the Fashion Police star. "Joan Rivers will always be a pioneer. She paved the way for a lot of comedians. I'm very sad she's gone.
Rivers died at 81 at Mount Sinai hospital in New York City. Rivers had been hospitalized since August 28th when she went into cardiac arrest during a routine procedure at a Manhattan doctor's office. A New York City medical examiner says further tests are needed in order to pinpoint the cause of her death.
The vibrant comedian and Hollywood starlet leaves behind her daughter, Melissa Rivers who had this to say about her mother "My mother's greatest joy in life was to make people laugh…although that is difficult to do right now, I know her final wish would be that we return to laughing soon." A private funeral will be held for Joan Rivers on Sunday.