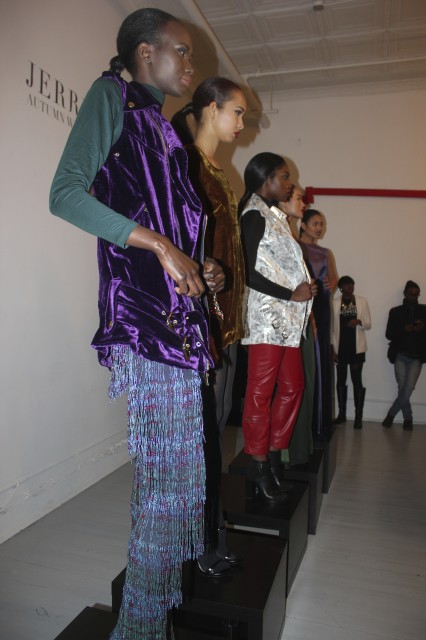 The namesake luxury clothing brand JERRICK GRAY debuted its collection in SoHo on Feb. 11 and the showcase was unlike any other one is likely to see this year during New York Fashion Week. There was no runway with spectators silently viewing from the sidelines. Instead viewers here talk freely and our served drinks while surrounded by posing models dressed impeccably who stand (nearly) frozen on black wooden boxes, all while the designer, Gray himself, mingles with the crowd. The setting was at once personal, comfortable and intimate, which is just how Gray likes it.
"It's a bit more intimate than going to a runway presentation and I'm all about being intimate and having a crowd of people where you can just unwind and just be yourself and just enjoy whatever's going on around," Gray said. "We wanted a presentation for people to be able to connect with the garments rather than just seeing it on a runway, especially since it's the first presentation, so that people can actually appreciate the work and the craftsmanship that went into these garments and the details."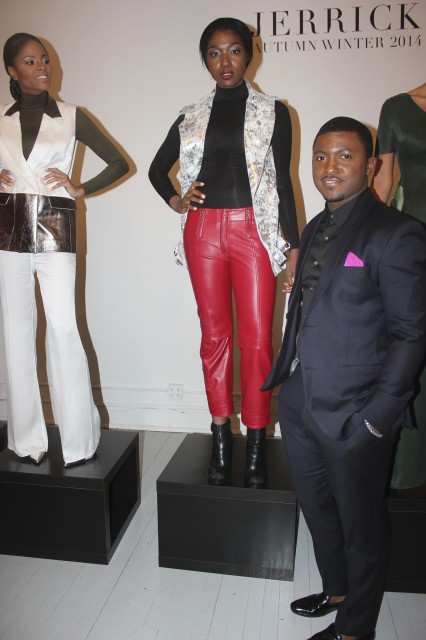 With his first collection Gray hopes to enforce  his motto: Women should be seen not heard.
"I wanted to empower women and that's my goal tonight," he said. "I just want women to walk into a room and just be drop dead gorgeous."
The collection was also inspired by the 1930s and 1970s as well as Gray's time abroad.
"I've been living in Bangladesh for three and a half years, I'm currently in London at the moment but by living out there I've been able to explore Asia in a way that many people aren't fortunate to do so. So I wanted to give back to them with this first collection," he said.
"I wanted to incorporate that whole lively experience into my first collection 'cause it's so dear to me and I just want to everyone to feel connected to me as an individual and not just the brand itself but the designer and I hope that I've achieved that tonight."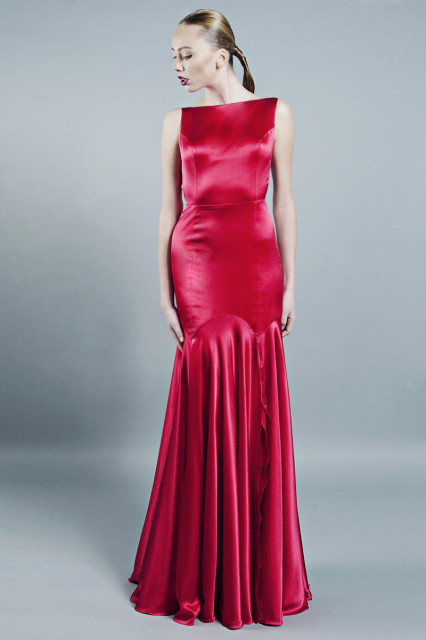 Gray confesses he is a "warm palette kinda guy" and within the collection, which is composed of all organic fiber, one can find "tons of mustards" as well as navy blues, various shades of green (particularly emerald), softer colors, such as champagne, and Gray's signature color fuchsia, which he said will always be "incorporated into any collection or anything that I do."
The show's head stylist, Sheila Barry, who has been involved with Fashion Week for six years, said hair and makeup were aiming for a simplistic look in order to avoid competing with the clothing on display.
"We did very fresh faced, not a lot of color, real basic detail in the eyes [and] in the lips," she siad. "Hair was pulled back, we're trying to bring more attention to the clothing as opposed to the look of the hair and makeup. Just very general, very basic, but still very lovely."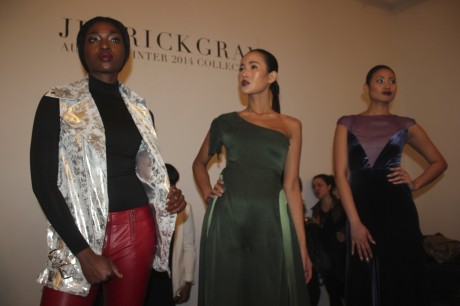 The reception has been very positive so far according to both Barry and Gray.
"Everyone's really been getting it, everyone's loving what they're seeing and hopefully, you know, they're picked up and we start seeing more JERRICK GRAY," she said. "Jerrick Gray is an amazing designer so we're definitely looking forward to seeing more of his pieces out in the limelight, on celebrities, on television and in stores."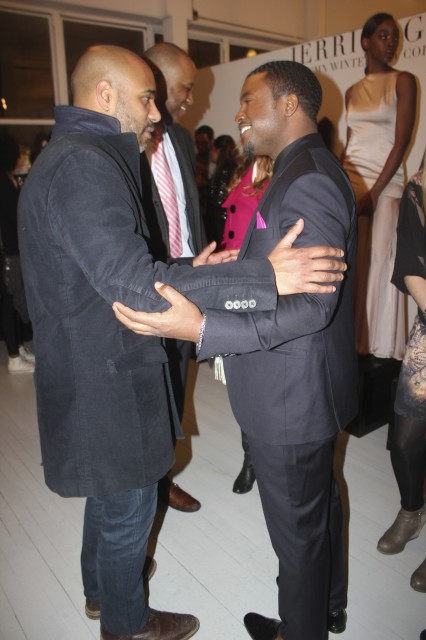 ""I believe the only way to succeed is to try, and sometimes you get it wrong but at least you tried," he said. "And all you got to do is get it right ONCE and hopefully I've (and the entire GRAY team have) done that tonight."
Written by: Jennifer Verzuh