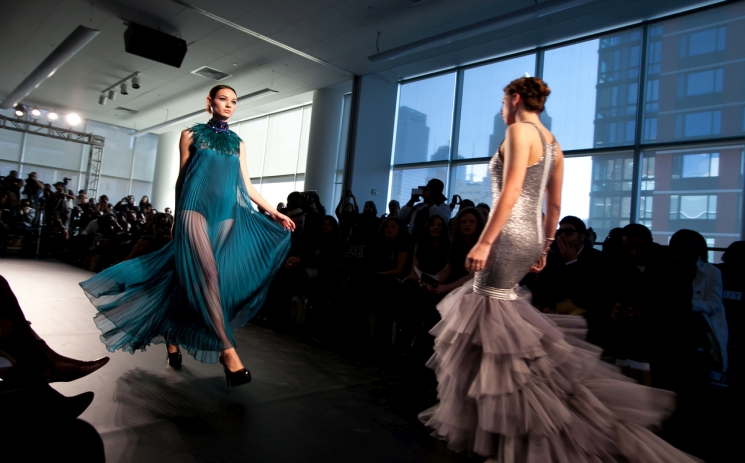 written by Krystal Paulin
As the Wednesday evening collective runway shows readied themselves at the NOLCHA Fashion Week 2014-15 Fall/Winter "Ones to Watch" presentation, Fuzion Magazine ran into a mix of stars including Atlanta's own Derek J (Bravo's Fashion Queens), fashion blogger Courtney Kerr (Bravo's Courtney Loves Dallas), and actress Katerina "Kat" Graham (Vampire Diaries).  Kat Graham stunned in a royal blue deep-V wrap dress with sparkling neck jewelry.  Derek J told me that this was his first NYFW show as he'd just flown in from other obligations, and that supporting independent designers was both important and something he liked to do.  This show included 10 pieces each from six varied and promising designers.  Here are our highs and lows from the show.
Kicking things off with a punch of color, and sparkle, Gail Be Designs immediately wowed the crowd with a full length peacock feather skirt and a jeweled chain chest piece in purples, blues, and turquoises.A familiar face on this runway was Denver's own Jiana Davis from America's Next Top Model 2.0 donning a fiery two piece.  One of my favorite looks had to be the Jane-esque design with ankle bracelets and arm jewelry that'll have me swinging from a vine in no time.  Known for the World's Largest Beaded Wedding Dress, this collection showed off Gail Be's 24 years of beading expertise.  As the brand moves into incorporating fabric with their beading I look forward to seeing their designs on the red carpet.  *3 snaps dahling*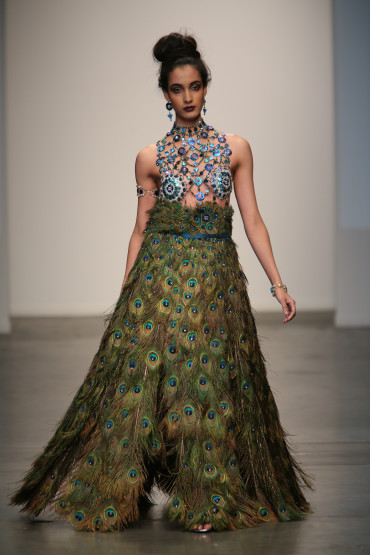 One of the lows for this collective show was Riza Manalo's designs.  The pieces in most cases looked unfinished, ill fitted and not fully executed; with stray strands, visible threads, and fringed fabric.  One of the dresses on the models with a deep back fell to a point where we could see the models undergarments and I heard a few quiet groans in the audience.  At the end of her showing Riza appeared to be forced down the walk with one of her male models.  Photos from the event give her justice but sadly, this presentation looked like a bad fashion design final and was quite honestly embarrassing to watch.  We hope to see her recover in the near future.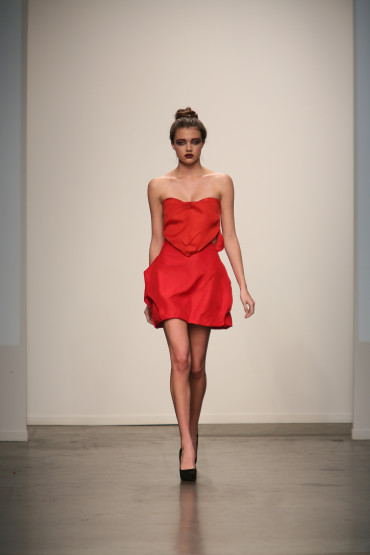 (Christa Rhaburn)
Now, imagine the air filling with your favorite meditative Bollywood style music and being simultaneously transported to your Indian Princess in NYC fantasy.  Just me? Well, Naveda Couture takes elements of tried and true Indian craftsmanship and modernizes it for everyday wear and evening glam.  With just the right amount of ornamentation Amy Devan's pieces will upgrade all of your Monday to Sunday appearances without being overstated.  Our favorites had to be the gold beaded net jacket, and the dark blue embroidered skirt and tunic with decorated cuffs.  The embellished shoulders and wrists seen within the line are aligned with the trends spotted during this fashion week.  "Me likey!"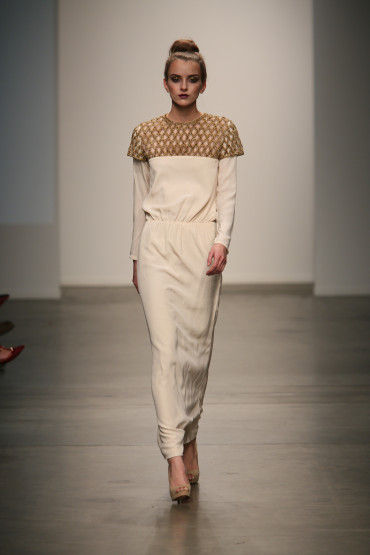 Maison de Papillion had us ready for bed, but in a good way!  These designs from their luxury "Sleepwalker" collection is meant to allow for versatility, lavishness and comfort for the 24/7 woman on the go.  The only confusing point for the viewers were the hooded cape, tuxedo shirt dress, and billowy sheer navy dress sprinkled in with the sleepwear.  At one point one patron asked quietly "Wait, aren't these supposed to be pajamas?" – Our sentiments exactly! Overall, they had a great showing and when designers Danielle Salinas, and Shriya Bisht came down for their walk they did take time to greet their personal guest Kat Graham.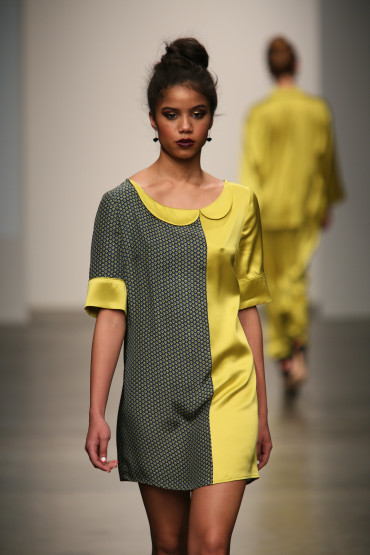 We entered the darkness with Christina Yi's designs.  Models hit the walkway with smokey eyes, and dark red and plum lips.  Outerwear continued with the cape trend adding color with a purple satiny version in addition to off center coats and knitted vests.  Knitted scarves were full bodied and sewn into vests which make for a great fall addition when you need just a little more warmth with added style.  Yi also allowed you to embrace your inner Morticia with a lace collar and half gloves worn under an amazing large collar cape with black feather accents.  I'll take one please!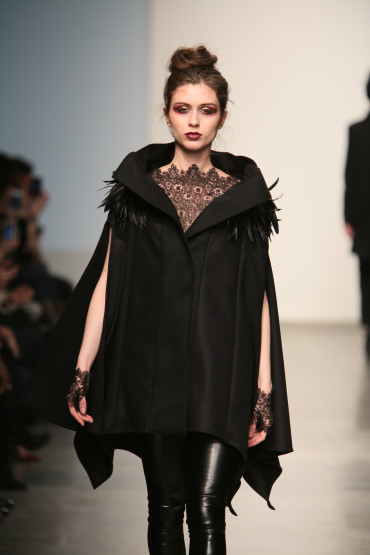 Christian Benner showed us it's all a matter of taste.  Pushing the leather jacket spectrum from sleek to grunge, his rocker and free willing inspired looks would give anyone the edge they desired.  Standouts on this run included the white quilted waist length jacket with stud embellishments, and the paint stroked green camouflage.  Models looked serious and boding with high hair, dark lips, and smoked out eyes.  The male models were made up with a bold black streak across the eyes.