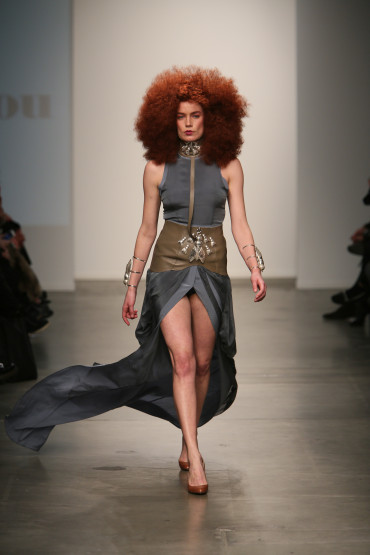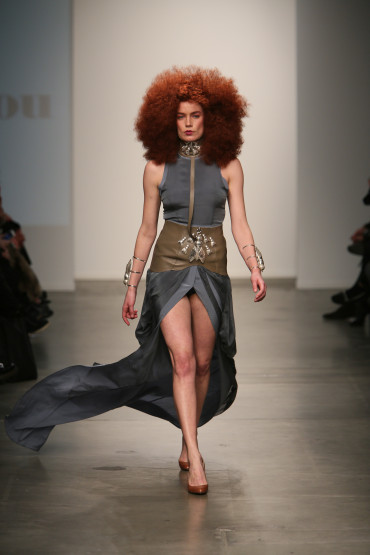 Nolcha Fashion Week: New York presented by RUSK (part of the larger 2014 New York Fashion Week), which is known for showcasing independent and emerging fashion designers, ended their Fall/Winter 2014 season on Wednesday at Pier 59 Studios to a crowded room (that included "Gossip Girl" actress Kelly Rutherford and Guns 'N Roses drummer Frank Ferrer) with the final show of the night featuring five returning designers: Jungwon, Gabrielle Arruda, L. Catherine London, Nina Athanasiou and Dany Tabet (all of whom were in attendance for the show).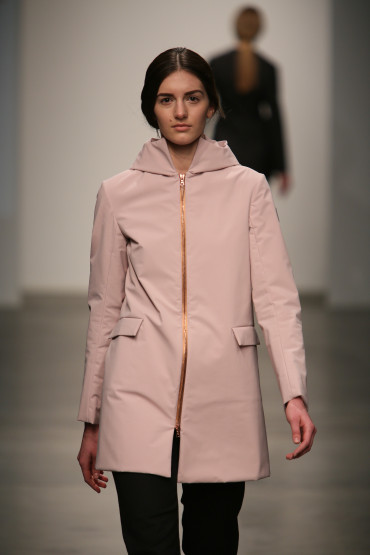 Jungwon's collection of rain coats and outerwear for both men and women began the show. Her line was all about stylish yet functional clothes that "everybody can wear and they look nice [in]."
"This year I focus[ed] on more practicable, reliable clothes, more everyday clothes," the line's designer June Sohn said. "I want to show [that] functional clothes can be so beautiful and you can wear [them] anyday.And in all the clothes the element is breathable waterproof. So you really are invincible in any kind of weather."
This season primary colors used in her line were black, grey and navy, with lighter colors, such as beige, light blue and pink being featured as well.
Sohn, who is being showcased at New York Fashion Week for her second year, said her inspiration for the clothing came from her time working at an outerwear company in New York City.
"I couldn't find some of this kind of clothes, that's how it started. I couldn't find it so [I thought,] why not? I [will] make it."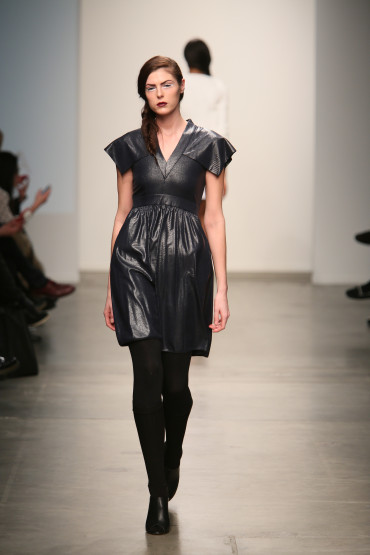 The next designer's line on display was Gabrielle Arruda whose fashion were met with a positive reception from the crowd. Audience members could be heard saying, "It's so pretty," "I love everything," and even "I could wear that in the real world."
Her line featured modern ready to wear clothing. Black and white were the primary colors used in her leggings, business ensembles, pants, jackets, and dresses, all of which had a strong modern and feminine look to them.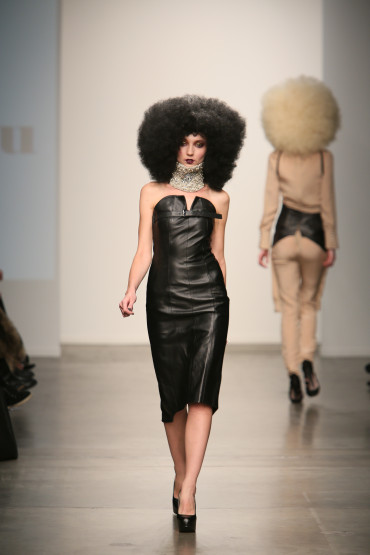 Following Arruda was Nina Athanasiou, whose tight fitting and edgy clothes, men's and women's couture, however striking, were not the star when the models appeared on the runway sporting her line, but rather it the hair and makeup that stole the spotlight. Female models sported large puffy afro wigs and gothic esque makeup, including dark, distinct lipstick.
"When those wigs walked out there today people were gasping. It was amazing, it was kind of inspiring to everyone," global artistic director to RUSK (the show's primary sponsor) Gerard Caruso said following the show. "Nina's fashions were kind of really part out and wild and kind of baby dollish with the beautiful lipstick so we worked with extreme texture, separation and afro hair and that really kind of enclosed the face [and] enlarged the hair. And what was great about that was that the hair was so big that the outfits were much more tailored and structured down."
Michelle Webb, the show's head makeup artist, or key, with AOFM (Academy of Freelance Makeup) Pro, said that they constructed a more theatrical look to accompany the clothing and hair for the line, which is very unique from what one might typically see at New York Fashion Week.
"It's kind of like a pinched lip with the same sort of gothic color that we're using on everybody else," she said of the look. "And then a glittery purple and gold eye so it's quite theatrical with rosy cheeks, it's kind of like playing on Alice in Wonderland, Queen of Hearts kind of look, so quite theatrical."
"The hair and makeup is really creative, and it's nice when a designer kind of lets the makeup and hair team have some creative freedom and create something amazing together, Webb said."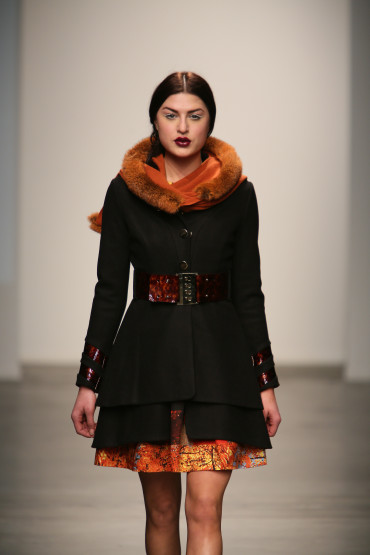 Designer L. Catherine London showcased her line of women's ready to wear that night as well as Arruda but her collection primarily featured, in addition to some lovely light skirts and dresses, jackets and coats that made good use of fur.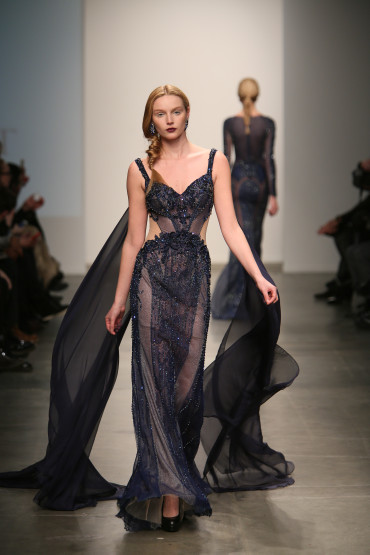 Closing the show in a big way was Dany Tabet whose stunning evening wear collection had everyone in awe.
"I don't want to be biased but I really do love Dany Tabet's collection," Webb said prior to the show when asked what she was most looking forward to seeing on the runway. "It's really beautiful, I think any girl would love his collection. It's really romantic dresses, like lots of beadwork. I just think it's really, really beautiful dresses, and I love his designs so I'm really excited to see his collection this season."
Before the catwalk began Tabet addressed the audience, explaining his theme of warriors, and calling for peace and the end of war in the middle east.
The gowns were devastatingly beautiful in a variety of colors with intricate bead work and dripping in jewels.
To compliment the gracefulness within this line both the makeup and hair teams worked to create a classy look that could also convey strength.
"Dany's collection is really beautiful and elegant [so] we wanted something strong and like a statement lip," Webb said. "We didn't want to go for a classic red, you know you see classic red all the time. So we wanted something that was going to be on trend and still look elegant and beautiful."
"Dany created beautiful gowns and what we did was create, his whole theme was warrior, so we created the elegance of the fishtail braid and yet let it hang beautifully over the shoulder to give it more of that warrior look so, you know, that was a good collaboration," Caruso said.
Caruso said this is the  fourth season RUSK and Nolcha's fourth season together and  it's been a successful partnership, especially this season.
""I think we blew people out of the water," he said. "The collaboration between Rusk and Nolcha has been probably the strongest collaboration that we've ever had. Nolcha is for the independant, showcasing fashions that they probably wouldn't have the opportunity to, new and upcoming designers. Rusk is for the independent hairdresser, new and upcoming hairdressers."
"If you guys saw the show there was barely any standing room only. So I think it really, it's catching on," Caruso said. "I think Nolcha has definitely advanced as the years have gone on, they're taking it a lot further."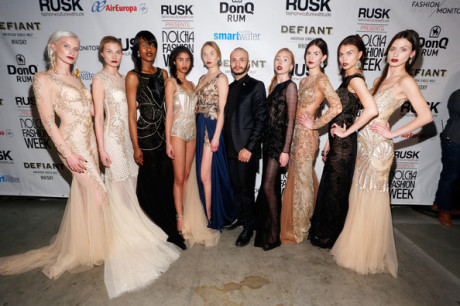 Written by: Jennifer Verzuh