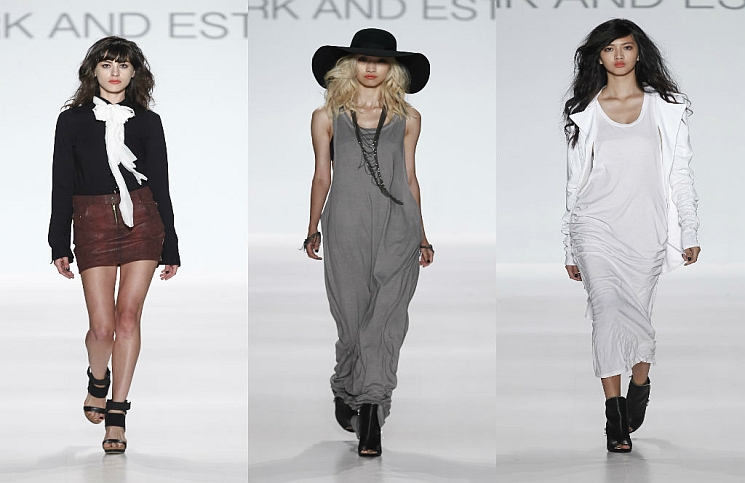 Mark and Estel rocked at Mercedes-Benz Fashion Week in NY September 2014 with their Spring Summer 2015 collection.   The line is clearly one that is made for fun; of jumpsuits, suits, even the tailored skirts with long jackets spelled fun.
 
Entitled the Malibu Anthem, the collection stands apart not just from a distinguished air of L.A.'s Pacific Coast Highway to it, but, moreover, ever true to the designers' brand, a rocker chic style with ensembles of leather, silk, wool and metal.  The result- comfort, versatility — and a very 'bad' attitude.
 
But what really stole the runway show was the incredible grand finale.  The duo danced out onto the catwalk.  Mark, equipped with an electric guitar, and Estel with mic on hand, stunned the unexpecting fashion-centric audience with their original song, "Malibu Anthem", that inspired and amplified the message of this year's spring collection.
 
Singing "I am Fashion, You are Fashion, We are Fashion!" til the runway went dark, the musical designer pair echoed the verse all the way backstage where I caught up with them for a NY-minute post-show interview.  "The collection", they said, "was in response to: 'What if a woman were an ocean?' "  Visually manifesting into designs came their creations that "flowed like ocean waves, and are made to be comfortable, freeing".
 
Mark Tango and Estel Day started their eponymous clothing company in Los Angeles, California in 2005.  Mark and Estel are uniquely known for their rock style, which through their talents transcends  music and fashion.  Very trendy and very hip, the brand is worn by celebrities with such flare like Lady Gaga and Mary Kate Olsen.