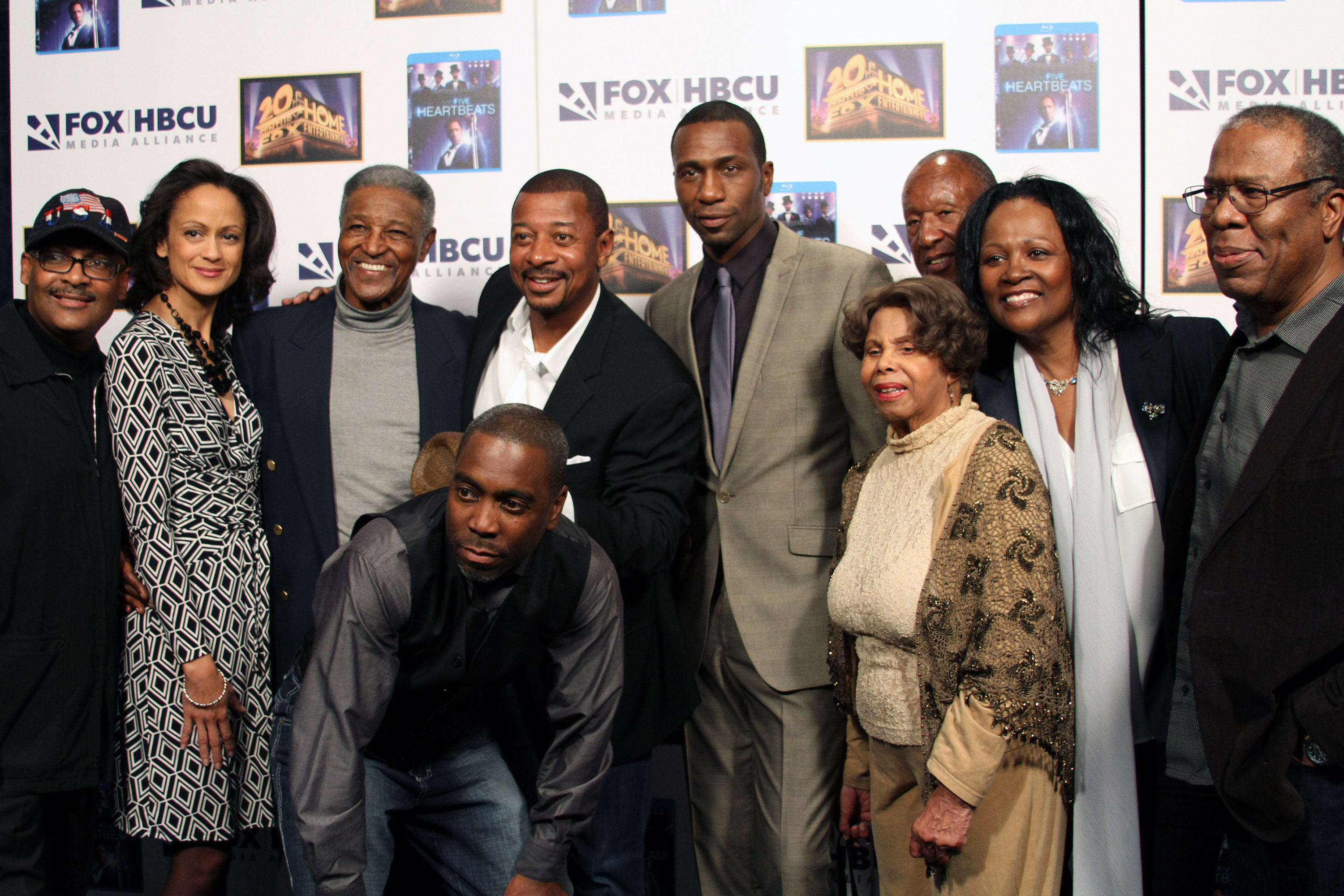 written by Angel Wynter [Twitter]
The cast of the 1991 box office hit "The Five Heartbeats" reunited this past Thursday at the Saban Theatre in Beverly Hills to celebrate the blu-ray release of the film. 20th Century Fox is commemorating the movie's 23-year anniversary by holding a special screening of the movie, and The Huffington Post recently named The Five Heartbeats the number one African American film in the last 25 years.
Fans of the film stepped out to celebrate with the cast and writers of the motion picture, and Director Robert Townsend even held an interactive Q and A with audience members. The cast mingled together in the greeting room, sharing laughs and hugs while highlights of the film played on flat screens in the background. Other stars that shined on the red carpet included: Anna Marie Johnson, David McKnight, Keke Shepard, and Lawrence Hilton Jacobs.
Actor Leon, who played doowop crooner J.T. Matthews, looked sleek in an eye catching dark olive suit as he sat down to recall fond memories on set with Fuzion Magazine. "Robert would always get frustrated when trying to count dance steps. He would be counting 1..2..3 and try to remember the dance moves. Only Rob would make a movie about singing and dancing, but can't dance!"
While the film is creative in its own right, Director Robert Townsend spoke on the musical groups that inspired the script and gave birth to a musical cinema classic. "Growing up, I always wondered what happened to groups like The Dells, and The Temptations. I wanted to tell a story that would explore that topic. So I created The Five Heartbeats."
Fuzion also ran into Olympic Silver Medalist Marilyn E.P. White, who spoke fondly of the movie. "I loved this film and respect every actor who participated in it. Movies like this one highlight excellence in black cinema." The Five Heartbeats remains a film that is loved by many, withstanding the test of time amid longtime fans and new viewers alike.
photos taken by Ciely Carrington [Website]