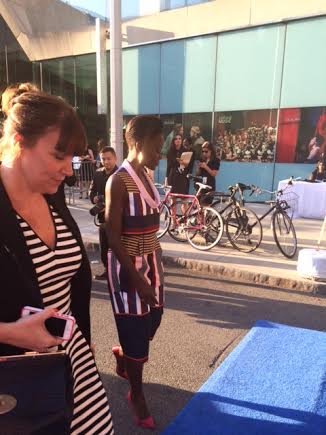 written by Talia Pepe
The CFDA Awards ceremony took place on June 2 in New York. The affair was bursting with timeless glamour, sweet simplicity, expressions of humility and gratitude to and from those being awarded. Tonight's expectation would be higher than years past because Rihanna is being awarded the Fashion Icon of the Year Award.
Fuzion was delighted to be in the presence of the affair! As we were walking towards the red carpet Fuzion stood shoulder to shoulder with the distinguished beauty Lupita Nyong'o (who we featured in the Met Gala recap in last month's issue.) Lupita, who was presenting the Womens Wear Designer of the Year award, took on an unconventional approach to the CFDA Awards as a way to thank designer Suno who has been supportive of her career prior to "12 Years a Slave."'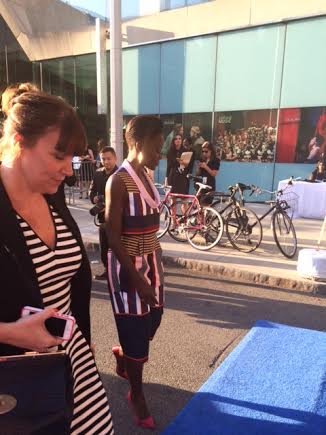 The printed jumpsuit consisted of the primary colors, red, blue, and yellow. However, the pattern was aesthetically busy; not the norm for CFDA Awards. The jumper was accented by a pale blue eye shadow, a naturally glossy lip, and a classic pointed toe shoe. Some question was that a little overboard?
Opposite Lupita, The Olsen Twins took a more simplistic approach on attire, arriving to the ceremony in meek black ensemble head to toe. Both sisters rocked their signature middle part ponytails. Were the twins too simple? Fuzion approves the complex simplicity of twins look. Later in the evening the pair was awarded The Row's Accessories Designer of the year Award. Mary Kate and Ashley have preferred to keep twinning in style over the years and Fuzion agrees; two is certainly better than one!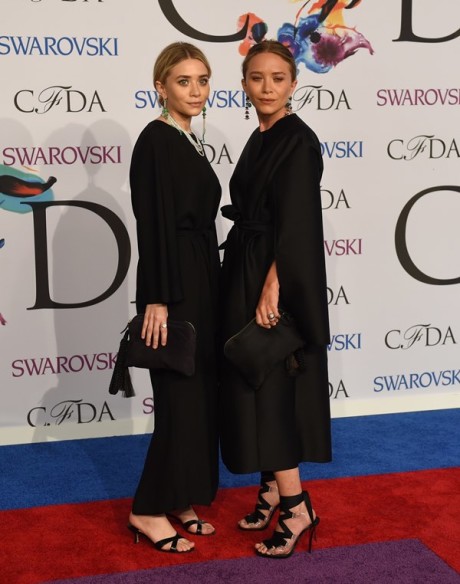 After the red carpet, the Council of Fashion Designers of America assembled inside of Lincoln Center to present the merited fashion awards. Returning attendees, Public School Designers Maxwell Osborne and Dao-Yi Chow were awarded the Menswear Designer of the Year Award. The dynamic duo wore tailored black suits with matching gleaming black dress shoes.
Fuzion is amped to see what lies ahead of the Menswear Designers; Congrats Public School!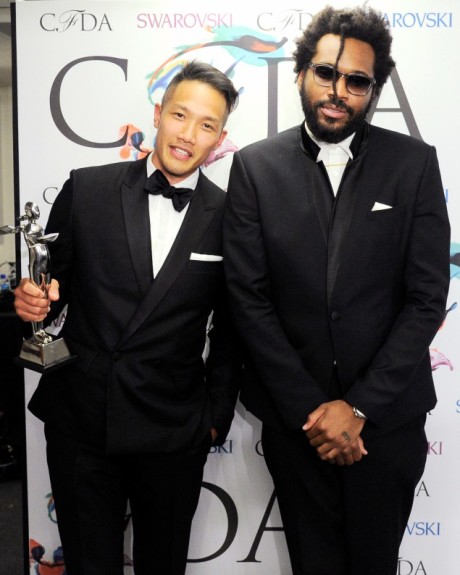 In the midst of the constant celeb sightings there was an underlying conversation throughout the crowd. We have one word for our Fuzionistas and Fuzionistos: RIHANNA! Fans anxiously awaited her arrival across the street on the other side of Lincoln Center with high hopes of spotting their very own "Bad Gal Riri." After being kicked off of the social media app, Instagram for indecent exposure of her breast, Rihanna's fans have had to piece together her where a bouts, daily style and slight shade posts rather than log into the app that she would update regularly.
The highly anticipated arrival of Riri took everyone by surprise! Rihanna was clothed, or had a lack thereof, in a custom gown with a matching thong and gloves designed by Adam Selman. The sheer gown exposed the singer's breast sparking up controversy everywhere! Was Rihanna attempting to take a jab back at Instagram? Was she channeling her inner Josephine Baker? Did the singer view this dress as a statement and iconic?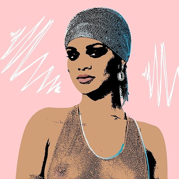 Fuzion caught up with celebrity relationship and love expert Tionna Smalls, who has defended Rihanna in recent years claiming her behavior is simply a growing stage.
TIONNA ON RIHANNA NOW "Years ago when she was young and horny that would have been acceptable. It's different now. Now she needs attention! She's rich and young so she's being a rich thot."
We want to hear what our Fuzionistas and Fuzionistos think?