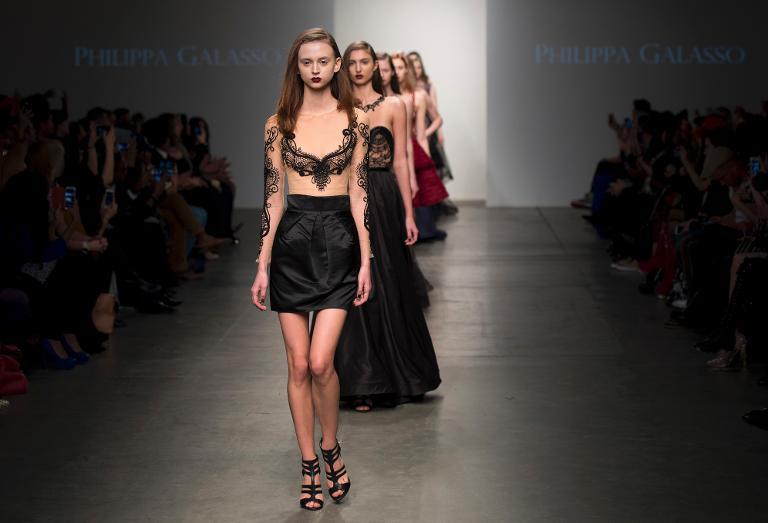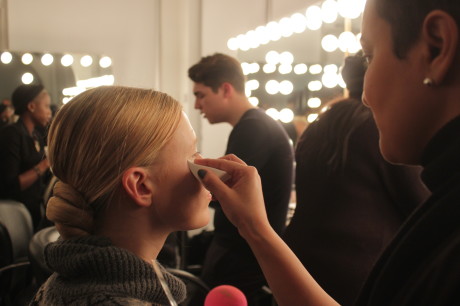 Backstage, less than an hour prior to the the Fashion Palette Australia fashion show, everyone is abuzz with energy. Makeup artists put their finishing touches on models, photographers snap photos, girls are dressed, hairstyles are are double checked.
The show which took place at Pier 59 Studios Tuesday night as part of New York Fashion Week featured the work of three Australian designers: Philippa Galasso, company Tightology and Steven Khalil.
Of the three designers whose work was on display, only one, Galasso, was in attendance.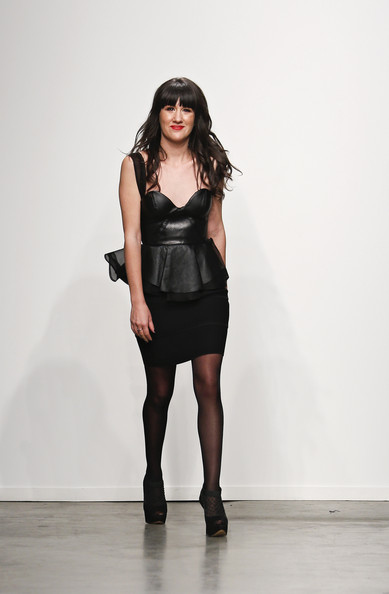 Galasso said she is relatively new to the industry and is very excited to be a part of New York Fashion Week for her second time.
"It's been such a great opportunity because I'm an emerging designer," she said. "It's put me onto the international stage, which is what every designer kind of wants."
"I've drawn a lot of inspiration from gothic architecture and from birds, live birds. I've used a lot feathers in this collection," she said. "And I've got a lot of hand work, a lot of beading, very glamourous long gowns, things, like that.
Her collection also features lots of leather, which she said is her first time using that material and it features "a lot of detailing."
Galasso said she used a dark palette to keep make the outfits "strong and dramatic."
"It's mainly a black collection, but I've used a lot of rich colors, emerald greens, navy blues, and ruby reds."
Galasso will also be heading to Sydney Fashion Week this year and said her ultimate goal is to be "stocked at major department stores in the US and then to be targeting European stores as well."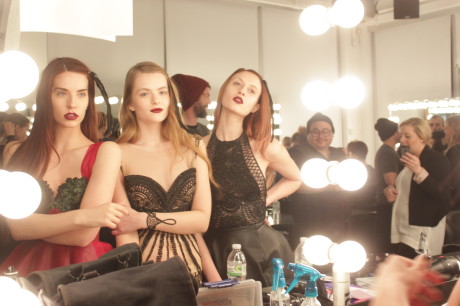 To compliment the designers' clothing lines two "distinct" hair styles were developed: a small, tight updo (which accompanied Tightology) and a blown out down look  (that models for Galasso and Khalil had) featuring a small frontal ponytails with feathers "just to make it a bit whimsical and have a little bit more fun with it," lead hairstylist David Cruz said.
"But both looks sort of compliment each other," he said. "they're distinct enough for the two designers that they're for but still they look nice together on the same runway."
Cruz said he was particularly anxious to see how the updo would look on the runway, noting the original plan was for a cleaner look but he asked to "soften it up" a bit.
"I'm dying to see how it looks out there because when we were talking about it I was like, 'I'm telling you it's going to be beautiful, trust me,' so I'm hoping that they're stoked too," he said.
The show's key, or lead artist, AJ Crimson (whose makeup brand of the same name is also sponsoring the event) said that in his makeup design for tonight the "skin is the star."
"It's really just this beautiful, fresh ethereal skin. It's about being pretty and effortless at the same time," he said. "We didn't want it to be so much about the makeup, with AJ Crimson the brand it's all about enhancing the skin that you're in and the person that you are, and it's bringing out that natural beauty in the girls and that's what we want to focus on."
Like Cruz, Crimson said it was important to make sure his looks contributed to the different designers' lines.
""We're doing three different designers tonight so what we had to do was come up with looks that would kind of be cohesant with each one of those designers and kind of make sense of each one of them so by giving a pop of color it may tie into a color you're seeing in a dress, […] so we wanted to help bring to that and help lend to that," he said. "So again it's just everything complimenting each other and not taking away anything."
Nail colors used were "Blush Noisette" and "Green Wizard" from the Priti NYC nail polish line.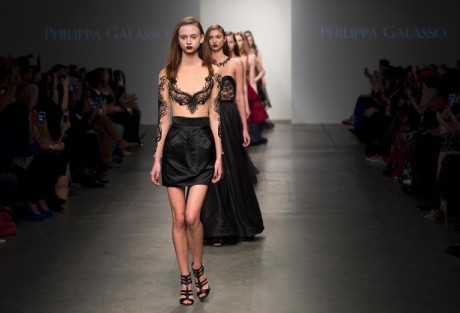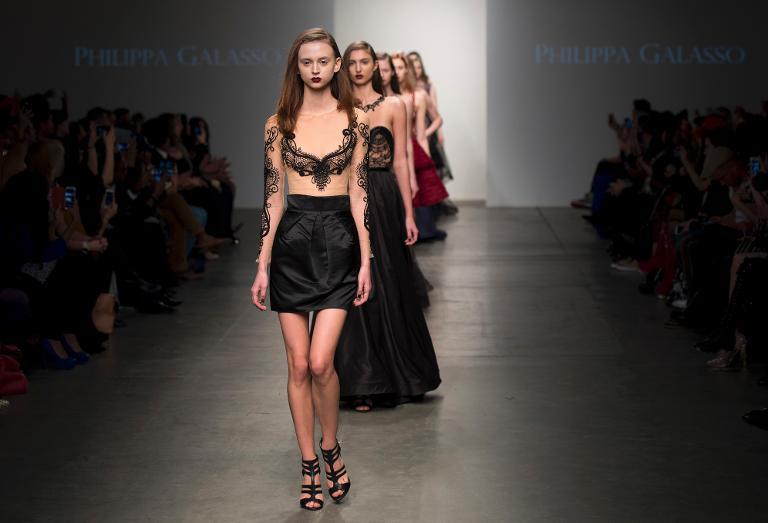 Galasso's line started the show and primarily featured striking, dark gothic style, as she previously mentioned, dresses both long and sweeping as well as short, many using leather and intricate beading.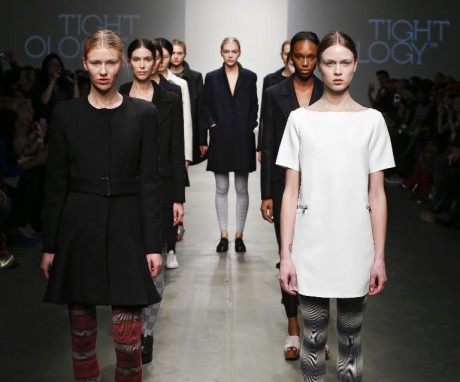 Tightology was next and changed the pace previously set by Galasso by offering day wear. The line largely composed of colorful jackets and petticoats, often paired with bright, vibrant tights and knee high socks, along with the occasional modern and utterly chic dress.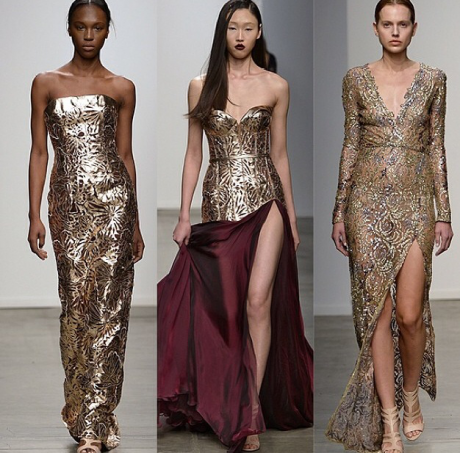 Ending the show was Kahil who impressed the audience with stunning, sophisticated and glittering, trailing gowns in various colors that managed to show just the right amount of skin in what was perhaps the most mature line of the night.
Written by: Jennifer Verzuh