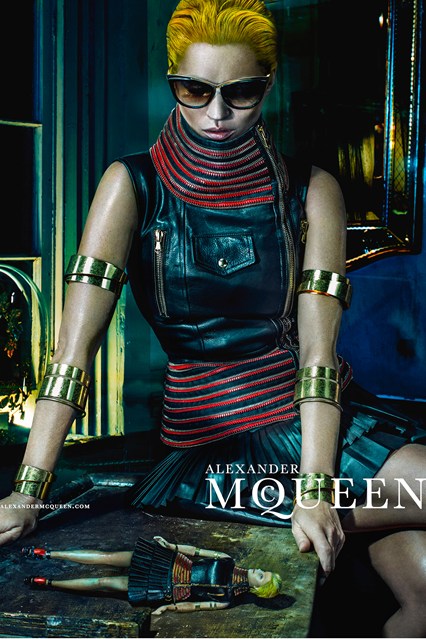 Written by: Jaleesa Jaikaran
Just went we thought she couldn't be any greater, Kate Moss shows us that life truly begins at 40! The supermodel who celebrated her birthday a couple weeks ago is now fronting the new S/S 14 campaign by Alexander McQueen of whom she's shared a close relationship with. The ad, shot by famous photographer, Steven Klein was in conjunction with the brands futuristic film, inspired by the 1960's British Thriller, Peeping Tom. Superstar makeup artist, Val Garland created the ideal colors and contours that make Kate the perfect embodiment of her character. Kate sports an acid yellow and orange pixie cut and is joined by her mini replica that is styled to match. Pascal Dangin and Sarah Burton gave their best in the creative direction for this campaign.
The haunting film shows Moss, through a dark street, while holding the miniature doll of her. She enters a building and begins to take her clothes off. Moss is then seen watching a series of monitors in a shadowy room. The campaign is all very McQueen, bits and pieces of sinister and almost scary elements that play into his ideal form of fashion.
We can't ignore however, how amazing she looks. Kate has truly shown us what it takes to be a supermodel as she is a chameleon in any role she is put into. Not forgetting when the model appeared as a ghostly hologram at the end of the designers A/W 06 show. Find more information and see the film at www.alexandermcqueen.com 
As Fashion Week approaches, we know that everyone is looking forward to see McQueen live. We are excited to see what the McQueen team has up their sleeve.
Follow us at @FuzionMag on Twitter and Instagram for all up to date information on all things fashion, beauty and entertainment.