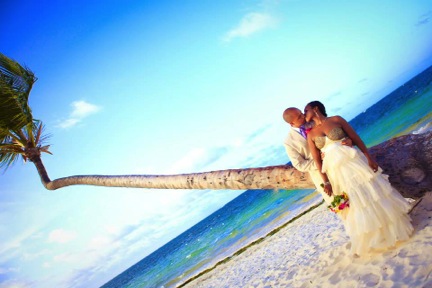 Written by: Micaela V. Rosario
Remember when you were a little girl attending weddings? You saw this beautiful women transformed into some goddess-like bride, covered from head to toe in white lace, organza or silk? Maybe she was in a church or in a banquet hall, the point is, that is what you always saw! Fuzionistas, the time has come to re-imagine our weddings! Expensive doesn't mean special and special doesn't mean traditional.
Destination weddings are on the rise as the best trend to ever hit the American bride. Speaking from personal experience, you get the best of both worlds at half the price. If you are on the fence about saying your "I do's" on the beach of an all-inclusive resort, I plan on shedding some "sunlight" on your situation. Fuzionistas, listen up!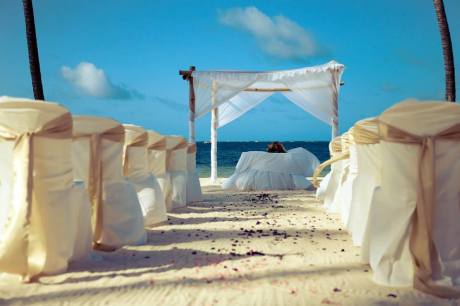 #5: Feel Like A Jetsetter
There is nothing better than hoping from island to island or resort to resort. In the traditional sense, most brides can't afford to take the honeymoon of their dreams once the wedding costs have been tallied. What a shame! Destination brides throw their wedding event at one island resort and usually always have enough to bounce right off to another for their honeymoons. Have your wedding in The Bahamas and your honeymoon in Antigua, Barbados or the Dominican Republic. The experiences are endless when having multiple options. Not to mention, your wedding vacation will likely be the source of much "friendly" envy!
#4: The Party Never Stops
"Drinks in the morning, drinks in the evening, drinks at suppertime!" can be your mantra! Being surrounded by your nearest and dearest is like having the perfect entourage from sun up to sun down. Being greeted by these familiar faces for a 2-3 day stay at a tropical destination is like no other. This time away will feel like it lasts and lasts because the party really never stops with so much laughter, love and liquor all in one place for days on end. How can it? You're about to get married!
#3: All-Inclusive Beats Any Up-Scale Traditional Venue
I, too, am a sucker for crystal drop chandeliers and winding gold staircases set inside a mansion with 3 acres behind it. Yet, if it comes down to quality venues vs. the quantity you get at resorts, this is an argument where, quantity is quality! All-inclusive is simply the way to go with any destination wedding. All within your resort, and with the price of your stay, you get endless top-shelf liquor (anytime), an array of delicious restaurant options, beach activities, gym activities, nightclubs, theatre shows and even child day care. Think how convenient and valuable it is for your guests, who have come so far, to not have to spend another nickel on their vacation. Your guests will love you for it and so will your pockets!
#2: All-In-One Trip
When was the last time you took a trip with your girlfriends? When was the last time you took a trip with your family? When was the last time you can say, "we were all having fun together"? That's just it. You can, with a destination wedding. As for me, I don't get to see my nearest and dearest very often let alone take a vacation with them. My destination wedding brought my two worlds together. People that would have never had the chance to meet became friends and enjoyed each other's company, poolside I might add! There is no greater gift than sharing memories on a great vacation. Sure, all weddings bring people together, but only for a few hours. Then it's over and everyone goes back home. Boring! Think of your destination wedding as a multiple purpose, all-in-one trip that will have people talking for years!
#1: Keep The Money You Earn!
Ladies, let's think practically for a moment. This is by far the top reason for thinking outside of the proverbial box of wedding planning. Our weddings are one day in a lifetime full of many days. Is it really necessary to spend close to a mortgage down payment for one day? You know the answer. It is irresponsible, especially if you don't have it. Destination weddings allow you to reach an affordable cost for your wedding without going into debt, which could, in turn, create marital issues. I recommend planning one full year in advance and saving up to pay in cash. With a wedding in the islands, at a well-selected resort, you could have a fabulous event for under $5,000. That gives you plenty of money and time to spend on those wonderful "added extras" that make your wedding event stand out, totaling no more that $10,000! Considering, the average American wedding is $30,000 (honeymoon not included). The destination concept starts to get much, much clearer.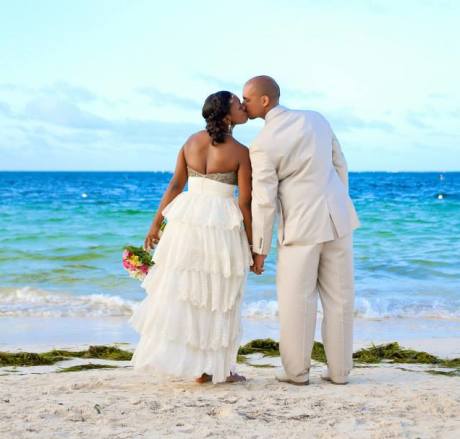 With a good plan, some dedication and a solid vision, you and your soon-to-be hubby can beat the "traditional" system in style and make the memory of a lifetime!
(For more tips & tricks on planning a destination wedding, request more from Micaela V. Rosario)