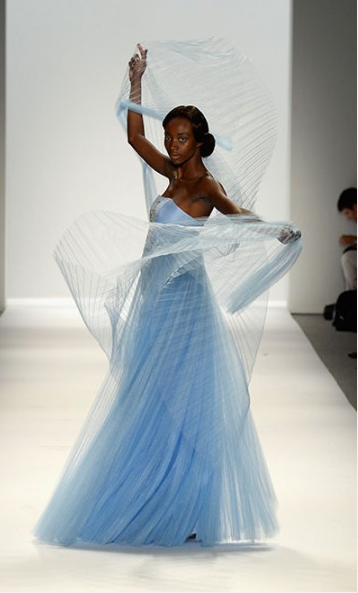 There have been a plethora of shows this New York Fashion Week, showcasing structure, shapes, body armor and more. One show specifically focused on the fusion of elegance and silhouettes. Zang Toi awed the audience with his ballerina inspired Spring/Summer 2014 collection. Boasting dramatic capes and life like 3-D details, this show was one of Fashion Week's top presentations!

The show appropriately began with "Bittersweet Symphony" playing quietly in the background. American Ballet Theatre's Principal Dancer Cory Stearns then opened the show, with all eyes on the unexpected performance. Ballet was certainly an inspiration used by Zang Toi this collection, as men modeled tuxedo like coats with ballet tights and women elegantly twirled in red carpet worthy gowns detailed with sparkling bows. The unbalanced menswear and womenswear theme is something that hasn't been seen on the runway and an idea that is sure to become a fashion week trend.
Hues of blues and black were a common theme throughout the show with scattered pops of pinks. Many of the dresses were layered with floral 3-D print cardigans and extravagant floor length capes. Tulle was also added to a few gowns to invoke the spirit of a true ballerina. Digital prints, a trend that carried over from last spring, was subtlety placed in the midsection of tunics and dresses, creating a lifelike walking picture.
Predictions of celebrities who will dawn his pieces are already in the works. Thus far Beyonce and Heidi Klum are the celebrities thought to wear his dramatic gowns on future red carpets. Fashionistas and onlookers alike were thoroughly impressed by the Zang Toi collection. At the conclusion of the show, Mr Toi walked out to a standing ovation. Surprised and overcome with joy, Zang Toi graced the runway as guests applauded his undeniably breathtaking collection.