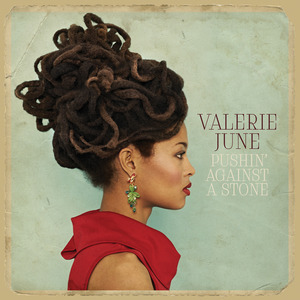 Written by Tyesha Litz
photo from www.valeriejune.com
Singer, song-writer and multi-instrumentalist Valerie June is incomparable artist that defines labels. In an industry so laden with homogenized sound and songs on the radio that are interchangeable Valerie June irreverently stands out with her own sound. Her sound is a blend of bluegrass, Appalachian, country, rhythm and blues, gospel and folk. And by combining these genres June has made her debut album a must listen for fans of any of these diverse musical categories. And while her style is reminiscent of a musical era long past she breathe new life into these each song with her flawless delivery. She as been compared to everyone from Dolly Parton to Erykah Badu due to her lyrical storytelling. Her debut album Pushin Against a Stone is a true testament to this artist versatility and talent.
While the whole album has an unapologetically southern vibe each track as its own unique sound. Songs range from haunting a murder ballad "Shot Gun" to gospel track "Trials, Troubles, & Tribulations". The album was produced by Peter Sabak, Dan Auerbach (Black Keys) and Kevin Augunas (Edward Sharpe & The Magnetic Zeros, Florence & The Machine) . She also is joined on this album by many top rated musicians such as Booker T. Jones who is featured on "Somebody to Love" and "On My Way".In the opening track "Workin' Woman Blues" June showcases her skills as a guitarist and delivers a powerful statement about traditional gender roles. "I ain't fit to be no mother / I ain't fit to be no wife / I've been working like a man y'all / I've been working all my life." June defiantly refuses to let her identity or her music be pigeon holed by social mores.
Pushin Against a Stone is a testament to not only June's versatility as an artist but to her nonconformist attitude both of with make her a force to be reckoned with in the industry.