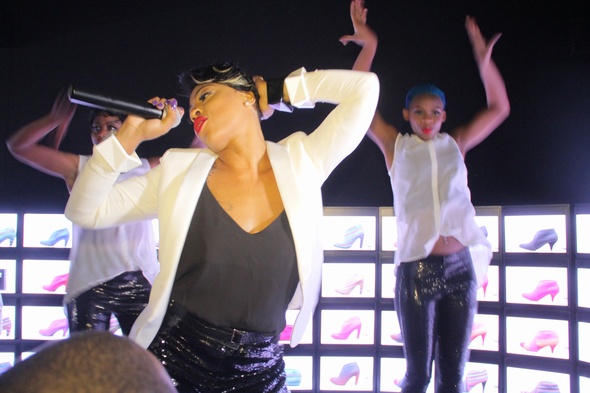 written by Marie Driven
 Wednesday was an epic night as Ms. "_Took the Night_", Chelley (Ultra SONY), entertained a crowd at the New York location (SoHo) of international high-end shoe store, United Nude. The collaboration was made possible by Playbook Media Group and sponsored by Clique Vodka, Birthday Cake Wines, and Peroni Beer.
United Nude shoes are like none other, producing futuristic styled shoes that are ready to wear, as seen on Lady GaGa, who wore their special designed shoe made just for her. I must say that their store is a shoe maven's heaven to which Chelley has been a big fan of and incorporated into her "Glam Life" persona. There were many notable blog sites and magazines, such as Nylon, Paper Magazine, and NY Post in the building, to name a few, as Chelley performed her Hit "_Took the Night_" as well as her new single slated to be released in 2014 called "_Take Your Money_". Also in attendance was BGC Season 11, GiGi, and owner of United Nude shoes himself, . The event featured many of United Nude's 2013 and 2014 shoe collections, which Chelley and her dancers sported during the performance. Definitely take a peek into their creative shoe world and look out for Chelley to take over your headphones once again in 2014!!