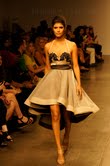 Who says NYFW is all about the well-known designers? Well, for the second year in a row, Fashion Palette has proved by showcasing the work of independent Australian designers; Aureilo Costarella, Steven Khalil, Akira Isogawa, Nicola Finetti, Samatha Willis, Et Al, Phillippa Galasso, and Mossée that the big name designers aren't the only ones who can get it right.
Fashion Palette's 2014 collection brought a fresh and innovative look to the upcoming spring season. Many of the designers used similar trends but each had their own signature style. This year there were minimal bright colors shown on the runway. Majority of the designers used nude, flesh tone, ivory, or cream colors in their ensembles, but they all distinguished themselves by adding something unique to their line.
For instance, designer, Akira's pieces included tons of soft natural colors, but what made his work stand out, was the fact that he incorporated bright colors as under layers. Akira's models also wore bright colored footwear. This added splash of color to a soft toned outfit creates a simple but stylish look. His dresses were loose-fit with winged arms – perfect for a breezy spring afternoon. So if your going for a chic daytime look, Akira's spring '14 lookbook should definitely be one of your resources.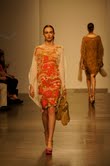 Now, who can imagine a spring outfit without showing some skin? The Mossée collection achieved this but in an extremely classy way by using lace. Lace was very popular year at the Fashion Palette show. One of Mossée's memorable creations was a bright red-orange peplum dress that was covered with black lace – very edgy. This look is different from traditional lace apparel, which is usually one color – classic black. He used this combination for a number of outfits. Mossée dared to be different by designing shirts, blazers, and vest out of just lace.
Unlike Mossée, who chose to step out of the box when it came to traditional colors and fabrics, designer Phillippa Galasso found a way to revamp what's known as the norm. Although a lot of her pieces are a timeless black, she added variation to her style by using soft shapes and silhouettes. The Australian designer stood out as an individual amongst her peers by adding fringes, sheer cutouts, sequins, and chunky bows on and at the ends of her dresses. Galasso expressed her excitement for NYFW and discussed the difference in the Australian fashion market. She says, "New York, likes to step out of the box when it comes to fashion and has it's own individual style."  This indeed is true.
Without a doubt, all of the designers displayed a style worth mimicking.  They each had something original about their spring line. As awesome as this year's show turned out, Fuzion Magazine can't wait to see what Fashion Palette has in store for Fall Fashion Week 2014! 
written by: Janelle Allen