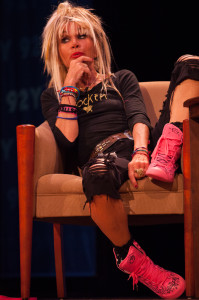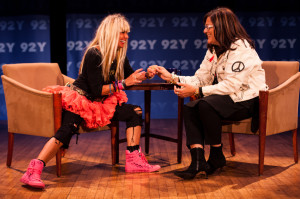 Donned in a hot pink tutu, black destroyed Capri jeans with rhinestone embellishments, neon pink sneakers and a hot pink zippered hooded sweatshirt; hot pink roses in hand as she does a cartwheel and a split for the audience. Of course they go wild as the charismatic and infectious designer takes her seat across from her friend Fern Mallis who also happens to be the person interviewing her.
Yes, 70 has never looked so good and Betsey Johnson is truly one of a kind.  Her designs have always been a true reflection of herself—fun and over the top. Sort of like Candy land threw up neon pink and glitter, that's Betsey Johnson in a nutshell.
Fern Mallis wasted no time in asking Ms. Johnson about the beginnings of her life. Betsey takes us on a journey with her eccentric personality – though sometimes off topic – about her childhood. She explained that her mother was a guidance counselor at her high school and revealed how much she idolized her sister, who is two years older than her.  We also learn that Betsey made her first outfit when she was four years old.  It was an apron that she said she made when her mother was sewing, who then gave her scraps to play with.
However, Betsey says that her true passion is dance which she started at a young age in her hometown of Tarryville, Connecticut.  She says that she loved dance because it was an escape for her, where she could wear dance costumes and be whomever she wanted to be; according the program description, "her love for costumes laid the foundation for Betsey's creativity and inspiration, which is still evident in her designs today."
Betsey says that she was a cheerleader in high school along with her sister and she loved the acrobatics but never understood any of the games she cheered for.
After graduating from high school in 1960, Betsey then studied for a year at the Pratt institute in New York City. She describes Pratt as being; "a bitch for grades" stating that she was always studying but always received pretty good grades. She also jokingly adds that she may have gained "30 pounds her freshman year".  She left Pratt and went to Syracuse because, "it was a cornball school and very campusy", basically a school where she could become a cheerleader, which she did and then later graduated magna cum laude.
Betsey then began her legacy after she won the "Guest Editor Contest" for Mademoiselle Magazine and then landed a position at Paraphernalia which was a clothing store that sold the hottest young designer clothes.  According to 92Y, "What would soon become known as Betsey's trademark look began its formulations here: sexy silhouettes, hippie inspired flowing fabrics, whimsical detailing and, most importantly, a fabulous fit."
After Paraphernalia, Betsey Johnson had continued success, opening stores across the United States, Canada and overseas.  However, last year the designer had a setback when she filed for chapter 11 bankruptcy.  Bankruptcy never slowed her down, though she was forced to close down many of her stores and lay off over 350 of her staff members according to the Huffington Post. Last night the designer revealed that she hadn't realized until she was experiencing financial woes how much she had accomplished in her life, ""It was only my fans and people on the street that made me realize what I built for 35 years, and that what I had built was special. I realized that it couldn't last. It was a long time, 35 years—it outlasted any marriage I'd ever had."
The designer continued to gain momentum when she debuted her spring line at New York City's fashion week in September 2012.  Betsey never lets anything slow her down as she is a breast cancer survivor and urged the audience to "get your yearly mammograms" but also says that she kept the secret to herself for a long time while only letting her daughter in on her battle with cancer.
Curious to know what's next for the spunkiest 70 year old you've ever met? Well the designer revealed to the audience and to Fern Mallis that she and her daughter Lulu, will be starring in their own reality TV show on the Style Network which will debut in early April. At the end of the show when Fern Mallis asked Betsey what she would say to the young and old aspiring designers, she stood up, kicked and said, "Keep on kicking!  You have to have a little bit of talent, but keep on kicking."
The 92Y says a journalist once described the ball of fun designer as saying, "If Betsey Johnson didn't exist, we would have to invent her, simply to remind ourselves that fashion can be fun. She's the original wild child and set to paint the town pink!"
To which, we undoubtedly agree.