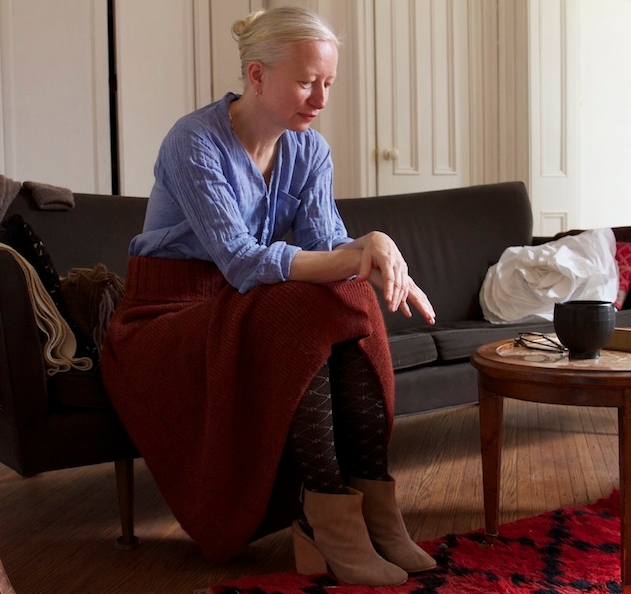 Written By: Andrew Horton
Today the audience at Pier 59 in Manhattan received a dose of "disobedience", as this was a fitting theme for the 2014 spring/summer A Détacher (pronounced ah-dû-teh-shay) collection of designer Monika (Mona) Kowalska . On display was a collection of 36 ready-to-wear creations– dresses, skirts, blouses, sweaters, pants, and shawls. An additional flair was the inclusion of her clean line of swimwear and footwear. A pleasurable contradiction, Mona's collection reminisced of past classics while defying itself with bursts of newness. Mona herself defined her theme as "Obedience and Disobedience, as they relate to personal style."
She kept her color scheme fairly simple and, again, contradictory. "I went with extremes–a lot of blacks and whites. These were the colors that just came to me." She sporadically made contributed earthy tans and coppers, while disobeying the predominant color theme with splashes of navy, aqua, maroon and sassy prints. Solids dominated, though never completely stifled the collection. "I'm not favoring one [idea] over another…but I stem it as a creation of one's style."
The models sashayed the runway to an impressionist style string sonata, all donning the uniform pixie bob wig do over a modestly made up face. Oddly–wig aside–several of the models favored each other in physique and appearance. Perhaps this accounted for a portion of the positivity and understanding between the models behind the scenes. Model Hollie May commented on the "really good vibe back stage."
The footwear mainly consisted of high wedge-heeled leather strapped sandals, and a suede or linen-sneaker platform. A close look may have occasionally revealed a low heel on a few of the models. Open toes were in full force, as they were accompanied by an open heel. Black, whites, tans were the predominating color scheme for footwear.
The sleeveless, flared-shouldered blouses were certainly the starring attraction whether or not they were agreeable to the viewers. Whether in a quaint knit, a passionate print or an airy cotton, this structural motif seemed to come to life in an array of several different forms and fits of this particular collection. Usually the blouses were complemented by a playful skirt, though a pants piece infrequently served as the proper mate. When asked to explain that creative element, the designer simply confessed, "I don't know what I call that. I just wanted a big, braced silhouette–something that was powerful."
This structural theme permeated into the dresses that were gracefully displayed. The dresses kept a unique flair with hints of stateliness. Several of the dresses remained faithful to the cotton or wool-knitted material while, in design sense, gave the onlooker an excuse to be naughty; several of the dresses displayed a signature see-through just above the knee.
A refresher to the eyes was the Lycra-like 50s decade callback to the pin-up bikini…Mona created sexier versions with a little less halt to the halter. The one-pieces were stunningly sexy with scant back contents and a more flattering look than its 1950s inspiration.
Photo Credit: Style.com