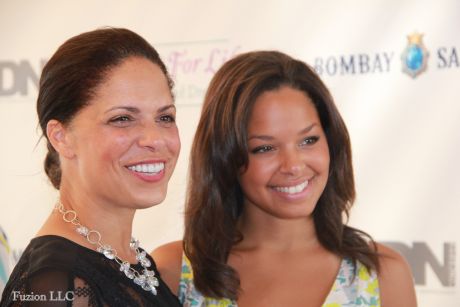 Photos by Brandon Wilds
Performance and Speech Photos from Art For Life
The Hamptons was the place to be on Saturday night, where Russell Simmons hosted his 14th annual Art For Life Gala. The event was filled with celebs and the beautiful Fairview Farms in Bridgehampton did not disappoint as everyone worked hard to raise money to help establish art programs for inner city youth. The event included honoring Tyler Perry and Walter Mosley as well as performances by Estelle, Rick Ross, and Maxwell.
The event itself was co-hosted by Soledad O'Brien and was attended by various celebs, inlding Anthony Anderson, Melanie Fiona, Michael Strahan, and Star Jones.
Tichina Arnold was attending the event for the 3rd time and is always happy to come to any party thrown by Russell Simmons. "I love coming to the Hamptons during this time," said Arnold. She also had a moment to tell Fuzion about her new foundation that she is starting: "It's called The We Win foundation. It'll be a foundation to take care of people now. We want to help families too. We have big, big plans, but we are really looking to eradicate lupus." The Foundation means a lot to Arnold as it can also provide comfort to her sister who has lupus.
Michael Strahan is always a large supporter of the arts: "Feels good to be here to support a great cause and keep kids artistic and creative. Art is the ultimate expression. It comes from within, from your mind and your heart."