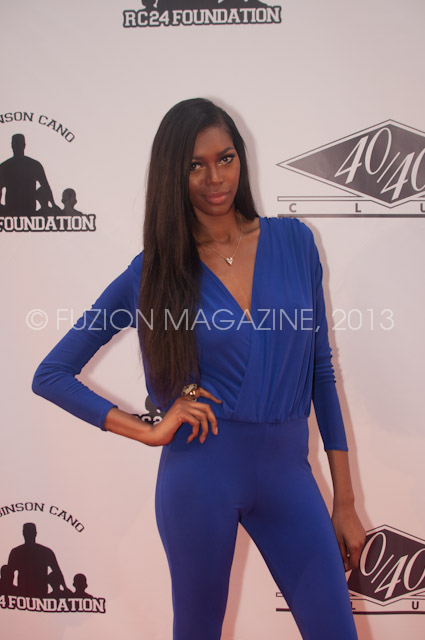 Superheroes stormed Manhattan last night. Well, they stormed Jay-Z's 40/40 club in honor of Yankee's Robinson Canò's fundraiser for his RC24 Foundation. The foundation was started by Canò and his parents, Joselito Canò and Claribel Mercedes, and works to benefit children in their native Dominican Republic.
The theme of superheroes was appropriate because Canò is probably a real life superhero to the many children he helps in his home country. The fundraiser was a silent auction and domino tournament, with the grand prizes being a custom domino set signed by Canò, a trilogy of Ace of Spades Champagne, backstage passes to Jay-Z and Justin Timberlake's Legends of Summer concert in July and the use of a brand new Rolls Royce for one weekend.
Superstars who attended the event included model Jessica White, fellow athlete CC Sabathia and his wife Amber, Melanie Fiona, Kevin Durant, Vernon Wells, and Jay-Z himself. Each celeb shelled out $500-$750 for a ticket to attend the event and support the fund. Derek Jeter, Mariano Rivera, Andy Pettitte, and Amar'e Stoudemire were also on the list to attend the event.
Canò himself was very happy with the event and walked the carpet with his parents, a huge smile on his face. He really stressed the need to raise money for the fund. The RC24 Foundation recently made a deal with Dream Project so the two foundations can start building schools in the Dominican.
Robinson Canò also stressed the importance of having support from his teammates, fellow athletes, and members of the Hispanic community. He stated on the red carpet before the event that it was good to have "good people around you, you can do a lot of good things."
Also in attendance were superheroes Captain America, Iron Man, and Spiderman, all of whom graciously waved to any children walking by the club.