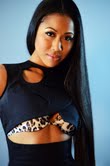 By: Shakira Sealey
R & B recording artist MIESA is definitely making her mark as a rising star in the music industry.  Having signed to Siri Music Group the label has allowed her to use her extensive musical background in creating a dope album which debuts in 2015. Recently, MIESA partnered up with TwitMusic.com to premiere her debut single, "Antidote" which received amazing reviews.  Some club remixes of "Antidote" will be coming out on iTunes and Amazon next week! Twit Music is used by artists as a way to have their music reached to 700,000 users (along with over 210 million followers monthly) in over 200 countries, which is a excellent way to market their craft.  "Antidote" shows the obstacles of a couple that have grown apart and no longer have that special connection that drawn them together. The single sets the tone for the anticipated album as the LP will take MIESA's listeners on a journey of the ups and downs of relationships.  The single is written by Jackson Croft ( Tamia, Jessica Simpson) and produced by Chemistri ( Deborah Cox, Kristina Debarge).
A Jersey native, music has always been a foundation in MIESA's life growing up as she comes from a musically diverse upbringing.  Growing up, her dad was a musical genius, singing, playing the piano, guitar, bass and drums. MIESA followed her dad's footsteps musically as she was a part of the choir in school and was a member of the school band, playing the clarinet and piano.  Her spiritual background and close knit family keeps MIESA grounded and true to her music in the industry.
The multi- talented MIESA has not only been busy in the studio making hits for her album, but she will debuting her very own beauty section entitled, "MIESA's corner on Fuzion Mag's website. On MIESA'S corner, she will be periodically provide beauty tips on specific products.  Stay tuned for her upcoming beauty review! You can also catch her on her upcoming web series hosted by TwitMusic and upcoming concerts throughout the summer!