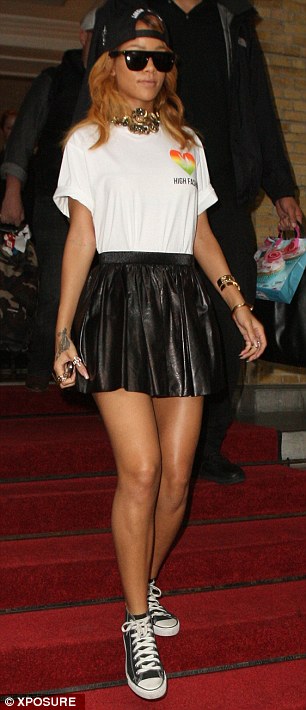 Liz Jones really knows how to start a controversy. Elizabeth Ann Jones is a British journalist who was a former editor of Marie Claire. She currently writes articles for the Daily Mail, which is where she recently published a piece about "Pop's Poisonous Princess" Rihanna.
In her article, Jones lambasts Rihanna about her appearance, actions, music, and photos as of late. She discusses how Rihanna's attire is racy, her dance moves were "too explicit to print in a family newspaper" and her lyrics suggestive to her young audience. Jones also brought up Rihanna's relationship with abusive Chris Brown and how it was a missed opportunity for Rihanna to become a strong example for her fans.
Rihanna, after reading the disparaging article, responded through her Instagram account badgirlriri. RiRi wrote: "If you sincerely wanna help little girls more than their own parents do, here's a toxic tip: don't be amateur with your articles, you sound bitter!" She also stated that she never claimed to be a role model for her fans and she will "never portray that as perfect, but for right now it's ME!!" Rihanna ended her rant with a #ElizabethAnnJones showing she did her research on her opponent.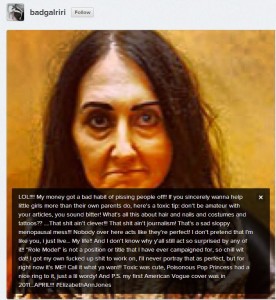 While both ladies are in no way wrong about their separate claims here, they do have to understand neither of them is completely correct. Rihanna asserts that she never called herself a role model, but it's impossible not to be a role model for such a public figure. Many celebs don't call themselves role models, but we don't know which celebs the younger members of the world respect and look up to. Jones calls for Rihanna to police herself, her clothes, her music, and her demeanor, but she is also wrong. We can't call for our celebs to police themselves and only present a specific façade for their fans, because that's not truthful or accurate. When society reaches the point of regulating celebrities it deems "inappropriate for young viewers," then we lose some major freedoms we are entitled to as human beings.
Liz Jones brought up some valid points in her article, but some of her language was problematic and very pointed toward painting a negative picture of Rihanna. Yes, Rihanna has taken a more adult view on her public image and her younger fans do mimic her, but we can't demand that she police herself.
At the same time, while Rihanna never claims to be a role model, nor does she seem to want to be, she still needs to be aware that she is one. She has millions of fans world-wide and many of them are within the teen and young adult age range, some even younger. Rihanna is a very public figure and her actions do affect her fans; that's undeniable. Most of the time we can just fall back on fan discretion, but when some of the girls who look up to you are under the age of 10, you lose sight of what exactly is good and what exactly is bad.
In the end, it is difficult to discern who exactly is right in this muddled argument. Should Rihanna be more careful about her public image, especially the things she posts on Twitter and Instagram? Or is Liz Jones wrong in calling Rihanna out on her "bad girl" persona? You be the judge.