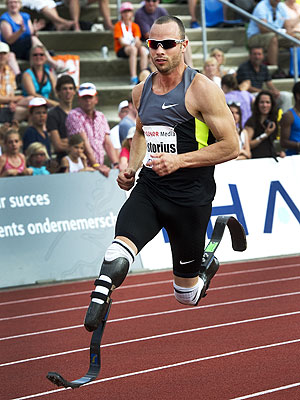 Oscar Pistorius, who made history as the first paralympian to compete in last summer's Olympic games, has been charged with murder after his girlfriend, model Reeva Steenkamp was found dead in his home in South Africa.  According to People.com, law enforcement officials says that Steenkamp was shot four times in the early hours of Thursday morning.
Reeva Steenkamps publicist released a statement saying, "Our thoughts and prayers go to the Steenkamp family, who have asked to have their privacy respected during this difficult time, everyone is simply devastated.  She was the kindest, sweetest human being; an angel on earth and will be sorely missed."
According to People.com, there was a pistol at the scene of the crime and that Steenkamp was planning a Valentines Day Surprise that went awry.  Denise Beukes a police spokesperson claims that there are no other suspects involved and there has been previous incidents at Pistorius' home.
"Yes, there are witnesses, and there have also been interviews this morning," Beukes told reporters outside Pistorius's gated community. "We are talking about neighbors and people that heard things that happened earlier in the evening and when the shooting took place."
The Paralympian was photographed after hours of police questioning, sporting a grey hoodie pulled over his head, averting the cameras with his head down.  Pistorius remains in police custody and according to CBS News is set to appear in court on Tuesday for a bail hearing.  Prosecutors are intent on upgrading the charges to premeditated murder, which means Pistorius could be facing a life sentence.
Photo Courtesy of People.com