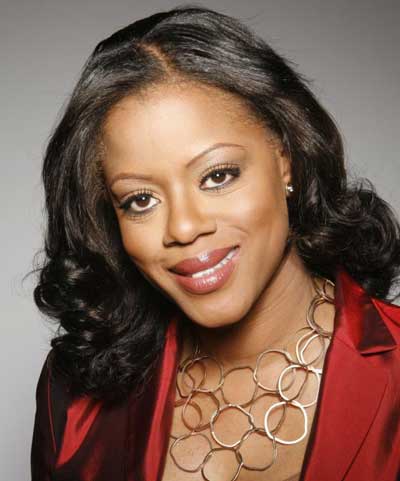 written by Andrew Horton
If there is a woman who knows the art of balance, it's Nicole Johnson—Emmy award winning broadcast journalist and news reporter currently employed with PIX11 News in New York City.  This single mother has risen above the ranks to become one of New York City's most illustrious broadcast journalists.  Nicole has mixed passion, intelligence and intensity to give her an edge as a first-class journalist.  "I have to stay one step ahead of everybody else. I have to be well-read and well-researched and know a little bit about everything going on–in the city, the nation and in the world."  Nicole is redefining the definition of the term "modern woman".   "Being a mother is my first job—my most important job."  As a reporter Nicole understands that she is constantly on the go to get to where the story is.  She describes herself as "a soldier". Of her job as a reporter she says, "I am constantly running to and from events to bring the people the information they need."  Her work doesn't end there.  Along with being a reporter and mother, Nicole also serves as a daycare volunteer and an advocate on the Sickle Cell Foundation.
In Nicole's 20+ year career, her resume stands outs out among her peers from the experience she acquired as she has worked her way up the ladder of success as a reporter.  After graduating from  Rollins College in Orlando, Florida as an English major, the Queens, NY native began her journalism career working for the Orlando Sentinal newspaper primarily covering community affairs.  Feeling a desire for a change of pace, Nicole landed a position as production assistant at PIX11 News in New York City.  She took the initiative to thoroughly learn the craft of broadcast journalism.  Her aptitude to pinpoint the stories that mattered was noticed by company executives.  She was eventually promoted to an assistant editor and a field producer.  Her first on-air assignment as a reporter was with BronxNet in 1996.  Starting as a newspaper reporter Nicole had already learned the importance of fusing mastery and energy.  September 2001 was a pivotal point in her career. Once the terrorist planes struck both of the World Trade Center towers in New York City, she was sent down to Ground Zero with a camera crew to report on the attacks; she was expected to get a firsthand view of the atrocities.  It was then that she knew that her calling as a news reporter was not to be taken lightly.  Today Nicole realizes that as a news reporter she is responsible for being the eye to the world on happenings that occur in New York City and beyond.  "Through my storytelling, I realize I can help to change the community in a positive way."  Her stories have brought attention to such causes as the battle against terminal diseases, gun control, and protecting a woman's rights in matters of domestic violence.  It is not unusual for Nicole to report, in one week, on a spectrum of subjects–gang shootings, fatal fires, the plight of the poor, the effectiveness of NYPD in handling the public's reaction to civil rights cases.  Her work has earned her journalism awards, community recognition and she has served as a catalyst for positive change in New York City and beyond.
Subsequently, Nicole has worked for New York City's top news networks including MY9, NY1, BronxNet, Fox 5, CBS affiliate in Rochester, NY and is currently reunited with PIX11 News as a news reporter.  Whether she runs track, writes papers, teaches youngsters, or lectures university students, Nicole has developed a set of core values that she applies to what ever task presented to her—respect people, show interest, exhibit good speech, and be thorough and complete in all that she does.
What advice would Nicole give aspiring young women pursuing a career?  "Always be yourself. Know your line of work and don't complain….No one wants to hear that." (She laughs) Is she content with her life's work?  "I love what I do," she states.  "…and I'm not tired yet!"