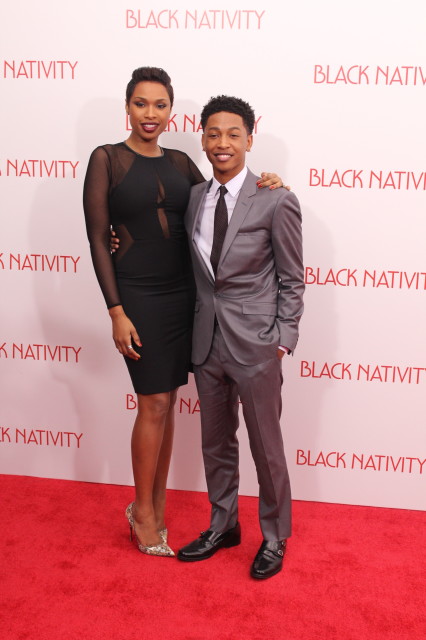 written by Erica Jewell
Based on a 1960s play by Langston Hughes, no place could have been more perfect to celebrate the premiere of Black Nativity than the world famous Apollo Theater. Actors Forest Whitaker, Angela Bassett, Jennifer Hudson, Tyrese Gibson, Jacob Latimore, Nas, and Grace Gibson walked the red carpet 
Monday night
 for the premiere.
I chatted with producer, T.D Jakes on why he wanted to be apart of the movie;
"Great movie, great story about a family struggling to hold it together. I thought it was a message that we needed to hear, and Lasi Lemmons did an amazing job bringing together an amazing cast and 2 art forms"
The night was special for several cast members, not only because of the history of the screen play and the spectacularly moving history of the Apollo Theater. For some, this was their first movie, Luke James stopped by and shared his excitement on working with the cast and being in the film,"For this to be my first film I'm super humbled by the experience and grateful for it" – Luke James
For two, it was a proud moment shared between mother and daughter with thoughts of a special someone who could not be present. I stopped Lynn Whitfield to chat about her thoughts on her daughter being in the movie,
"I'm so proud and grateful and anticipating just a wonderful performance…I worked with Kasi in Eves Bayou when my daughter was 3, and now she's here on the red carpet…I don't want to mess up my lashes. I can't help it, I'm a typical mom…I have tremendous faith that Grace, in her own right, will be an amazing artist. I just wish her father was still alive to see it. Bryan, your girl is doing great!" – Lynn Whitfield
The constant throughout the evening was the feeling of the holiday spirit and everyone's excitement for another holiday movie. And what better way to kick off the season than with an inspirational story about family and an amazing cast of singers. The biggest part of the holidays after all is the music and spending time with those you love.
Zendaya, wearing a gorgeous Chloe skirt, hung out with me on the red carpet and we talked about what's she's looking forward to in the movie, "for the music, it's an all-star cast, it has a family value and real moral in the story, and that's what's most exciting for me" – Zendaya
A must see for the whole family, in theaters Thanksgiving weekend.
Photo By: TammyB