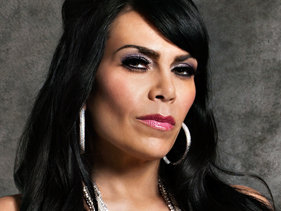 By: Shakira Sealey
photos taken by Brandon Wilds
    Last night reality stars, celebrities, bloggers and members of the media joined Mob Wives' Renee Graziano in celebration of her birthday at her celeb sit-down dinner in Midtown, organized by Storm PR agency and Just Jen Productions.  The exclusive dinner party was definitely the event to be at as well-known celebs were present at the event including Mob Wives executive producer Jennifer Graziano and Big Ang. Members of the VH1 family also came out to support and celebrate including Love & Hip Hop's Yandy Smith, Rasheeda, Shay Johnson, Gossip Games' Vivian Billings, Basketball Wives' Meeka Claxton among many others.  Close friends and family were also in attendance including Renee's son, AJ.
    Attendees were greeted by the press as they posed for the flashing lights on the red carpet.  Everyone that attended was in great spirits as they were happy to celebrate with the crazy, loud, hysterical and fun Renee.  On the red carpet the media was able to catch up with the celebs in the building on what they are doing now and any upcoming projects that is in the works. Meeka Claxton attended the dinner party with her husband, NBA champion Speedy Claxton.
On the red carpet, Meeka reflects on Renee, "I'm here to support Renee, whenever she has something going on, I'm there to support." She adds, " When people talk about they're so real, Renee is a real chick because she doesn't break women down, she's about lifting women up and that's what I'm about. Renee is the epitome of realness."  On the issue of Basketball Wives, Meeka states that she is in a better place now and she wishes the girls the best. "It's not worth it to get revenge; I'm a business woman at the end of the day. In the end, it's all about entertainment and drama.  When the drama becomes more of a pay-off than what you already have going on, that's a problem. At the end of the day they had to do whatever they had to survive, maybe if I was coming from a single income household I would too."  Meeka is currently in collaboration with her husband, Speedy, on a locker room sports magazine, stay tuned for that.
    Love & Hip Hop's Shay Johnson was in the building looking as happy as can be.  "I just arrived in New York today and the first party that I'm attending will be Renee's.  I'm ready to get wasted with Renee, its going down!  Everybody's here so if you missed it, sorry you missed it!"  Shay was asked for a sneak peak on the drama to come next in VH1's Love & Hip Hop.  "I can't tell you too much, but I just know if anybody brings drama to me, that's your ass.  I end all the drama, I don't start it but I will end it."  Shay shares with the media that she has a new T-shirt line entitled "Bratz Girls" which represent women that are doing everything on their own, independently. "I don't need nobody to succeed, I been in this industry for a long time and I plan to stay in it."
     Gossip Game's Vivian Billings or "Viv" shares with us that Gossip Games unfortunately will not be picked up for a second season.  However, Vivian has been busy on her grind with upcoming projects in the making while remaining current.  "I am in the process of obtaining a radio position with thisis50.com in union with the G-Unit family so I'm very excited about that." Vivian can also be found on hiphopgossipsite.com.
    Yandy Smith gracefully entered the red carpet as she posed for the camera in conjunction with the star of the night Renee Graziano.  Yandy has been super busy with her new projects, her website everythinggirlslove.com and her extension line entitled, MyExtensionz.
    Love & Hip Hop's Rasheeda joined the red carpet enthusiastic about being present for Renee's event.  "I'm here to support and show love to Renee." She adds, "Right now Radio for me is on hold, I am taking time out to work on myself and come back better than ever."
    Renee's dinner included an open bar, and buffet for her guests.  The scene was very intimate although many people were in attendance.  Everyone surrounded Renee as family, friends, celebrities and the media sang "Happy Birthday" The dinner featured a special performance by DASH which is featured on "Night of my Life" with Pauly D from the Jersey Shore of the Pauly D Project.