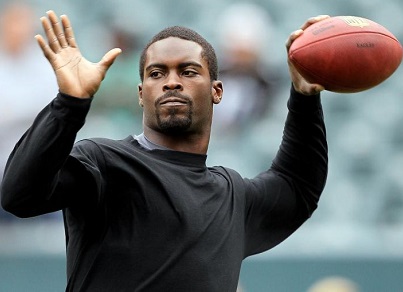 Kerry Washington Secretly Marries!!
Everyone's favorite cleanup woman is now a wife!!! Reportedly, Scandal star Kerry Washington said 'I do' to NFL star Nnamdi Asomugha on June 24. The couple exchanged vows during a secret ceremony in Blaine County, Idaho in front of only their closest friends and family.
Kerry isn't known for putting her relationships out there à la the Kardashians, but her marriage still took many by surprise. Her last public relationship was with former child star David Moscow, to whom she was engaged from 2004 to 2007.
During Nnamdi's professional football career, the 31-year-old has played for the Oakland Raiders, Philadelphia Eagles, and San Francisco 49ers. He's also done some acting, having appeared on episodes of The Game, Friday Night Lights, and the TNT drama, Leverage.
Congrats to the happy couple!!!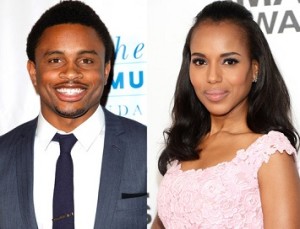 Bella Escritor Talks "Life" With Michael Vick
Last month, Bella Escritor made headlines when news emerged that she was penning a book titled Quarterback Keeper, which details the relationship she claims to have had with Michael Vick. Although she's unable to define what they had, Bella says her involvement with the scandal plagued gridiron great went on for 10 years, and continued despite his relationship with his now-wife, Kijafa. 
Although she's been labeled a "groupie" and "jump-off" by blogs and various media personalities, Bella told me in an email that the backlash won't stop her from telling her story. "There is a lot more to this story than the uniformed negativity coming from certain blog sites and radio personalities," she said. "I expected the hate.  That will not stop me from telling my story of my decade with Mike." Bella also denied she's a bitter ex who wants to hurt Michael, and revealed that she was forced to come forward with her story after being told by someone close to Mike that they were going public with her relationship with the disgraced football star. "So I am taking this opportunity to tell things my way, truthfully," said Bella.
Recently, Bella and I got on the phone so I could get a little more familiar with her relationship with Michael. During our conversation, she opened up about how she met Michael, the agreement they made on their first night together that their bond would be "for life", finding out about his relationship with Kijafa (who he married in 2012), and if their relationship would still be going on if she allowed it. Check out highlights below.
ON IF SHE WAS SUCCESSFUL IN SECURING FINANCING FOR PUBLISHING THE BOOK:
"Actually, there's a couple of book deals in order. I was trying not to go that route, but basically because I wanted to have my say on how everything's done and everything's put out there. I didn't want it twisted and turned, that wasn't the point. A publishing deal can go either way; I was trying to avoid that, and I didn't really want to come out my pocket to do it, so the point of the Kickstarter is to see if we could get it published through independent publishing. But, if Kickstarter doesn't work, and it doesn't look like it's working right now, then it will be going to a publishing company. Either way, it's going to be published."
ON HOW SHE MET MICHAEL AND IF IT WAS LOVE AT FIRST SIGHT:
"I met Michael in Atlanta, and I didn't know who he was when I met him. Everyone with me knew, I just didn't know. I wasn't really into sports; I didn't know anything like that. I didn't like celebrities; I don't like the whole celebrity thing. I've met a few celebrities, and I didn't like that whole process. So when I found out who he was, I wasn't really impressed, but he pursued me. So what happened that night, you know, it was suppose to be kinda like a okay, I met him, he seems cool. I don't know if he was impressed with the fact that I had no idea who he was and when I found out, I didn't care, but that night, we kinda hooked up. I'm just going to be honest, we straight up hooked up. I went back to his house, we hooked up, and he told me, 'You know we going to do this forever. We going to be cool like this.' And I'm just like, 'Whatever. Obviously you're a celebrity, you're an athlete, whatever.' You just got some, so I'm thinking, okay, you're not serious. I go back to my house; the next day, I get a call from Mike. The next week, I'm getting calls from Mike. The next month, I'm getting calls from Mike. And it went on and on like that for years. So it was true. I thought it was a joke, I agreed to it. I'm like okay, yeah right. We're going to be cool like this forever, blah, blah, blah. But then as time progressed, he turned out to be serious about it, and as I got to know him, it got serious for me too. So when you're around somebody through hard times and good times, and when you met them, they were up, and then when you see them go down, I have the kind of heart where I'm not going to leave you just because you fell down. So that drew us closer, and that's when the life thing became more serious."
ON IF SHE AND MICHAEL TALKED MARRIAGE:
"Oh no, no, no, I never wanted to marry Michael. The only conversation we had about marriage was if he was going to marry Kijafa. He would tell me he was not going to get married for about 10, 20 years. He said that he was engaged, or that he'd be engaged forever, but he was not planning on getting married. That's the only time it came up, because I said once you do that, it's not going to be for life [with her and Michael] because I need to move on with my life too. If you get married, I need to get married. And between each other, we became friends and family, like so close, that it was like, okay, you've got your life, I've got my life, when we're together, we have our life, you know what I mean. And Kijafa, that's the only subject of marriage. I never wanted to marry Mike, ever. That was not the point. He used to ask me, 'Why do you like me?' And I would answer because you're cool, because your'e my boy. It was never I wanted to marry him. Michael is a good person to know, and a bad person to know, and I know both sides. And for my life, that's not what I wanted, and he knew that."
ON IF SHE KNEW ABOUT KIJAFA:
"I'll tell you something that the world does not know, and I'll put it out there. When you asked me did I know about Kijafa, when I met Michael, he didn't have a girlfriend. He had her before he met me, I mean, he knew her, and he had women before he met me, but when I met him, he was single. When I found out about Kijafa, I found out he had a 10-month-old that he didn't even know about. He told me he had a 10-month-old daughter that he didn't know about, but he knew who it was from, and he knew about the girl, and when he found out he had a child with that girl, he took her in. It was no ifs, ands, or buts, and that's Kijafa. So when I met him, no, he did not know, as far as I was concerned, this is what he told me. I'd never seen her before; I'd been at the house before so much, I'd never ran into her, until I started seeing clothes in the closet. I started seeing things, and I'm like, 'What's going on?' And he's like, 'Girl, I gotta baby.' And I already knew he had a son, but he's like, 'I gotta baby.' And I'm just like okay, and he explains the situation. And I'm like, 'Oh okay, so you knew her before me.' And he's like, 'Yeah'. So I was like, 'So you know it?' And he's like, 'Yeah, that's my child. I knew her, we were together.' He took responsibility from the point she told him he had a daughter. I don't know how that came about, why they broke up, why they weren't together when I met him, but from what I was told, that's how Kijafa came into play. And that's why I didn't consider it as serious when he said that it was cool, everything was cool, because I just thought he was just taking care of his responsibility."
ON BEING CALLED A "MISTRESS" AND A "JUMP-OFF":
"That's why I'm like read the book. I can't tell the whole book, but read the book. 'Cause it's more than just some birds [from RadarOnline's story] and whatever else. It's more to it, but people don't, they don't want to hear your story, like who are you? So I'm like okay, I'll take the bashing right now, I'll take the heat, but if you read the book, you'll get a better understanding. All this 'mistress' stuff, it's like, really? It's a lot that if you read, you can put two and two together, and with the excerpts [of the book that she's released], they're not doing that."
ON KIJAFA CONFRONTING HER OVER THE PHONE ABOUT HER RELATIONSHIP WITH MICHAEL:
"She basically called my phone, this was 2011. She called my phone and I saw her calling, and I text Michael. I'm like, you know, 'Your girl is calling my phone. What do I do?' And instead of texting Michael, I text her back. And so she's just like, 'You know what, come on, answer the phone.' So I keep telling him, she's calling. And he's like, 'Yeah, she went through my emails, she saw your emails. She's tripping, that's just her and her girl acting funny right now, but she's cool. She read your emails, and she's like, oh, ya'll cool?' So I'm like, if she's so cool, let me answer this girl's call. I answer the call, she ain't cool. When I finally talk to her, it's like an interview. It was a calm, quiet interview. She had questions for me, I had questions for her, and that's how it went."
ON IF SHE WAS HONEST WITH KIJAFA DURING THEIR CONVERSATION:
"Oh yes I was, yes I was."
ON MICHAEL HAVING HER AND KIJAFA AT THE SAME PLACE AT THE SAME TIME:
"Oh yes I would, yes I would. In the same VIP section. Like at a birthday party or club or wherever he wanted us to be. I mean, he'd be like, 'Oh, I'm having a birthday party in Atlanta. You coming?' And I'm like, 'Not really, I don't want to go.' 'Come on, come on.' And I'm like, 'Alright.' And all of a sudden, Kijafa would show up, and he would say stuff like, 'Oh, I didn't know she was coming, but she's here, so it's cool.' I was like, 'Whatever.' And that's just how it happened. I'd be with my girls, and I guess she came with her girls, and we didn't coincide, but we were all in the same section, and it happened more than once."
ON IF HER RELATIONSHIP WITH MICHAEL WOULD STILL BE GOING ON IF SHE ALLOWED IT TO:
"It would go on for life."
Keep checking this column each week for updates on Bella and her book.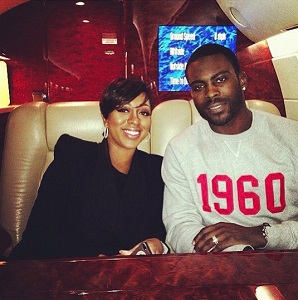 To keep up with Mara The Hip-Hop Socialite, follow her on Twitter @hiphopsocialite and Instagram @thehiphopsocialite.