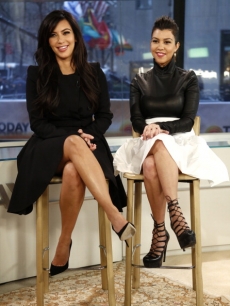 While promoting Kim & Kourtney Take Miami on the Today Show Tuesday morning, Kim Kardashian confirms that her pregnancy was a surprise because she has similar fertility issues to sister Khloe [Kardashian-Odom].
In the interview the E! reality star says that it was a blessing knowing her circumstances, "Khloe has been very open about her fertility issues and I think I was always really kind of quiet about mine, and I have similar issues, and so it was a pleasant surprise when so many doctors were telling me one thing and then the opposite happens."
Kim also confirms that her due date is in July which places her sister Kourtney's daughter Penelope and Kim's child a year apart.
When asked about marrying Kanye West, Kim says that they're focusing on her pregnancy and raising their child, "[Marriage is] something that we talk about, but I think it's just right now [we're] focusing on the baby…what I've learned in life is—I was always such a planner, and…you think your life is going to be a certain way, and the best surprises just happen when you don't plan." [E! Online]
Kim also talks about her divorce proceedings with current husband Brooklyn Nets basketball player Kris Humphries, saying that she doesn't know why it has taken so long to be finalized.  She also emphasized that its a "process".
Photo Courtesy of Access Hollywood