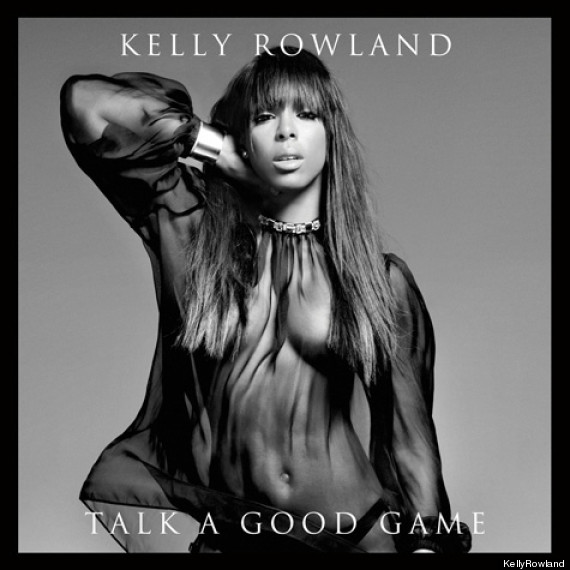 written by Angel Fraden
Kelly Rowland once again steps into the spotlight with her fourth studio album Talk a Big Game, this time around with a host of notable producers and rappers to accompany her classical R&B voice. Lucky for us, Rowland has abandoned her urge to assimilate into contemporary pop culture in this latest installment (no repeat of that uncomfortable EDM collaboration with David Guetta on Here I Am). The sound is collectively some of the most genuine material she's made since her girl-group years of Destiny's Child. When stripped down to its bare bones, however, Rowland stands alone in an unimpressive display of mediocre talent.
Much like her scantily clad album artwork, the most immediate track on the record, "Kisses Down Low", reads like any other anxious, desperately sexualized radio hit single. Produced by up-and-coming musician Mike Will Made It (the same person who had a significant hand in Miley Cyrus' new, unabashedly scandalous single "We Can't Stop"), the track is effortlessly catchy and hopelessly accessible but less than halfway through the beat and chorus become insufferably repetitious. Much of the album follows this discomforting trend, her five collaborative tracks greatly surpassing all those otherwise.
Following "Kisses Down Low" is a Wiz Khalifa featured track called "Gone", which samples lyrics from Joni Mitchell's infamous "Yellow Taxi Cab" verse: "Don't you know, it seems to go/ That you don't know what you got 'til it's gone." The simplistic background melody is more than satisfactory: scampering piano keys and swooning vocals bridging the vast gap of folk to R&B, but the foreground leaves this material drowned out and frequently inaudible against all-too aggressive computerized percussion.
Perhaps the most disappointing attempt on Talk a Big Game is Rowland's down-tempo confessional "Dirty Laundry", which sounds more like lazy, motionless slam poetry number than studio recorded song. Lyrically, rather than depositing her secrets and regrets in a selfless, cathartic manner, she points the majority of the blame upon her unnamed ex-fiancé and an allegedly abusive relationship with him.
Longtime collaborator Pharell constructs savvy, on-point beats for the singer, producing the last two official songs on the album—not including her deluxe edition entries. Even with the handy work of this music industry power player, however, Kelly Rowland is still unable to deliver a completely wholehearted performance. And, what might seem retrospectively counterproductive to the vocalist, frequently mentioning her ex-Destiny's Child member Beyoncé (and including her on a song) only does more to evoke a comparison between the two. And, quite frankly, there is no comparison.