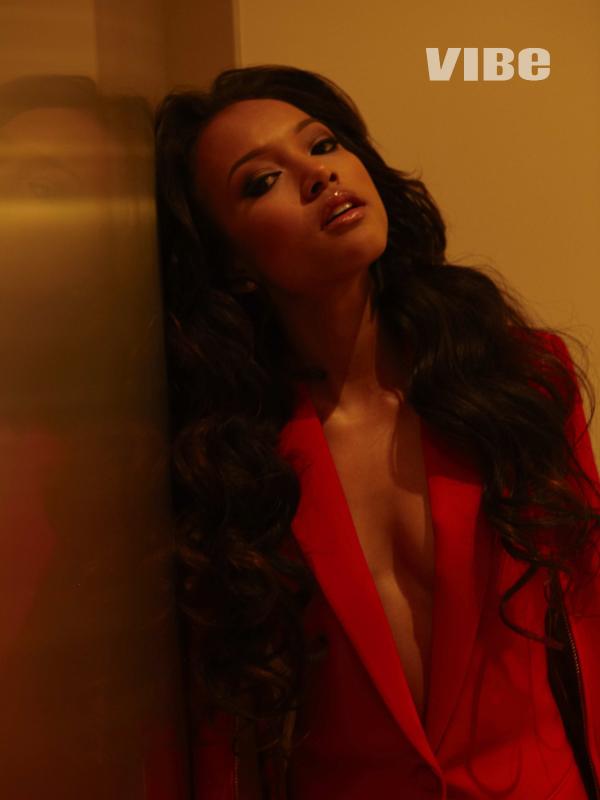 Better known as being Chris Brown's ex-girlfriend and apart of the Chris Brown love triangle Karrueche Tran opened up to Vibe.com, about her relationship with Chris Brown, her new unisex clothing line "The Kill" with her ex and that infamous NYE kiss with Teyana Taylor.
Usually we don't hear too much from Tran who had been in a relationship with singer Chris Brown until he made a video proclaiming love for both Karrueche and Rihanna. When asked if she would ever sit down with Rihanna and Chris Brown she says that it would be too emotionally overwhelming but that she isn't against it, "For everybody, emotionally, that would just be way too much. I'm a very mature person so if the time ever did come where we would need to sit down and talk, I'd do it. I'm a mature person. I can work it out but that would be a lot."
She has also been working on a clothing line with the singer which was in the works way before their infamous break up, however she says that when it comes to the clothing line her relationship with the singer is strictly business. "At the end of the day, he will always be a friend. We'll always care about each other. We won't allow that to interfere. Our business is business." She explains that Brown originally wanted a female clothing line to accompany his men's line 'Black Pyramid', but instead it ended up becoming a unisex clothing line.
When asked how she feels about the current state of her love life she says, "… It's a lot going on but it could be a lot worse. And that's how I look at life. I take it for what it is. I move forward, grow from it… I'm not gonna sit and dwell and become consumed in that negativity, because I could very much be that person, especially when things are so public and so thrown in my face. But like I said, things can be much worse. So I'm good."
Last but definitely not least she speaks on her NYE kiss with Teyana Taylor and how it posted to Instagram five times in a row. "Well, we counted down and I turned to her, said "Happy New Year" and gave her a kiss! Yeah, it posted like five times 'cause it was at midnight and everyone was trying to tweet and Instagram at the same time so it was frozen. "
Photo Courtesy of Vibe.com