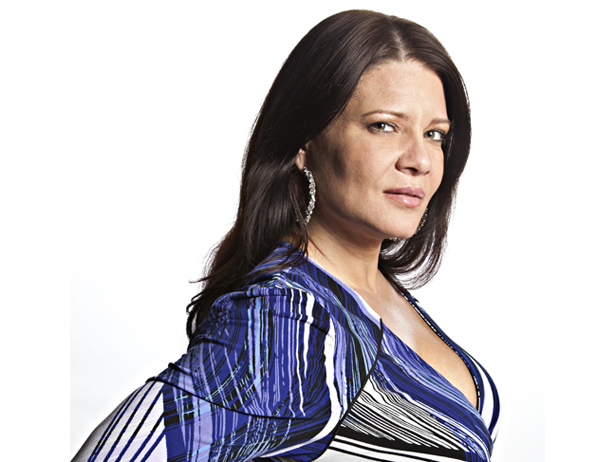 written by Shakira Sealey
Mob Wives Karen Gravano is the true definition of a "go getter."  Her passion for loyalty, respect and her resilient personality has her shine in various ways in the business world besides being a reality TV star.  Her story of where she has been, where she is now, and her plans for the future has her fans  inspired, thus marking a spot as one of Fuzion Magazine's most influential women. Karen reflects on being honored, " It's an honor to be even considered in a category where I am named influential to women, it shows that people are receptive to the message that I'm trying to put out: Stay true to who you are, if you have a vision, do it."
As Mob Wives wraps up a successful third season and prepares for a fourth, Karen has been very busy experiencing the success of her book, "Mob Daughter" a New York Times bestseller, her Arizona based day spa "On the Skinny" as well as exploring other business ventures.  Karen credits Mob Wives for contributing to the success of her book, " The show was a great platform for me to really launch my book. It gave me the ability to launch it in a different way where people can get a glimpse of my story and as a result allowed people to want to be interested in that mob lifestyle."
Gravano reveals that she is currently working on obtaining an imprint deal where she would have the power of becoming her own publisher.  She plans on using her rights as a publisher to endorse other writers in pushing their book out to the public.  Gravano will focus primarily on non-fiction and fiction based on true events for her novels.  "I really want to work with people that want to get their story heard and with people that really have a drive." She plans to "keep her ear to the streets" in finding underground authors that need to be heard. "There are so many people out there that have a story that can possibly change another's person's life." Gravano also will be collaborating with her father, known as Sammy the Bull, as he has plans on writing his own book when released from prison.
Aside from working on a publishing deal, Gravano has been busy working on a possible television series that will be featured on HBO. The series will be a visual aspect off of her book and other events that occurred in her life, centering the mob lifestyle.  The series originally was going to be featured on the big screen, but after careful consideration Gravano shares that doing a series instead will profit better on the financial aspect.  In addition, Gravano has been keeping success prominent in the family as she has recently invested in her own music company. The name is still undecided but leaning more towards, "Star In The Hood ," which will feature her daughter's girl pop group entitled "The Girls." The pop group consists of her daughter Karina, Ramona's daughter and Karina's cousin.  The up and coming girl group has been recently working with Grammy award winning artists such as Jay Z and Alicia Keys.
Anyone would probably think that being a part of a mob upbringing they wouldn't run into any tribulations, but Gravano admits she has faced some just like any other person.  "Sometimes I am too loyal for my own good. Sometimes I act on loyalty when I should've gotten a document. (Laughs)." She adds, Fame can sometimes change some people's perception of friendship and loyalty. It never changed mines; I stay true to who I am."  On role models, "I would say that my role models are Oprah- she's someone that is always confident and never complains and I love Beyoncé- she's always humble."
Gravano was asked if she wasn't doing what she is currently, what other profession she would focus on: "I am a certified masseuse since "96" so I definitely would be in the Spa business." She will be launching her own skin care line that will be featured in her day spa; stay tuned for future details on her skin line and other future projects Karen Gravano has in store!